I wrote about Best Western Premier The Hive the other day, a hotel close to Halim Perdanakusuma airport in Jakarta. And today, I'm going to review a hotel near the airport… But this time, it's the one that's located not too far from the main airport in the Greater Jakarta area: Soekarno-Hatta International Airport.
Due to the Covid-19 situation, all international flights only take place in Jakarta for both departures and arrivals. So if you're planning to travel internationally to or from Indonesia, you may need some information about a budget-friendly hotel near Jakarta airport.
Since my flight to Dubai the other day was also from Jakarta, and they required a PCR test to travel there, I decided to stay in Jakarta for a couple of days and sort things out there instead of going directly from Bandung as I usually did. And this time, I chose to stay at Starlet Hotel during my stay before the flight.
Starlet Hotel: A Budget Hotel Near Soekarno-Hatta Airport
As I booked through Agoda and they wrote "Starlet Hotel Jakarta Airport" for the hotel's name, I thought that the hotel was located around the Soekarno-Hatta International Airport area. It was only when I dropped a DM through Starlet Hotel Instagram page to ask about the location that I found out that it's actually outside the airport area.
However, they provide a free shuttle service from and to the airport for the guests, so it was really convenient for me when I arrived at the airport from Bandung by Bhinneka Shuttle.
Pick-up & Shuttle Service
After my first DM on Instagram, I exchanged numbers with Mas Syarief, the marketing executive at Starlet Hotel, to inform him directly one day before my arrival to arrange the pick-up from the airport.
He shared the driver's number on my arrival day so I could connect with the driver directly to pinpoint our pick-up location.
As I told them that I'd have an international flight with Emirates later that week, we agreed that the pick-up location would be at Terminal 3 Ultimate. The driver will wait for me at the shuttle service area around Gate 5 at the Terminal 3 Ultimate arrival.
I was a bit lost since as I went further to the pick-up point at Terminal 3 Ultimate when the driver told me that the shuttle service usually stops in front of the gate. But anyway, I met him safe and sound so I had nothing to complain! 🙂
As for the shuttle bus to the airport, Starlet Hotel has assigned the departure times from the hotel to the airport so we just have to adjust it with our scheduled flight. I took the shuttle bus at 1 PM as my flight was at 5 PM at the time.
Location
Location-wise, it wasn't super close to the airport as it took around 15 to 20-minute drive from the airport to the hotel. But I don't think that's an issue, given the idea they provide a shuttle service anyway.
As a local Indonesian myself, I think the location is quite nice since the hotel is surrounded by some small warungs, as well as warteg and Padang restaurant. It's nothing fancy, but if you're anxious about the hygiene of food from those places, you always have an option to order it online using either Gojek or Grab apps.
A day before my departure, I even found a small hair salon to wash and blow-dry so that my hair could be on point during my flight. LOL.
Night Rate
I stayed for two nights, and I paid $24.71 USD in total, which was quite fair given my experience with all the facilities provided by the hotel. No deposit was required, except that I decided to purchase their comfort kit for extra IDR 25,000 (around $1.75 USD).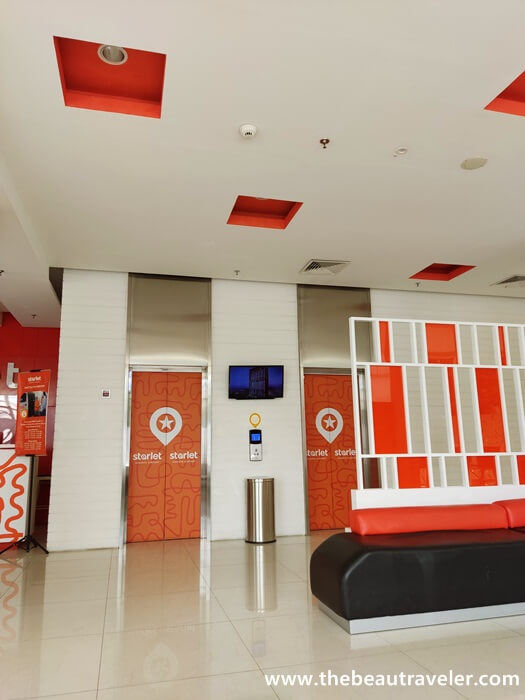 Review: Superior Double Room at Starlet Hotel Jakarta Airport
The first thing that I noticed when I arrived at Starlet Hotel was their hospitality. I don't know how many stars they got, but they definitely serve guests like 5-star hotels.
From my first contact with Mas Syarief through DM, and then the receptionist, the shuttle driver, and even their security… It was all on point that there was no question that I made an excellent decision to stay here before my flight.
On top of that, as I booked their Superior Double Room, I was quite amazed with the room as well. So, how was my experience at Starlet Hotel? Here we go!
Superior Double Room at Starlet Hotel
Minimalist is one word that describes their room at its very best. They make the room quite compact, but it's pretty functional as well as comfortable. More importantly, it's super clean! I'm not sure how old the hotel is, but it definitely looks brand new, judging from how clean it is!
It has a queen-sized bed, equipped with a folded desk in the corner that faces the sun through the window, which is quite convenient for me since I had a discovery call with a potential client on the second night I stayed there.
And you know what's tremendously helpful about the hotel? The wifi connection!
I tried to convince my sister to come before my departure, but given her workloads, she said she'd check the wifi connection first. She ended up staying the whole time I stayed there.
They also provide a refillable mineral water bottle, as they have a water dispenser on each floor so guests can refill the bottle there as they like. But of course, you cannot take the water bottle home since it's for the next guest's use, although I'm sure they'll wash the bottle first before the next guest comes in.
As for the shower, again I was amazed by how spotless it is! And I also love the combination of white and orange color around the hotel, because it subconsciously made me happy for no reason. LOL.
They don't provide toiletries, but there's a 2-in-1 shampoo and shower gel on the dispenser in the shower. Plus, since I purchased the comfort kit, I figured the comfort kit also includes two pairs of slippers and also basic toiletries, including toothbrushes and small toothpaste.
Final Verdict: Starlet Hotel Jakarta Airport
Honestly, I underestimated Starlet Hotel in terms of everything. I only booked a room at Starlet Hotel as they were one of the hotels with the cheapest rate around Soekarno-Hatta Airport, but they went above and beyond my expectation!
From the comfort of my stay, the wifi connection that helped me tremendously as a remote worker… And their neverending hospitality, from security officer to marketing executive!
No doubt, I wouldn't choose any other hotel if I need a place to crash around Jakarta airport because Starlet Hotel definitely left an excellent impression on me!
(+)
The night rate is super affordable, only around $12 USD per night!
Free shuttle service from and to the airport is super convenient, and their shuttle bus is also quite comfortable.
Their hospitality is absolutely on point, I could confirm that it almost feels like staying at a 5-star hotel!
So many traditional eateries that are also budget-friendly around the hotel.
They also have a self-service restaurant, in which they sell some ready-to-serve instant food like noodles, chicken rice, etc.
(-)
The local eateries around the hotel might not be suitable if you have a sensitive stomach. While you can order online through Gojek or Gofood, I'm not sure if the hotel can provide plates, bowls, or cutleries for this.
Since there's a free shuttle service you can use to the airport, I think you can also do your PCR test at the airport prior to your departure.
As for me, I didn't take the PCR test at the airport, but instead I booked my test online at Bumame Cengkareng. From Starlet Hotel, the venue for the PCR test is around 5 kilometers.
So yeah, that's my good experience staying at Starlet Hotel Jakarta Airport. Have you ever stayed at any other hotel around Soekarno-Hatta Airport? How was your experience? Share in the comment below, and cheerio! 😉
---
Marya The BeauTraveler
I am the founder and main editor at The BeauTraveler. I spent 4 years working in the aviation industry but ironically got to travel more right after quitting the industry in 2015. Born and raised in Indonesia, I started working remotely in 2017, and while I stay at home most of the time, I also regularly spend 2-3 months living a semi-digital nomad life elsewhere every year.
---
Disclaimer:
This post may contain affiliate links. I receive a small commission at no cost to you when you make a purchase using my link.
---
Like my post?
---