Hello there, all beautravelers!
It's April 11th, and you know what that means? Yup, according to What You Could Get In The City For $10 schedule, it's time for the queen to speak about her wisdom!
No, not really… But yes, it's time for me to share with you about what you could get in Jakarta for $10.
When I started this project earlier in February, I was actually planning to write about Bandung, but then I had to spend my time in Jakarta the whole February and the first half of March, so I thought, why don't I make Jakarta instead? After all, it's the capital city of Indonesia anyway.
So, there you go! 😀
You can go far with $10 in Jakarta!
First thing first, the perks of living in a developing country is that when you earn USD, you can get a lot when you come here. Be it for traveling or business. And that's the main reason why it's easy to save money for your travel in Indonesia, even in the capital city of Jakarta.
Jakarta is not exactly the main destination for anyone who's keen to visit Indonesia, thanks to Bali that some people thought it was a country instead of just some small island in a country called Indonesia.
Oh yeah, for those who don't know, that's one of my pet peeves. I just corrected someone on some group who put Bali on the list of countries, and she got butthurt for exactly the same reason but let's not get into that now! 😛
So, $10 USD in the local currency, Indonesian Rupiah (IDR), is equal to around IDR 140,000 and with that amount of money, this is what I'd suggest for anyone who's planning to come to Jakarta: choose an accommodation that is close to TransJakarta bus stop or Commuter Line (KRL) station, and download GoJek apps to get around some places that I'd recommend on this post, you can put IDR 40,000 as deposit through the driver on the first ride.
IDR 100,000 = Visiting Museums and Get Yourself Some Decent Lunch!
You can go far with $10, and there is no doubt about that.
You can even spend your $10 for at least 1.5 days in the city. That includes visiting numerous museum and some decent meals with public transportation.
On this post, I will divide the things that you can do in Jakarta into two parts, which you can adjust accordingly based on your personal interests. You can also adjust it based on how long you're planning to be in Jakarta.
To be fair, 2 days are enough in Jakarta as the traffic jam there could be quite stressful, especially during weekdays. However, for some touristy area like museums, you'd probably enjoy it during weekdays as it would be less crowded than the weekend.
So, how are you gonna spend your $10?
---
Part 1 – Jakarta Kota / Jakarta Old Town
If you stay somewhere close to TransJakarta bus stop or KRL station, then you can take either bus or train to get to the same destination: Jakarta Kota.
Jakarta Kota is basically the old town of Jakarta. Mind that this may be so touristy if you will go during the weekend. My advice is to come there early. The last time, I arrived at 9 and it wasn't that crowded.
For TransJakarta, you can take the Corridor 1 bus with the route Blok M-Kota and it costs you only IDR 3,500. Flat rate. As for KRL, you can take the train to Jakarta Kota. And if you stay around central Jakarta, it will only cost you IDR 3,000 until the last station. You can even go to Bogor for IDR 5,000 with the train with Bogor as the last station.
Once you arrived at the station, ask around which route to take to get to Fatahillah Museum. Or else, you can even check your Google Map to get the route. For this, I'd suggest Google Maps cause apparently Apple Map sucks. Trust me, I have tried. 😛
The destination is only around 500 meters from the station, and you'll reach Museum Fatahillah, which is also known as Jakarta History Museum.
Jakarta History Museum
There are some museums around Jakarta Kota that you can visit with IDR 100,000 left.
Assuming that you arrived at Jakarta around 9 in the morning, you could make Jakarta History Museum as your first destination. Why? Because it's basically the biggest building in the area.
Locals are more familiar with the name Fatahillah Museum as the area around the museum is called Fatahillah Square. So, what's so special about this museum then?!
The entry ticket to this museum is flat for both local and international tourists. Only IDR 5,000 for adults!
The building itself used to be the city hall of Batavia, the former name of Jakarta during Dutch colonial era. It was known as Stadhuis, built in the 16th century.
Stadhuis used to be the administrative headquarters of the Dutch East India Company (VOC), which later on would be the Dutch Colonial Government ever since it was initially constructed in 1707.
For the locals, the museum is infamous for its dungeon, which had been used until mid-1800s. And just like every dungeon around the world, there are a lot of urban legends related to this dungeon.
Not to mention that Fatahillah Square was also used as the place of death executions back in the days.
The result? So many TV shows with horror niche have shot their paranormal activity-like in the dungeon. Although nowadays, when I came there I couldn't feel the vibe except the fact that it was so small that I couldn't imagine having to get stuck there 24/7.
Mind you, I'm a small lady. So it was THAT small!
Apart from the dungeon, the museums also have some collections from Pre-Historic to Dutch Colonial era. To tell you the truth, it was rather boring for me.
The collections are varied from ceramic, maps, and also some statues.
One of the statues in this museum is the replica of Hermes statue that used to be put around Harmoni bridge, so why is this important? Rumor has it that the statue contains gold.
Despite how big the building is, I suppose you wouldn't spend more than an hour to explore the whole building. Up to the next one! 🙂
Wayang Museum
At first, I really thought that this museum would be full of traditional Javanese puppet since this museum is named after wayang, Indonesian traditional puppet.
As it turns out, not all of the collections in this museum are traditional since there are also some modern puppets, as well as those from pop culture.
The entry ticket for this museum is also flat for either local or international tourists: only IDR 5,000! 😀
Pretty much like Fatahillah Museum, as a local, I've also heard some urban legend stories about this museum.
However, the first time I visited this museum, it wasn't as bad as I expected it to be since some people who have been there said that the museum itself was rather creepy.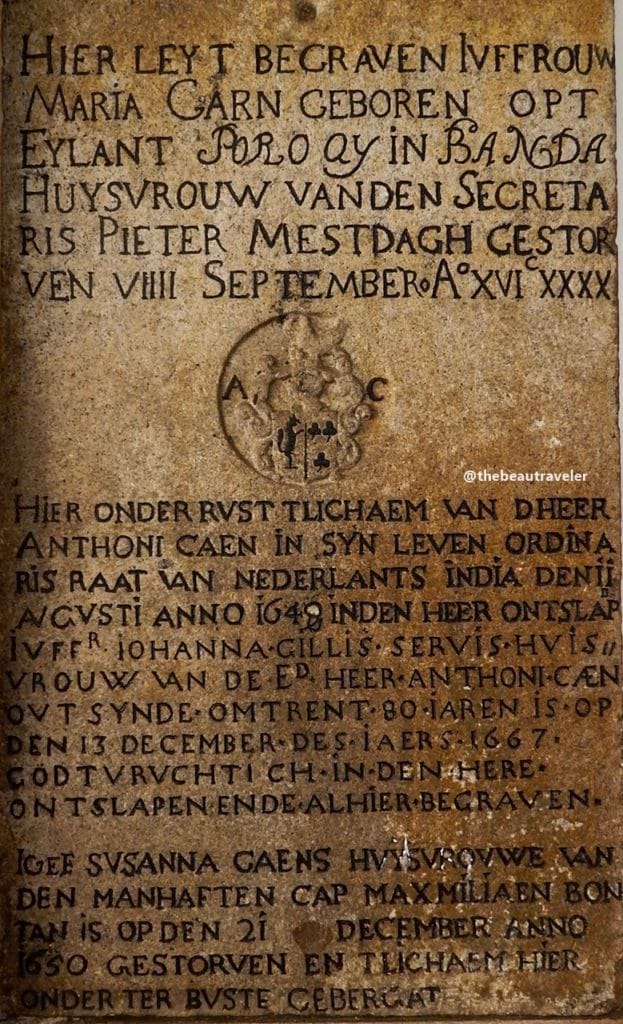 The museum building was once the Old Dutch Church, and in the former yard area, there was also a small cemetery full of tombstones. One of them was the infamous Jan Pieterszoon Coen. The latter was the first governor-general of VOC, who was also claimed as the founder of Batavia.
I think most of the tombstones are written in Dutch. Not sure whether it's modern Dutch though, and the downside of visiting this museum is that there is no explanation about whose tombstones they are or who they are.
It was rather confusing, to be honest.
However, thanks to my huge curiosity over what I've seen, as it turns out the tombstones that are currently still in the museum is only what's left of it because formerly there were more than those.
Some were moved to some other cemetery, which I would recommend to visit later as it wouldn't be that far. 😉
Pretty much like Jakarta History Museum, you wouldn't spend more than an hour to get around this museum unless you're a big fan of puppets. I am not really into puppets, so I managed to spend only around 45 minutes to see around.
Honestly, I felt like the exhibition was more like anti-climax. Although I enjoyed the fact that they displayed the puppets of my favorite childhood TV show. You know, reminiscing the good ol' day when I was young and not getting any pressure to get married or something.
Lunch at Kedai Seni Djakarte
Assuming that you finished 2 museums around lunchtime, you can have your lunch around Fatahillah Square.
From Wayang Museum, you may see Batavia Cafe not so far from there, but don't go there.
Why? Well, you're coming to this post to spend $10 in the city, harshly speaking you're either on the budget or actually poor. You're not their target market. 😛
Yup, Batavia Cafe is the most legendary cafe as it's really classy and fancy. Don't even dream of being able to spend $10 there unless you're okay to only get some fancy mineral water.
But don't worry, because you could just wall around 100 meters from Wayang Museum and you would find Kedai Seni Djakarte, not so far from Bangi Kopitiam. This one is my favorite cafe in Jakarta Kota area. 😉
Why? Not only because they've got a lot of options on their menu, but also they offer it at such affordable price. You can get something from traditional ketoprak (Betawi vegetarian dish) to fish and chips. Your call! 😀
The price range is from IDR 15,000 to IDR 35,000. With your choice of drink, I suppose you would spend arond IDR 50,000 for lunch.
That, unless you're really really hungry. In which case, you should really meet my Grandma so she could feed you lots.
Bank Indonesia Museum
So now you've finished your lunch and still got around IDR 40,000 left in your pocket. What else would you do?
Walk a bit around 200 more meters from Kedai Seni Djakarte, and you will find yourself be in front of Bank Indonesia Museum.
Founded by Indonesian central bank in 2009, Bank Indonesia Museum would be the most modern museum you could find around Jakarta Kota.
So the downside about most museums in Indonesia is that the maintenance is not that advanced to the point that most people would find it boring to only see the collections and artefacts.
In Bank Indonesia Museum, this looks slightly different as the facilities offered and the exhibitions are more modern than the previous museums.
No kidding, the museum slightly reminds me of museums in our friendly (but not budget-friendly) Singapore. 😀
The entry fee is the same with the last 2 museums that we visited: only IDR 5,000. Not so much to chill for a bit with air conditioner some new knowledge about trade, economy, and banking in general.
If you're a banker or majoring in Economy, I suppose you would find the museum quite interesting as it shows you the payment system that changes over time in Indonesia.
Starting from spice trading, spice monopoly by VOC, until the use of our current local currency Indonesian Rupiah.
Economy or trading is honestly not my strong point, so it was rather nice to know some new knowledge without having to understand it very deeply like expected. 😀
Toko Merah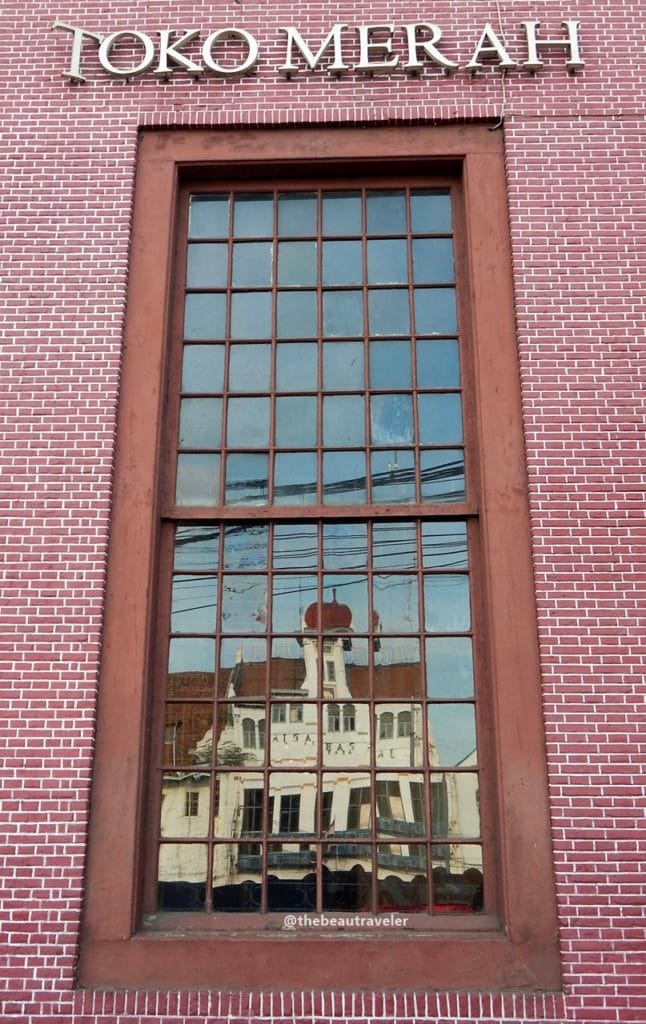 Are you the kind of travelers who always look into the idea of taking nice pics in some instagrammable area?
Then walk around 300 meters from Bank Indonesia Museum to Kali Besar area as you could find an instagrammable building there called Toko Merah.
No worries, you would totally recognize the building as it was created by a lot of red bricks. You cannot enter the building, but you can definitely take some decent pics around here. For free! 😀
Toko Merah, literally means Red Shop, is one of the oldest buildings in Jakarta. Hence, it is known as one of historical landmarks located in Jakarta Kota.
Once the residence of governor-general of the VOC Gustaav Willem in mid-1970, the building has changed its residents over time until by the end of 19th century, it was purchased by a Chinese descent trader Oey Liauw Kong, who eventually transformed it into both a house and a shop.
Although nowadays the building is no longer used as a shop or a house, it is still known as Toko Merah.
---
Part 2 – Central Jakarta Area
Toko Merah is your last destination around Jakarta Kota, and there are two options that you could choose now: back to your hotel and continue your trip the next day, or go back to Bank Indonesia Museum to take the bus straight to your next destination.
Before continue, now that one of our next destinations would be a cemetery, so you could always opt the former since the cemetery is closed at 3 PM.
There are two options that you could take to your next destination, it is either by "History of Jakarta" bus that operates every hour to get to some destinations, or go to the TransJakarta bus stop to get the bus for only IDR 3,500.
So, here's the harsh truth spoken by the local: we're never on-time. That's in our nature, not that we don't want to change that. This is the kind of thing that isn't right but has become a habit to the point that people find it just normal. So hard to change because it's fundamental.
If you could get the free bus on-time, then congratulations! You can get on the bus, sit down and relax until Museum Nasional (National Museum), which will be our next destination.
If not, then like I mentioned earlier, take TransJakarta and stop by Monumen Nasional (Monas) bus stop. Here, you can choose whether you want to go to Monas, the monument that has become the symbol of Jakarta, or the National Museum. I'll write about the latter.
National Museum of Indonesia
Despite the fact that the name of this museum is actually National Museum of Indonesia, local people are more familiar with the name 'Museum Gajah', which literally means Elephant museum.
Why? Because there is an elephant statue in front of the museum.
This infamous elephant statue was actually a gift from King Rama V, the Siamese (now Thai) King Chulalongkorn, in the last period of 19th century, as well as the early period of 20th century.
Why elephant? Come on, dude… It's Thailand that we're talking about! 😉
Okay, so if Bank Indonesia Museum might be interesting for those of you majoring in Economy, National Museum of Indonesia is quite suitable for anyone majoring in Archeology or History.
For those who are also interested in history like I am, this museum would be somewhat interesting.
The collections in this museum start from pre-history era where you could find the skull and skeleton from Homo Erectus to Homo Sapiens, as well as some tools used in the era. From stone tools to even some ancient weapons. Interesting, right?
Apart from that, they've also got some other collections from statue to even textile collections. Pretty interesting for only IDR 5,000 to enter the museum. 😉
There are only 2 more places that we would visit, and both are not so far from National Museum of Indonesia. Although to be fair, it's not so close that it's a walking distance either. Remember when I mentioned saving your IDR 40,000 to be deposited on GoJek apps? It's time for us to use this app!
Set your destination to Taman Prasasti Museum, and I suppose it would be around IDR 15,000 from National Museum of Indonesia to get there with GoJek. Give the whole IDR 40,000 for a deposit to the driver for GoPay, as you would get some discount on your next ride using it. 🙂
Taman Prasasti Museum
And, this is the cemetery that I have mentioned earlier.
Taman Prasasti Museum, or literally means Inscription Museum, used to be a cemetery built by Dutch colonial government as the final resting place for Dutch noblemen in the last period of 18th century.
If you remember what I mentioned on Wayang Museum, some tombstones from there were moved to some other cemeteries. And some were moved to this museum slash cemetery.
One notable tombstone that I could find here is Soe Hok Gie. He was a Chinese-Indonesian activitist who opposed the successive dictatorships of Soekarno and Soeharto, the two are our former presidents after our Independence Day in 1945.
But no, not only Soe Hok Gie that might not attract you that much unless you actually follow Indonesian political history.
You could also find the tombstone of Olivia Marianne Devenish. If you're not familiar with her name, then I suppose you may recall this name: Thomas Stamford Raffles.
If you've been to Singapore, the name probably rings a bell way too many times.
You've probably passed Raffles MRT Station, or you might stop there somewhere to visit National Gallery of Singapore or stroll around Merlion Park? Or maybe you've visited or stayed in the infamous Raffles Hotel?
Known as the founding of Modern Singapore, Raffles' first wife, Olivia Marianne Devenish died in Buitenzorg (now Bogor) and is buried in this museum.
You still can find her tombstone somewhere around here. To enter the museum, the entry ticket is only IDR 5,000.
Please note that this cemetery is open until around 3 PM, so it is highly recommended to come here the next day if you have around 2 days to spend in Jakarta.
Otherwise, you can also visit this cemetery in the morning before anything else if you really want to come. After all, it isn't such a big cemetery, you could see all tombstones for less than an hour.
National Gallery of Indonesia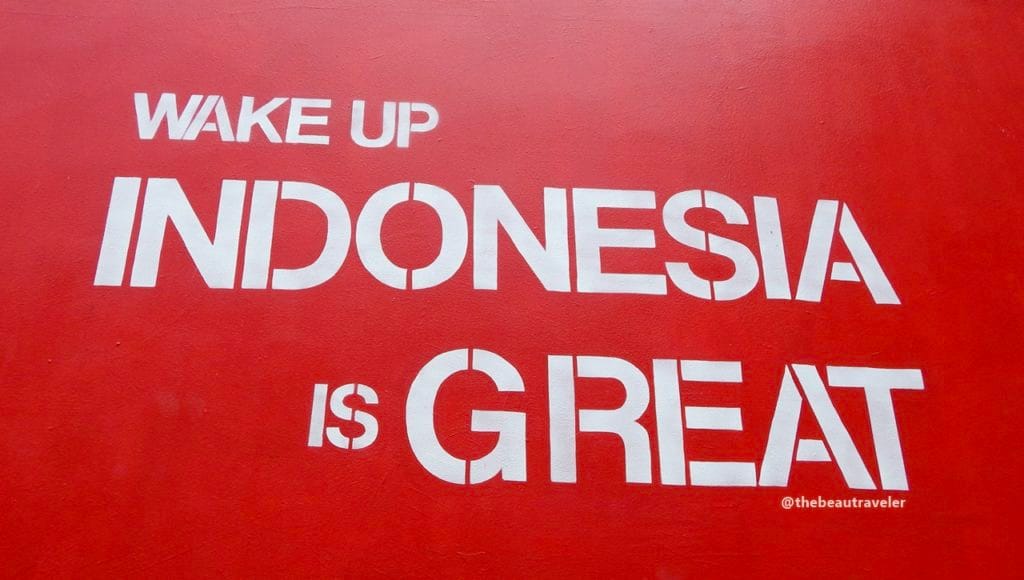 Like I said, Jakarta has never been the main destination when people travel to Indonesia unless it's for business purpose. However, people often use Jakarta as a place to transit before they continue their trip to some other cities like Bandung or Yogyakarta.
For those travelers planning to go to any city in Java, taking the train is often their best option to travel from Jakarta and our next destination is close to Gambir Train Station, the station where you can take the train to both cities. And our next destination would be National Gallery of Indonesia.
Now that you still got around IDR 25,000 on your GoPay, you can take GoRide from Taman Prasasti Museum to the national gallery for around IDR 15,000. You've still got IDR 10,000 left in which you could youse later on the next city if you're only in Jakarta for a transit. 😉
You can even visit the gallery while waiting for your train to the other city because the location is so close from the station.
You only need to go across the street from the South Gate of the station and voila, you're in the national gallery of Indonesia!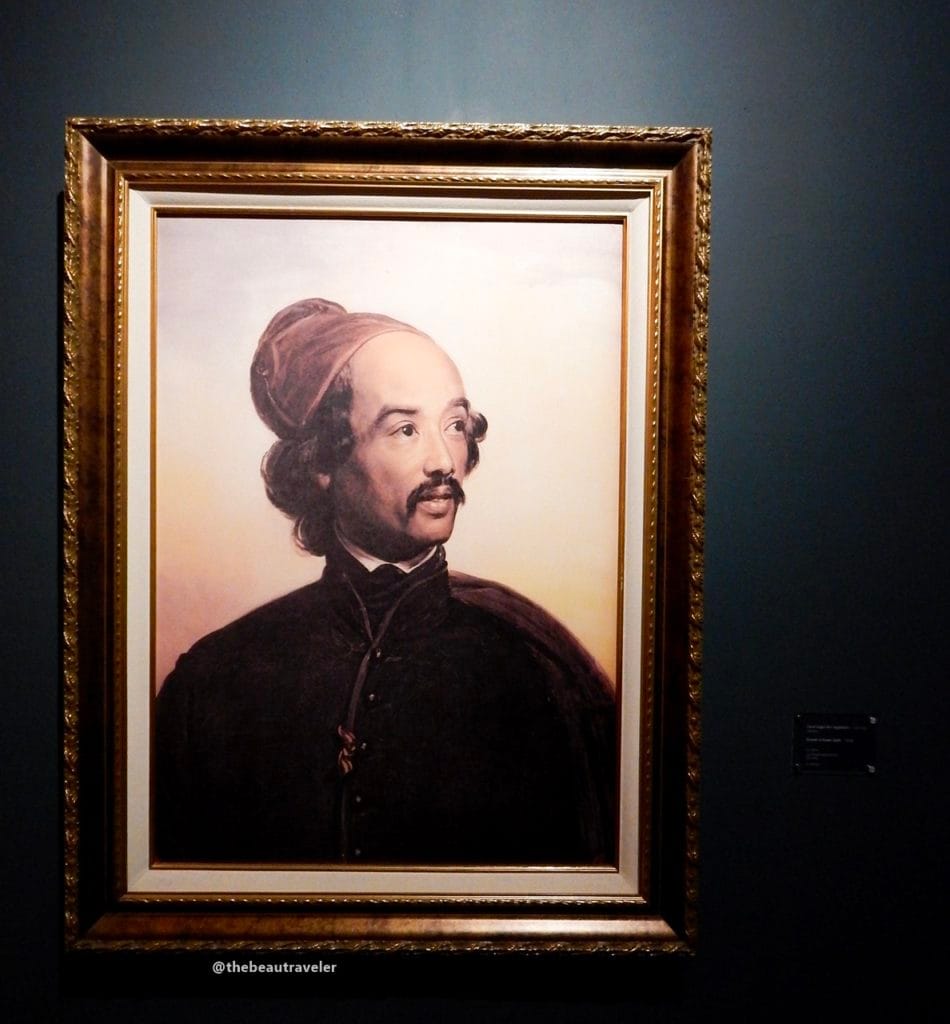 The entry ticket is FREE. You only need to show your ID/passport and fill in some form they prepare for visitors.
Occasionally, they will have some temporary exhibition that may be charged for some amount of money, which is optional. You can either pay to see the exhibition or just visit those that are free.
In the free area, you can see some exhibitions and paintings from some infamous artists, both local and international.
The gallery itself is not that big. You can get around the gallery for around an hour to see all kinds of art there.
Due to security reason, you are not allowed to bring your bag to the gallery. However, you can take your camera or phone with you so you can take some decent pics or selfie if you want. 🙂
Outside the gallery, there are also some murals that are instagrammable for you mural lovers. And the gallery is the last place you can visit in Jakarta with $10! 😀
---
8 Places for $10 with some money left!
Now it's time to calculate how much in total that you've spent because clearly, you could spend $10 for at least 2 days in Jakarta! 😀
Jakarta History Museum – IDR 5,000
Wayang Museum – IDR 5,000
Lunch at Kedai Seni Djakarte – IDR 50,000 (approximately)
Bank Indonesia Museum – IDR 5,000
Toko Merah – Free
National Museum of Indonesia – IDR 5,000
GoRide from National Museum to Taman Prasasti – IDR 15,000
Taman Prasasti Museum – IDR 5,000
GoRide from Taman Prasasti to National Gallery – IDR 15,000
National Gallery of Indonesia – Free
The total amount of money you spent is only IDR 115,000. You know what that means? Assuming the rate of $10 is still IDR 140,000, it means you still have IDR 10,000 on your GoPay account and IDR 25,000 in your pocket.
If you could finish visiting all 8 destinations in a day, you might want to go back to your hotel and order some dinner through GoFood on GoJek.
IDR 35,000 will be enough for some decent dinner, choose wisely what kind of food that suits you best. Dinner will get delivered to you, and $10 is well spent in Jakarta! 😀
Have you been to Jakarta before? How would you spend your $10 there?! 😉
---
Also read: 50 Unbelievable Things You Can Only Do in Indonesia
---
---
Like my post?
---