Hi everyone! 🙂
For those who follow me on Instagram, you may have already watched one of my Instastories about this hotel in Ho Chi Minh City. The hotel that intrigued me prior to booking it, with an exceptional welcome greeting when I got there, only to be surprised when I arrived in the hotel room.
And if you happened to be one of those people who asked me to spill the tea about the hotel, here's the answer: it's Novia Hotel.
A likely love hotel where you could actually spend some time to fulfill your fantasy, because they have a lot of themed rooms. From something as innocent as Hello Kitty and Doraemon, to some sex fantasy like BDSM. 😛
So, what kind of room did I get and how was my stay there?! Well, I'll write the review here. So let's see!
Novia Hotel in HCMC and Why I Chose to Stay There
This wasn't my first time in Saigon, so I basically already know what I need to have on my Vietnam packing list this time.
Before booking the hotel, I actually asked my friend Kim for a hotel recommendation. I strolled around District 1 during my first visit to HCMC a couple of years ago, and I know for sure it's not the area I'd like to stay for my visit to Saigon this time.
When I did my research to find accommodation options in Saigon, I came across this Novia Hotel on Agoda.
Initially, I got attracted by their room options as they provide themed rooms that could give me some unique experience during my stay in Ho Chi Minh City. Plus, the night rate was super affordable. It was less than IDR 300,000 (around $20.3 USD) per night.
In total, I only spent IDR 961,947 (around $65 USD) for 4 nights there.
The Location
I asked Kim whether Phu Nhuan district, the area where the hotel is located, is a strategic location. She told me to list the places I wanted to visit so she could provide me further information about whether the location is recommended.
While the location may be a bit far from some main tourist attractions in Ho Chi Minh City, it wasn't so bad as I used Grab for my main transportation during my stay in the city. From Tan Son Nhat International Airport, I booked the transport from the taxi counter and it cost me 200,000 VND (around $8.6 USD).
There are also some eateries nearby, with the location quite close to the market that you could even find some coffee shops within walking distance. Around 300 meters from the hotel, there's also a laundry service that you could use in case you need it.
The hotel doesn't provide breakfast or laundry service, but the location makes everything possible. It's quite convenient.
The Facilities
If there's any difference between my traveling style back when I was in my 20s and right now, it would probably something to do with the accommodation. If back then I couldn't care less about the facilities as long as it's affordable enough for me to stay for a few nights, now I need to find the accommodation with enough facilities to make sure that my stay would be comfortable.
One of them would be an elevator. I need an accommodation with an elevator since I brought big luggage with me for my 1.5 months trip at the time. And there's an elevator provided in Novia Hotel.
As I previously mentioned, they don't provide breakfast and neither they have a laundry service. However, you could easily find some around the hotel.
Also, their receptionist's desk is open 24 hours. It was super convenient for me, as I arrived late at almost midnight local time due to my delayed flight with Vietnam Airlines.
When I arrived, the receptionist already expected me as he greeted me with "Ms. Marya?" and I was like, "Yes, thank you so much for expecting me. My flight got delayed…" And some bullshit that I really didn't need to share now that I think about it. 😛
Standard Room at Novia Hotel HCMC
The first thing you need to expect before booking a room at Novia Hotel is that since each room has its own theme, you can get any room randomly. That, unless you have a special request in advance, I guess.
As for me, I didn't have any request even though I decided to just book Novia Hotel around 2 months before my arrival in HCMC. So, after I checked in, I got the card as well as the receipt that entails my room number and the name of the room that I'll be staying in.
When I read the room name, which is Love Air, I already suspected that this would be a room that could come handy for those who come to fulfill their sexual fantasy.
If anything, I was just kinda nervous I'd get the one with BDSM-theme since I saw a room with some kind of bird cage-like bed, and I really couldn't imagine staying at a room like that. Mind you, I traveled solo. But it was great for the experience. LOL
Love Air Room at Novia Hotel
I was actually quite surprised and excited when I entered the room. The room was quite spacious, even though I kinda laughed when I saw the big picture of two hot women in the sexy uniform.
But then when I realized there's no divider between my bed area and the bathroom, I started wondering whether I should be careful about my stuff when I took a shower since I don't want my clumsy ass to drop the shower and wet my electronic devices or anything.
However, other than that, I actually really like the concept of the room. The non-divider concept that makes the room into one big room that merged into bed and bathroom, it makes the room look bigger and spacious.
And mind you, there's a bath tube too. I regret my decision not to bring some bath salt with me, because I happened to book a few hotels with bath tube which I didn't use since I had nothing to pamper myself with.
Other than that, I'm quite happy with my decision to book this hotel for my stay in HCMC. Not only is the room spacious, it is also super clean despite their title as the hotel that is 'the paradise of love'.
The Amenities
When I arrived in HCMC, I didn't get a chance to buy mineral water and I thought there would be complimentary mineral water in the room. In the room, there's some basket provided by the bed where they provide 2 (two) bottles of mineral water and several snacks as well as cup noodles.
The price list was written not so far from there, but there was no price for mineral water so I thought mineral water would be complimentary. However, when I checked out I told the receptionist that I took both bottles, and they charged me for 20,000 VND (around $0.8 USD) for both bottles.
Apart from that, they actually provide almost all amenities needed during your stay. I didn't need it that much since I brought my own toiletries. But they provide shampoo and shower cream, as well as toothbrush and toothpaste as well.
And not just that, because they also provide razor and shower cap like a regular hotel.
And you know what I love the most about it? They provide a hairdryer, as well as a clothes hanger. And even the hairdryer, it's Philips. The legit one that works well for your hair. It is super convenient!
Apart from that, they also provide water heater and so so many electricity sockets. Honestly, like I could charge all my phones while heating some water and dry my hair with no problem.
To be fair, in terms of the night rate and facilities provided, Novia Hotel is probably the best decision I did for my trip to HCMC this time!
Even for the amenities, I would totally recommend Novia Hotel if you're looking for a budget accommodation to stay in Ho Chi Minh City.
If anything, the only minus about this hotel is the fact that I think it would be more fun to stay here with your partner. Which I sadly didn't.
Review: Novia Hotel in Ho Chi Minh City
So, how do I sum up my stay at Novia Hotel this time?! Here we go!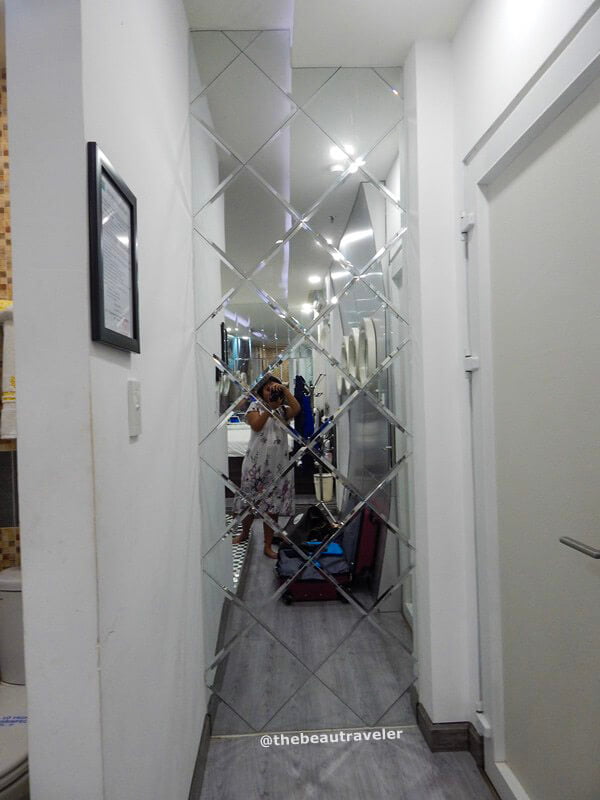 (+)
The night rate is super affordable. Less than $25 USD with all the facilities?! Yes, please!
It's close to some eateries, coffee shop, laundry, and even hair salon if you need it. And they're all super affordable. Location-wise, it's quite convenient.
Despite their label as a love hotel, the room is surprisingly clean and super comfortable.
Definitely such a unique experience if you're up to try something different for your holiday! 😉
Even if you're planning to stay here for just a hookup, I think they have this small shop where you can buy condoms and other necessary stuff needed for your love activities at the hotel. LOL
(-)
While the guy who was in charge in the receptionist desk during my check-in was super helpful, the girl who was in charge during the morning shift is not. So when I checked out, I left a package for Kim since I wanted to give her a present but she went to Da Lat at the time. I left it in the receptionist, I even left Kim's contact number there. But when Kim went to the hotel, they said that there was no package left for her. I'm not sure where the package with a dress and body cares that I wanted to give Kim have gone, but Kim never received it. 🙁
This is probably not an ideal place to stay if you're looking for a place with the location close to the main tourist attractions in Ho Chi Minh City.
So, apart from the fact that my friend didn't receive the package I prepared for her, I was actually quite satisfied with my decision to book the hotel. If I could rate them as a hotel, it would be 8 out of 10. Still recommended, just don't trust the stuff with your belongings.
Do you have any other hotel recommendations in Saigon? Let me know below in the comment, and cheerio! 🙂
---
Disclaimer:
This post may contain affiliate links. I receive a small commission at no cost to you when you make a purchase using my link.
---
Like my post?
---