Hi everyone!
On this week's $10 series, as we've never covered any city in Ukraine before, this one would be special… Yep, it's going to be our first post in the series to cover somewhere in Ukraine. And now, we're gonna cover Lviv, thanks to Emma of Travel on a Time Budget.
I gotta say, I myself am not familiar with the city, but let's check out how far you could get in Lviv for $10 USD! 😀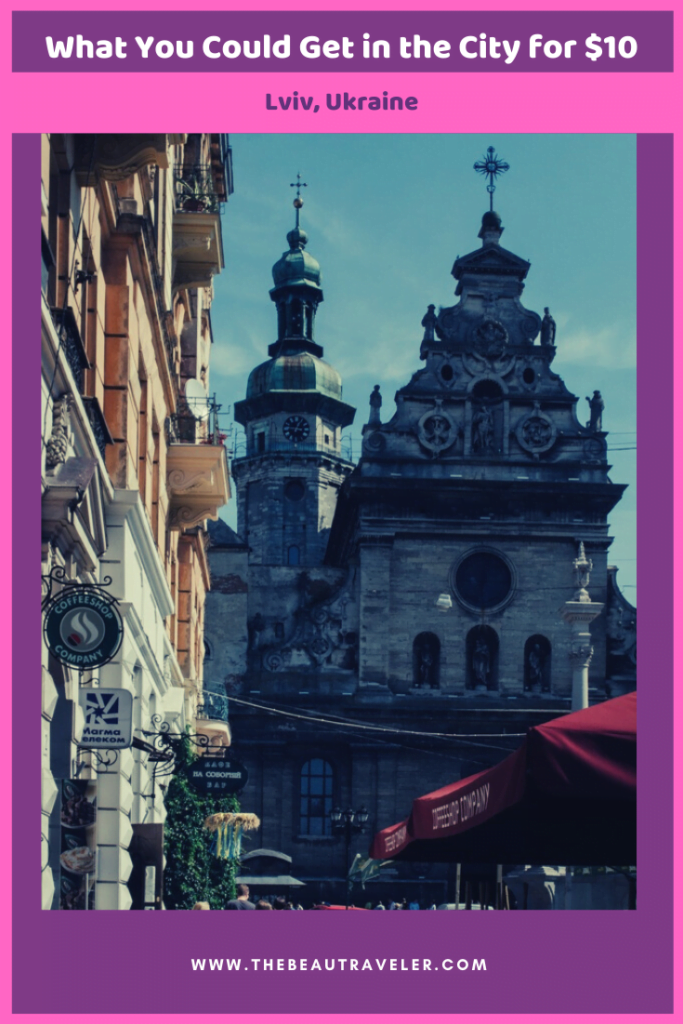 Enjoying the Local Delights in the UNESCO World Heritage Site
There aren't many places where you can eat cheaply on the outside terrace of a restaurant on the city's main square, but Lviv in Ukraine is one of these.
Its old town is a designated UNESCO World Heritage site and is an absolute delight. Having largely escaped the Second World War unscathed, the center revolves around Rynok Square, a charming cobbled square that wraps around the City Hall.
This is framed by over 40-period buildings some of which are now museums, cafes or bars.
Exploring Rynok Square in Lviv
You'll be in Rynok Square at some point during your trip and if you're like me, will want to spend some quality time here. If you're there in summer, this is a place to sit outside to watch the world go by. The bars also have cozy indoors for those cold winter nights.
But this is something that often comes at a hefty price on a city break. You can often find you're paying over the odds just by virtue of being in the main tourist part – and sitting on an outside terrace often attracts even more inflated prices. So for many of us, tucking into a great meal sitting in the main city center square is often out of our price range.
Not in Lviv. Everything is so reasonably priced that it's possible to eat, drink and be part of the action for the equivalent of $10 USD (just under 240 Ukrainian hryvnias). We managed to do just this.
It's Never to Early to Drink in Lviv
We started with a local aperitif to give us an appetite. If you drink alcohol, start with a stop at Pyana Vishnya on one side of Rynok square. This translates as "Drunk Cherry" and the clue is in the name: here you buy glasses of the local cherry liqueur to try.
The bar is small so you'll probably find yourself standing outside at one of the high wooden tables on the street. There was a great vibe outside, so we bought our liqueur inside the shop and joined the others outside to drink it. A glass of this liqueur was the equivalent of around $1.60 USD. You will probably find yourself chatting with the locals, who are very friendly.
Ukrainian Local Delicacy to Try in Lviv
After your aperitif, wander to the other side of the square where you'll find some great eateries. There are several options, but we chose Atlas restaurant, a place with a wide selection of Eastern European food.
The local cuisine was so good that we visited twice and got to try several different dishes. I had the vereniki (dumplings) with cabbage, potato and cheese for $3.50 USD on my first evening and then the wild mushrooms in a dough bowl (for under $5 USD) when I returned. Both were utterly delicious.
You can also get deruny – potato pancakes with sour cream – for $4 USD.
Meat dishes are a little more expensive, but you can still get Hungarian goulash for $5 USD, roasted lamb with vegetables for around $5.50 USD and chicken fillet in a creamy orange sauce for $6 USD. Deserts are between $1.50 and $3 USD.
Atlas is just one of many restaurants in Lviv – and irrespective of where we ate, we didn't have one disappointing meal when we were there. If you don't always want to stick to the local cuisine, there are plenty of other options – restaurants are plentiful and cater to anything from Austrian to Italian, and even Mexican.
There are also many small cafes and bakeries for a quick snack. Many would be cheaper than Atlas, being away from the main square and in less touristy parts of the city, meaning that your $10 USD would stretch even further.
Other Things You Can Do in the City Within the Budget
Aside from eating and drinking, you'll find that you can experience lots of things in Lviv on a budget. Entry to museums and fares on public transport are less than $1.30 USD per person and a taxi from the airport is between $6 and $7 USD.
So I'd definitely say visit Lviv. You won't be disappointed and you'll be amazed at just how affordable a city break is here.
---
Contributor: Emma Marshall from Travel on a Time Budget.
Emma Marshall is a British travel blogger specializing in short trips and city breaks. She combines blogging with a job and career so she writes about places to visit and things to do when your time is limited. Her posts highlight some of the interesting and key things to do whilst traveling on a time budget, as well as how to travel frequently and keep your day job.
---
Like my post?
---