On my visit to Ho Chi Minh City this time, I had no particular plan on what to do or where to go in the metropolitan city of South Vietnam. Instead, I just tried to wing it when I was there. And that's when I decided to stop by Bitexco Financial Tower and the World of Heineken after strolling around District 1 on my first day in the city.
It wasn't my first visit to Vietnam or Ho Chi Minh City, so I didn't have an exact itinerary this time. I've done some of the must-do and must-visit spots in the city from the Water Puppet Show to War Remnants Museum on my previous 2-week trip to Vietnam.
To be fair, I started late at around 1 PM on my first day. And since I didn't have a fixed itinerary about what I had to do or visit, I decided to just go to some coffee shop and some cafe. Of course, I had ca phe sua da, because ca phe sua da is life in Vietnam. 😛
I wandered around the area until around 3 PM, I decided to just go to Bitexco Financial Tower. Bitexco Saigon Skydeck seems to be one of the places on the must-visit list in Vietnam. But if I gotta be honest with you, in the beginning, I wasn't really interested in visiting the place.
I always thought that it was the kind of place that is overhyped and probably overpriced too. I didn't even do any research about the entrance fee in advance. I went go-show for this, and I'm glad I did.
Note: With deep regret, I just found out that The World of Heineken at Bitexco Saigon is now permanently closed.
Bitexco Saigon Skydeck and The World of Heineken
When I traveled, I only relied on Google map to show me the way. So when I directed the map to Bitexco Financial Tower, I arrived in the office tower first and I had to ask the entrance to Bitexco Saigon Skydeck through the receptionist desk. FYI, Bitexco Saigon Skydeck has a different entrance door with the office tower.
Anyway, speaking of the entrance ticket to Bitexco Saigon Skydeck, you can also book in advance through Klook at a cheaper price. Seriously though, it could be up to half the price from the go-show entrance fee.
When I reached the receptionist's desk, I was offered two options to go to Bitexco Saigon Skydeck. The first one is the ticket to Saigon Skydeck for VND 200,000 (around $8.6 USD). Or else, I can also get the package for both Saigon Skydeck and The World of Heineken for VND 250,000 (around $10 USD).
I didn't even know the existence of The World of Heineken in Ho Chi Minh City until I got to the receptionist to buy the ticket. But then again, I know a good deal when I see one… So, of course, I opted for the second one! 🙂
Bitexco Saigon Skydeck
If you're a fan of skyscrapers or just there for the content, visiting Bitexco Saigon Skydeck might be obligatory for you. It's the kind of tourist attraction that could be the highlight of your visit when you're in the city. Like, if Hong Kong has Victoria Peak, Ho Chi Minh City has this Bitexco Saigon Skydeck.
This isn't really the kind of attractions that I'd be personally interested in as a traveler, but I was interested to find out.
Saigon Skydeck is located on the 49th floor, offering a 360 degrees view to see the landscape of Ho Chi Minh City from above.
It is opened daily from 9.30 AM to 9.30 PM. That being said, I arrived there around 3 PM was actually a perfect time to visit, since I got a chance to see the view in the afternoon as well as to see the city lights in the evening.
Apart from the view, you could also read a bit of history about Ho Chi Minh City and how it has developed from the war period to today. There's also an exhibition on the 49th floor that showcases various kinds of ao dai, the Vietnamese traditional clothings.
The World of Heineken
The World of Heineken is located on the 58th, 59th, and 60th floor of Bitexco Financial Tower. Heineken is Vietnamese's most-favorite beer, and it could be seen by their Vietnam sales that make the country Heineken's second-largest source of profit after Mexico.
With that being said, Vietnam has become Heineken's favorite country as well. The exact reason why Vietnam has been chosen to be the first and only location of The World of Heineken in Asia.
The idea behind The World of Heineken is to give the opportunity for people in Vietnam to get Heineken Experience, like what they offer at The Heineken Experience in Amsterdam.
This became quite interesting for a few weeks after I went to the World of Heineken, my sister went to Amsterdam and visited The Heineken Experience there. There's one thing that makes the visit to The World of Heineken more valuable.
Yep, even compared to the original Heineken Experience Museum in Heineken's original country.
What is it? Stay tuned! 😉
Bitexco Saigon Skydeck and The World of Heineken: Are They Worth It?
As I mentioned before, I know a deal when I see one… So when they offered me VND 250,000 for both Saigon Skydeck and the World of Heineken, I just couldn't say no.
Visiting Bitexco Saigon Skydeck and The World of Heineken on my first day in Ho Chi Minh City was basically the only significant thing that I did that day, and I wasn't even disappointed. In fact, now that I think about it, it was probably the only significant thing I did during my visit there.
Other than that, I only strolled around and explored the city as I got. I mean, who am I kidding? I suck at creating itinerary anyway.
Anyway, how did I find Bitexco Saigon Skydeck and The World of Heineken?!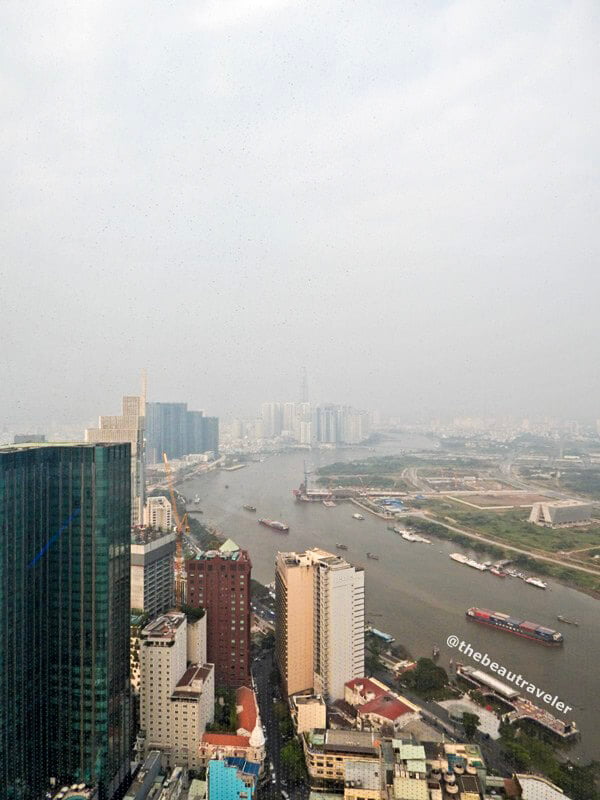 Bitexco Saigon Skydeck: Probably worth it if you have someone to take a pic of you with the view in the background!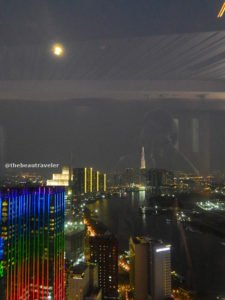 If I gotta be honest with you, I find Bitexco Saigon Skydeck boring as fuck.
The glass around the skydeck was quite dirty, it was almost difficult to get some decent photographs of the city. Mind you, I'm not a really good photographer nor I am a good photo editor to create such a propaganda pic for my travel. LOL
I mean, sure it was quite interesting to read a bit of history behind Ho Chi Minh City and why the name Ho Chi Minh City replaced Saigon.
Fun fact: it was never changed, it was just Saigon district has been united with some other districts in the surrounding to make a bigger area that has now become Ho Chi Minh City.
To be fair, you could only spend half an hour to be in the Skydeck alone. More than that, if you were like me, chances are you'll eventually get bored.
And that, my friends, is why I strongly recommend to take the complete package with The World of Heineken if you're older than 18 years old!
If you travel on a budget, trust me… VND 200,000 to only visit Bitexco Saigon Skydeck isn't really worth it.
The World of Heineken: Don't miss it if you're over 18 and a drinker!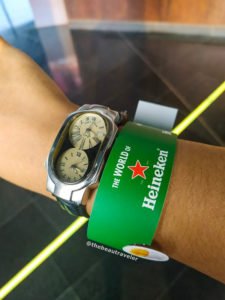 Upon purchasing the ticket, you would be asked the time you'd join the tour for the World of Heineken. They start a tour every half an hour, so you could just pick the time and they'd tell you what time you should be ready to the 60th floor from Saigon Skydeck.
I picked the tour at 4:30 PM, and they told me in advance to head to the elevator to get to the 60th floor 10 minutes before.
And mind you, I thought Saigon Skydeck was hella boring that I spent more time waiting until I could get to the elevator instead of enjoying the 360 degrees view that they offer.
Once I arrived on the 60th floor, the staff asked me to fill in the guest data along with the name chosen for my souvenir. The souvenir would be given by the end of the tour in the form of a Heineken bottle with your chosen name.
As someone who never got a Coke can with my name on it, of course, I used this opportunity to finally have a bottle with my name. We could request the name up to 15 characters, so I used my full name for this.
Not even sorry for that, the bottle turned out to be awesome! LOL
My Verdict: Bitexco Saigon Skydeck and The World of Heineken
As I mentioned previously, I personally don't think Bitexco Saigon Skydeck alone is worth VND 200,000. Definitely too pricey to enjoy the skydeck alone. But if you chose to go with the complete package along with The World of Heineken, everything makes sense!
Apart from the history of Heineken legacy delivered by a guide who speaks impeccable English, you'd also be entitled to a glass of beer in one section and two more in the last section along with a bowl of potato chips. And not just that, because you could play a lot of games along the way.
From some classic foosball, F1 simulation to even some penalty kick somewhere… Those were definitely the kind of games that I genuinely enjoy during the tour!
Plus, you'll also get a bottle of Heineken with the customized label based on your request! This one is totally a win, because when my sister came back from Amsterdam, she told me that at The Heineken Experience, to get this customized bottle, visitors has to pay around 15€.
Imagine, you only gotta pay around $10 USD all-in for this one in Ho Chi Minh City. What a freaking deal!
So really, if you get a chance to visit Ho Chi Minh City and you're not sure where to go… Head over to Bitexco Financial Tower and experience both Saigon Skydeck and The World of Heineken in the heart of Ho Chi Minh City!
Have you been here before? What's your thought about both experiences? Drop your two cents below, and cheerio! 😀
---
Marya The BeauTraveler
I am the founder and main editor at The BeauTraveler. I spent 4 years working in the aviation industry but ironically got to travel more right after quitting the industry in 2015. Born and raised in Indonesia, I started working remotely in 2017, and while I stay at home most of the time, I also regularly spend 2-3 months living a semi-digital nomad life elsewhere every year.
---
Disclaimer: 
This post may contain affiliate links. I receive a small commission at no cost to you when you make a purchase using my link.
---
Like my post?
---