Hi everyone! 😀
Some of you might have already read some post that I published prior to the World Cup 2018 about Peru, or maybe you came across the other post in the $10 series covering Cusco. Well, today's post will also be covering Peru. This time, we're going to the capital city of Peru: Lima!
The city confused me at some point in my life, as Lima in my mother tongue actually means 'five'. However, the more I read, the more I am more interested in the place more than just the name. Especially now that I know how expensive it could get to the Americas from over here.
So, this week, we have Alex from Career Gappers to cover what and why you would spend your $10 in various activities in the capital city. 😉
Things to Do in Lima on Budget
Lima is one of the biggest cities in South America, and a popular destination among travelers. As a major international transport hub, it's often the starting point for exploring Peru and beyond.
But Lima is more than just a launchpad; it's a compelling city that has been the focal point for some of South America's most important historical events. It's also the natural home of Peru's famed cuisine and artistic scenes.
While Lima isn't as cheap as other cities in Peru and neighboring Bolivia, Ecuador and Colombia, it's still possible to make a small budget go far. For the curious traveler, there's plenty you can do in Lima for less than $10.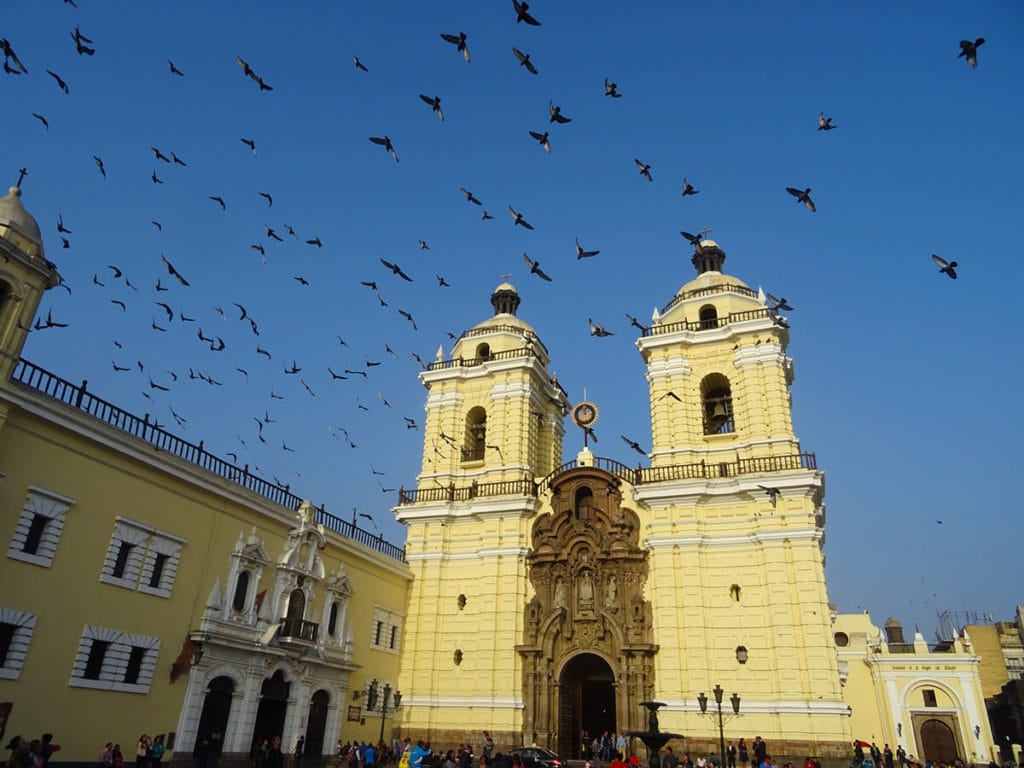 See the sights of Centro Historico
Lima is separated into 43 districts covering a huge metropolitan area. Most travelers only see three or four of these, however. Centro Historico, filled with interesting colonial buildings and open public spaces, is one of the most popular.
It doesn't cost anything to walk around and witness the architectural highlights of Centro Historico. These include:
Plaza Mayor: the main square at the centre of the district. This is where you will find two of Lima's most important buildings – Palacio de Gobierno and La Catedral de Lima. The cathedral has a museum with an entry fee of 10 soles (about $3).
Monasterio de San Francisco: a bright yellow church that features a library holding over 25,000 historic texts, and famous catacombs that contain the remains of 70,000 people. For just 15 soles (about $4.50) you can enter the museum and take a guided tour of the library and catacombs.
Palacio Torre Tagle: an old colonial house that is considered the best surviving example of Spanish baroque architecture in Lima. Entry is limited, but you can walk around the lower grounds for free and take photographs.
Convento Santo Domingo: a magnificent 16th-century pink church, which is the final resting place of some of Peru's best-loved saints.
Cerro San Cristóbal: an iconic hill covered with colorful houses that rises above Centro Historico to the north. There's a great view of it from Park La Muralla, a large public space a couple of blocks from Plaza Mayor.
Lima's parks: Museums and Entertainment
Parque de los Museos is a huge park that features some of the best museums in Lima, situated a couple of kilometers south of Plaza Mayor. A highlight is the Museum of Art of Lima, where you can see 3,000 years' worth of Peruvian art for 30 soles (about $9).
Walking a little further south you will reach Parque de la Reserva, a park with winding pathways and beautiful water fountains. Every night here you can pay 4 soles (about $1.20) to see a magical illuminated water show.
Miraflores is the most popular district in Lima for backpackers, with a great choice of bars, restaurants, and markets. At its center is Parque Kennedy, a triangular-shaped park and gardens. You will find street artists, dancers, and musicians performing here on most days throughout the year.
Hunt for Bargains in Local Markets
Miraflores is home to some of Lima's best local markets for arts, crafts, clothes and fresh produce.
The Indian Market, open until 5 PM every day, is a great place to explore artisan craft stalls for souvenirs. $10 will go a long way here, but be ready to haggle!
For fresh food, and a spot less visited by tourists, head a few blocks east to Mercado Surquillo. It's optimal to visit this huge market first thing in the morning for the best deals.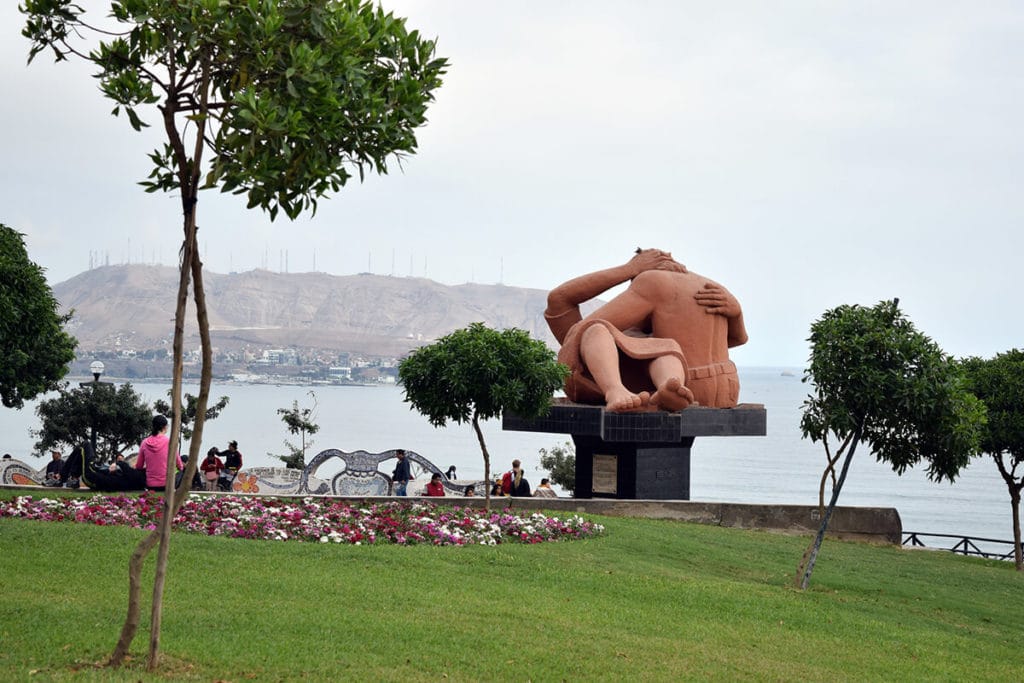 A Stroll Along the Coastline
The Miraflores Boardwalk is a six-mile path that extends along Lima's Pacific coast. It's full of scenic ocean views interwoven with parks and beaches.
The prime spot along the route is Parque del Amor, a small park decorated with mosaic walls and 'El Beso', a famous lovers' statue. It doesn't cost anything to relax here with a good book and enjoy the stunning view.
Explore Ancient Ruins (By Day or Night)
A high proportion of visitors to Peru come to see famous ruin sites, in particular Machu Picchu and the Sacred Valley. As an alternative, Lima has its own legendary ruins that predate the Inca period.
Huaca Pucllana is a restored adobe pyramid dating back over 1,600 years. Over the centuries it has withstood devastating earthquakes as modern buildings around it have crumbled.
For 15 soles (about $4.50) you can take a guided tour around the ruin site between 9 AM and 5 PM every day. However, for just 2 soles more, it's well worth coming in the evening instead. Open between 7 PM and 10 PM, it looks extra-spectacular in dim lighting.
Sample Amazing Peruvian Food
Peru has a proud tradition for food that is becoming increasingly recognized internationally. While you're in the city you should try some of the classic dishes like ceviche, causa and lomo saltado.
One of the best ways to try classic Peruvian food on a budget is to eat in one of the 'menú' restaurants. For anywhere between $1 and $6, you can get a two- or three-course meal with a drink. One of the best places to find them in Lima is along Avenida Miguel Grau in the bohemian district of Barranco.
While you're in Barranco, take the chance to spot the colourful street art around Puente de los Suspiros (the bridge of sighs). No entry fee required!
For a slightly more upmarket dining experience with reasonable prices, check out Punto Azul, a superb little restaurant in Miraflores. Not everything on the menu is less than $10, but you can order a causa or a mixed ceviche within budget, two of the delicious house specialities.
Drink a Pisco Sour
You can't visit Lima without hearing about the classic cocktail, pisco sour. Pisco is a coloured brandy and the source of much debate between Peru and Chile over its ownership rights. The pisco sour is created by mixing it with egg white, lime juice, syrup and bitters.
The streets of Miraflores around Parque Kennedy are lined with busy bars offering special deals on pisco sours to entice you inside. At happy hour you'll be able to get at least two of them for $10. A great way to round off your trip to this awesome city!
To find out more, this article on how to spend two days in Lima gives a sample itinerary for how to explore the city's highlights.
---
Contributor: Alex Trembath from Career Gappers
Alex is a communications specialist and travel addict. After taking a career break to travel the world for a year, he created the blog Career Gappers with his wife Lisa. Their mission is to inspire and equip people to take time out of work to travel, and spread a positive message about the benefits of career gapping. Check it out for career break advice, travel tips and destination inspiration.
Facebook | Twitter | Pinterest | Instagram
---
---
Like my post?
---