Before the pandemic hit, KLIA had become my preferred airport to have a short layover for some of my international flights. Despite Changi's popularity in Singapore, I never really enjoyed having a transit there as everything felt so pricey in Singapore. On the other hand, Kuala Lumpur is three times cheaper, and the airport is big enough to people-watching even though it's not exactly a shopping haven or any place that is effective to kill boredom while waiting for your next flight.
I can't remember how many hotels around Sepang area where I spent a night or two in Kuala Lumpur for my flights. I wrote about Capsule by Container, which is currently known as CapsuleTransit Airport Hotel in KLIA2. I also had an article about Bary Inn Hotel for when I waited for my flight to Ho Chi Minh City with Vietnam Airlines.
Other than the hotels that I wrote about, I also stayed in some others long before I started this blog. I remember, once I stayed at Sri Langit Hotel, a hotel close to Kuala Lumpur National Airport with an aircraft concept in their rooms. It was quite a nice, not-so-pricey hotel to stay for a night.
And as mentioned the other day, I missed my flight to Jakarta from Kuala Lumpur that forced me to extend my stay in Malaysia for one more day. Since I was too lazy to even spend 50 MYR to leave the airport, I decided to find a room in one of the few airport hotels available around KLIA/KLIA2. And this time, I got a chance to stay at Tune Hotel KLIA Aeropolis.
Tune Hotel KLIA Aeropolis vs Tune Hotel KLIA/KLIA2
When I booked the room through Agoda, I genuinely thought that Tune Hotel is the one that is only walking distance from KLIA2, the airport where I was supposed to have a flight from. But as it turned out, when I reached the receptionist at Tune Hotel in KLIA2, she said that I booked a room in another Tune Hotel in KLIA area, which is Tune Hotel KLIA Aeropolis.
Instead, Tune Hotel that is only walking distance from the terminal is listed as Tune Hotel KLIA/KLIA2 on the booking websites like Agoda, Traveloka, etc. It was quite a rookie mistake for someone who claims to fly a lot of times from KLIA/KLIA2. Even worse, for someone who used to work for AirAsia, which is the sister company of the hotel chain. LOL.
However, even if you make a mistake as I did, there's nothing to worry about as they provide a shuttle bus service that could take you to Tune Hotel KLIA Aeropolis for free. All you need to do is just register through the receptionist, and they will tell you the schedule for the next bus. It was quite convenient. 
Tune Hotel KLIA Aeropolis vs Tune Hotel KLIA/KLIA2: Which one is better?
I'm still yet to get a chance to stay at Tune Hotel KLIA/KLIA2, but the way I see it… There are a few significant differences in terms of the advantages and disadvantages between Tune Hotel KLIA/KLIA2 and Tune Hotel KLIA Aeropolis.
For example, the location of Tune Hotel KLIA/KLIA2 is more convenient as it's only within walking distance from the KLIA2 terminal. And since it's close to the terminal, you'll have many options in terms of activities and restaurants. This is something that you won't get if you stay at Tune Hotel KLIA Aeropolis.
However, if you're looking for a budget hotel around KLIA with a free shuttle to the terminal… Tune Hotel KLIA Aeropolis could be your best option. It provides a room with the proper privacy you need, with a relatively lower rate compared to other hotels around the airport.
Review: Tune Hotel KLIA Aeropolis
I booked a Single Room at Tune Hotel KLIA Aeropolis as soon as I realized that I missed my flight to Jakarta that day. Through Agoda, I got the room for 69 MYR (around $16.6 USD) for one night. To be fair, it still sounds like the best deal given the idea that I don't have to spend extra money on a taxi or a shuttle bus.
The check-in process is quite fast and nice, with a friendly receptionist who asked for a deposit of 50 MYR. He also asked me what time my flight the next day, so I could book the shuttle bus at the right time.
As my flight wasn't until 3 PM, I decided to book a shuttle bus at 10 AM since I'm cheap and I thought since I bought the Premium Flex for this flight, I could wait at the RedLounge while working on some project I had at the time.
The receptionist gave me the key to my room while giving me a brief direction about where my room was. It was quite easy, since my room wasn't so far from where the elevator was located on my floor.
Single Room at Tune Hotel KLIA Aeropolis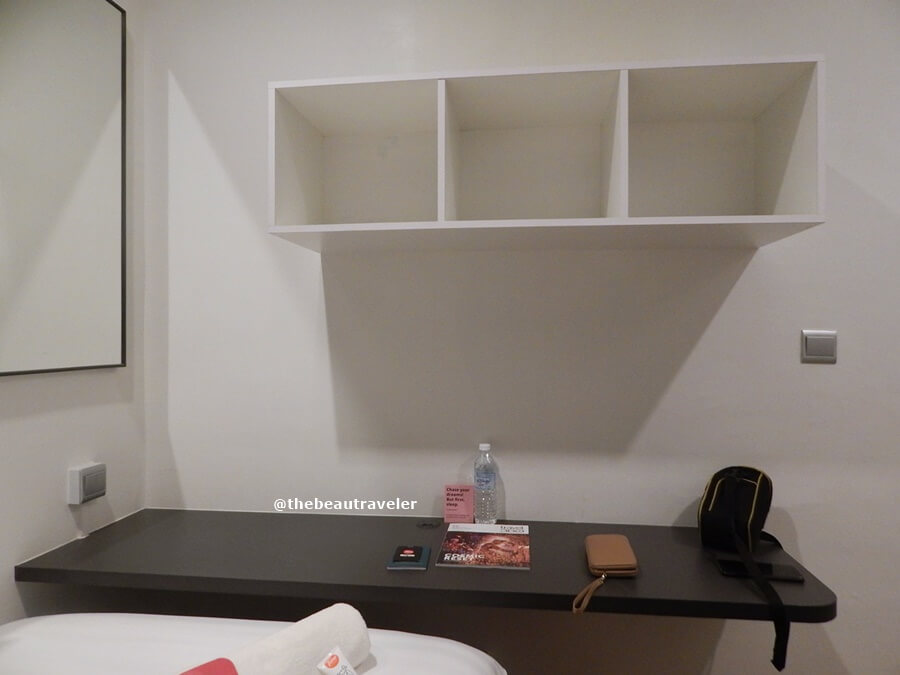 When I entered my room, I was genuinely impressed. It was a minimalistic single room that is quite spacious for one person. Compared to the Deluxe Twin at Bary Inn Hotel, the room felt much bigger for sure.
The room was super clean with a small capsule closet, and there's also a tiny desk where I could work with my netbook in the corner. Long story short, the hotel room has everything that I needed for the night. And the air conditioner worked perfectly too, and so did the wifi.
I had nothing to complain about the room, and they also come with some simple amenities, including a small tube of shampoo and a sachet soap bar. I didn't need them, as I always bring my own, but it could be beneficial for those who are too lazy to unpack the little things like toiletries.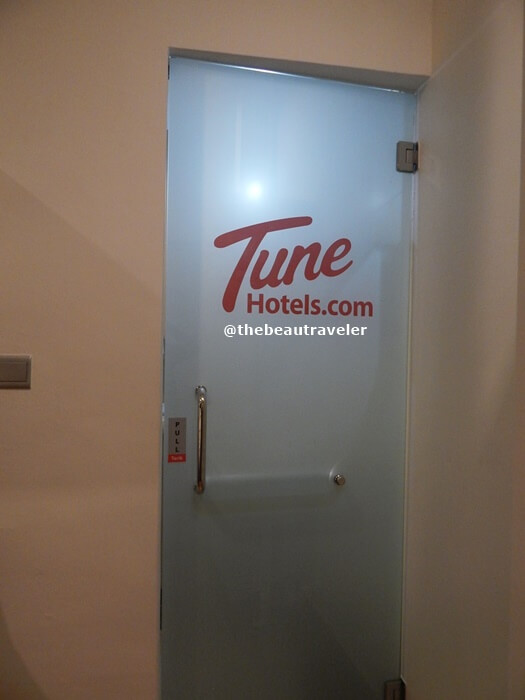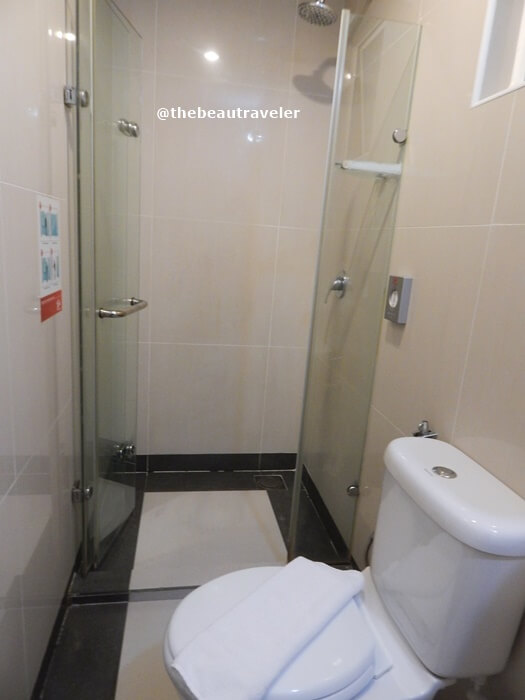 Honestly, now that I've experienced staying at Tune Hotel KLIA Aeropolis, I'd choose to stay there for the next time I have a flight transit in Kuala Lumpur. God knows when, but anyway…
Even the bathroom is quite spacious for a single room. Well, it's more like long than big, but it has everything you need… From a water heater, a small sink, and even a hairdryer!
To be fair, by the time I reached the room, I'm quite impressed by the quality of the room and facilities at Tune Hotel KLIA Aeropolis for less than 70 MYR. 🙂
Glasshouse Cafe & Bar
One of the downsides of staying at Tune Hotel KLIA Aeropolis is that you have limited options for food and beverage. And by limited, you only can rely on Glasshouse Cafe & Bar to order meals unless you're okay with getting some instant noodles from the vending machine.
Don't get me wrong, I love Maggi instant noodles… But there are often times when instant noodles can't make the cut for your appetite. And that's when I stayed at Tune Hotel KLIA Aeropolis.
So around 8 PM, I went downstairs to have my dinner at Glasshouse Cafe & Bar. It was actually quite a nice restaurant with plenty of options on their menu. They have various kinds of menu, from local Malaysian to international dishes like spaghetti and such.
They have smoking areas outside, while you can also sit around the bar area. The cafe itself was rather empty, and as much as I wanted to say the chicken satay is okay, it wasn't so special either. It was just good enough to fill in my empty stomach, but not so good that I want to come back to reorder it next time.
I ordered chicken satay and mineral water. I honestly forgot how much I paid for the chicken satay, but it wasn't too expensive either so I would say the price range is still quite affordable.
Final Verdict: Layover at Tune Hotel KLIA Aeropolis
Personally, I suppose Tune Hotel KLIA Aeropolis is by far the best place to stay around KLIA/KLIA2 for a transit. Compared to other options, the rate is relatively budget-friendly. In addition, the surrounding is rather quiet so you can easily rest well at night before your flight.
Pros:
It's budget-friendly! With the night rate around 69 MYR per night, it's generally more affordable than some cheaper hotels in Sepang area. At Tune Hotel KLIA Aeropolis, you don't have to spend extra money to get to the terminal as the free shuttle bus is included in the service.
A clean room with minimalistic furniture that is quite functional for transit before your next flight.
It has everything you need, even a hairdryer!
Cons:
The location is basically out-of-nowhere, compared to Tune Hotel KLIA/KLIA2.
You will have a limited choice of meals since you can only rely on either vending machine or Glasshouse Cafe and Bar for food and beverage.
I would say, the pros of staying there outweigh the cons so I would choose Tune Hotel KLIA Aeropolis the next time I have a transit at KLIA/KLIA2.
Now, given the situation with the pandemic in Indonesia, especially after being named as the Asian epicenter for Covid-19 due to the highest number of cases so far… But well, one can only dream of things going back to normal soon.
Got any experience of staying in another Tune Hotel? Drop a comment below, and cheerio! 😉
---
Disclaimer:
This post may contain affiliate links. I receive a small commission at no cost to you when you make a purchase using my link.
---
Like my post?
---