Officially known as Krung Thep Maha Nakhon, the capital city of Thailand in Bangkok is one of the most visited destinations in Southeast Asia. The vibrant city life is blended well with the rich culture in the city, making it a great place to visit when traveling to Thailand. To top it all, Bangkok is also one of the most budget-friendly destinations in the region!
Situated in the delta of the Chao Praya River in the central part of the country, Bangkok is a big metropolitan area with numerous places to visit. Whichever type of tourism you prefer, there are so many things to do in Bangkok. From visiting the Grand Palace to attending a ladyboy show, you can blend various activities to do in Thailand's capital city.
In this post, I'm collaborating with some travel bloggers who are happy to share some of their favorite places to visit in Bangkok to complete this Thai capital city guide. So, what's the best way to travel around Bangkok? What are the best places to visit in Bangkok? Let's dive into this complete guide to exploring Krung Thep Maha Nakhon, shall we?
How to Travel Around Bangkok
Bangkok is a big city covering over 1,500 square kilometers for its metropolitan area. If you plan to stay in the capital city only for a few days, it's almost too ambitious to think of visiting all the must-visit places in Bangkok. The good news is that Bangkok has a well-integrated transportation system that makes it quite easy to get around the city.
The bustling city has several transportation options to help you get around, so here are some of the best ways to travel around Bangkok!
BTS Skytrain
The BTS is one of the most convenient ways to travel around Bangkok metropolitan area, as it currently has over 50 BTS stations with the chance to expand them even more in the future.
The BTS Skytrain in Bangkok currently has two lines, Silom and Sukhumvit that connect many popular places to visit in the city. The Sukhumvit line starts from Mo Chit station, which is located near Chatuchak where we stopped after resuming our journey to Bangkok by bus after the Thai Railway train from Chiang Mai broke down. As for the Silom line, it runs from downtown in the National Stadium.
Some BTS stations also integrate with the MRT and Airport Rail Link, making it more convenient to travel around Bangkok. If you plan to take the Airport Rail link from Suvarnabhumi International Airport, you can transfer to BTS Skytrain at Phaya Thai Station. Meanwhile, if you want to transfer to MRT, there are several BTS station that has direct access to MRT station, such as those in Sala Daeng or Asok station.
In every BTS station, you should be able to purchase a single ticket using the machine. However, keep in mind that some ticket machines for BTS only accept coins. If that's the case, you can go to the ticket kiosk to purchase it in person. Alternatively, you can also get a daily pass for unlimited rides for the day.
If you plan to stay in Bangkok for a while, you may also want to consider purchasing a Rabbit Card. The latter is the card payment method that you can top up as you go, making it more convenient if you plan to use BTS as your main transportation method in Bangkok.
Buy Bangkok BTS Skytrain Rabbit Card here!
MRT
Next, you can also travel around Bangkok using the MRT metro system, which complements some additional areas in the city. Bangkok currently has three MRT lines with over 50 stations in the metropolitan area, which include the MRT Blue Line, MRT Purple Line, and MRT Yellow Line.
The MRT system in Bangkok complements other transportation methods in the city, as you can easily transfer to the BTS Skytrain which reaches more destinations in Bangkok. If you plan to transfer to Suvarnabhumi by Bangkok Airport Rail Link, you will have direct access to transfer via MRT Petchaburi Station.
If you travel by MRT in Bangkok, you can purchase a single journey token from the ticket vending machine at the station. These tokens can be used for both MRT Blue and Purple line, but the payment method is different if you want to take the MRT Yellow Line. Most MRT ticket machines accept both coins and banknotes, but you need to make sure not to lose the token as you will need to tap it when you're in and out of the stations.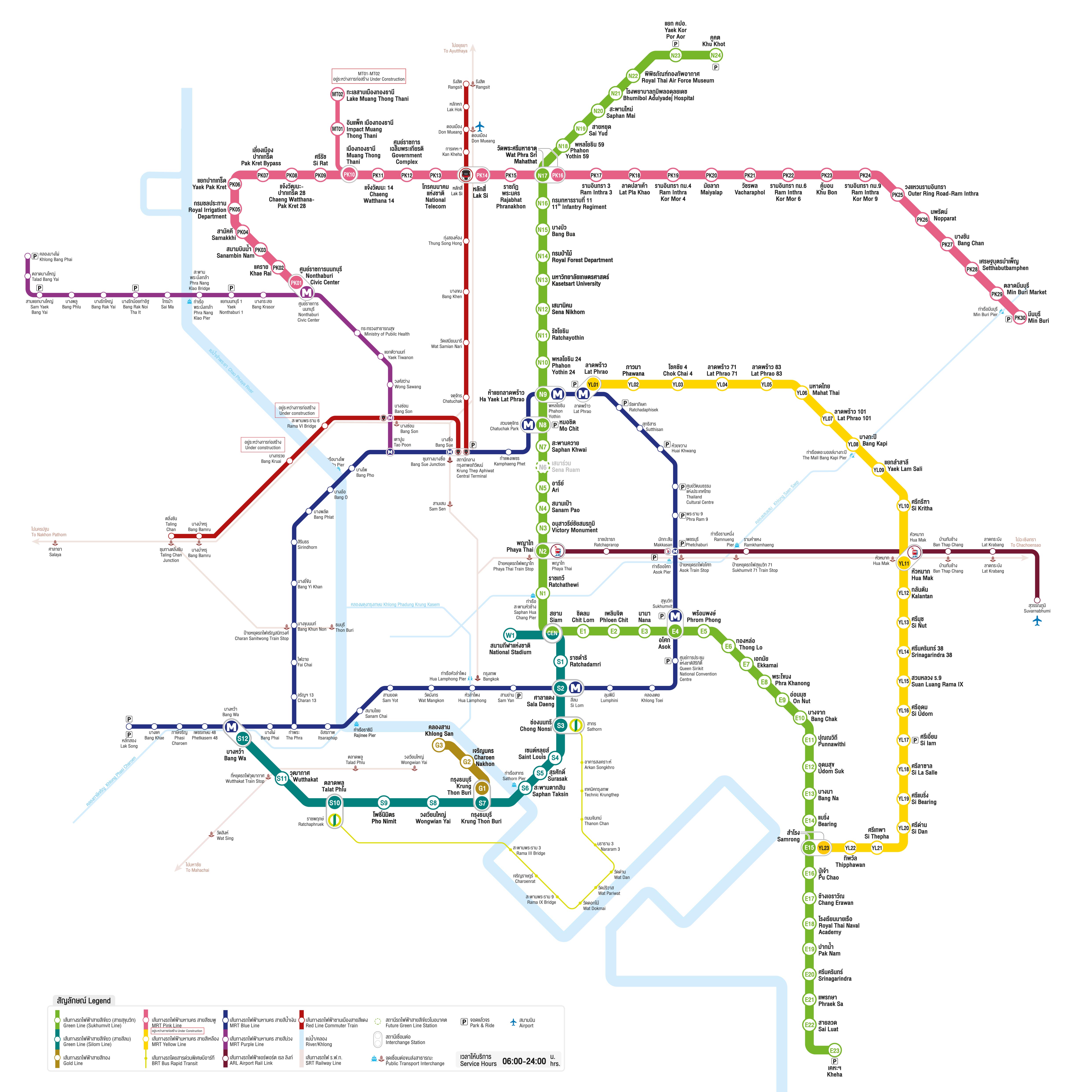 Bus
Public buses in Bangkok may not be the most popular transportation method for tourists, but it can be a great way to explore Bangkok like locals. I only used public buses in Bangkok a few years ago when I traveled to Bangkok for the first time, and I was amused!
As a fellow Southeast Asian, I thought that the bus system in Bangkok would be similar to those in Jakarta or Kuala Lumpur. But that's not really the case, because the bus system in Bangkok is pretty old as they rely so much on the conductors that will collect your payment in cash.
The fare will depend on the distance you take from your departure to the arrival point, but it's definitely one of the cheapest ways to travel around Bangkok. The bus stops in Bangkok are scattered to the point that as a tourist sometimes you're just not sure if it's a bus stop or not, and that's one of the reasons why I no longer travel around Bangkok by bus. Not to mention that I find other transportation methods in Bangkok are still pretty affordable.
If you want to go on an amusing adventure to explore Bangkok by bus, I'd recommend taking the fan bus instead of the air-conditioned ones. Depending on the traffic, the breeze from the window can be pretty great against Bangkok's hot weather. But keep in mind that it could be a torture when you're stuck in the traffic!
Another thing to consider before traveling by bus in Bangkok is the tardiness. You can't rely much on the bus schedule, and the chance of waiting for hours to get on a specific bus is never zero. Apart from that, the public buses in Bangkok cover various areas in the metropolitan area and they also operate from both airports in Bangkok: Suvarnabhumi and Don Mueang International Airport.
If you're not sure about exploring the city by public bus, you can also explore Bangkok on a hop-on hop-off bus that covers 16 major areas in the capital city that are more suitable for tourists.
Tuk-Tuk
Tuk-tuk is probably the most popular transport in Bangkok. It's affordable, and it's suitable if you're a couple traveling together as exploring Bangkok by tuk-tuk means that you could share the back seat without spending extra money on taxis.
While you can just hail a tuk-tuk and negotiate the price in person when you find one, you can also use apps like Tuk Tuk Hop to rent a tuk-tuk daily in Bangkok.
I forgot whether tuk-tuk services are available in Bangkok, but ride-hailing apps like Grab also offer tuk-tuk services in some selected areas. I know it's fully available on Grab when I traveled to Cambodia, and I heard the tuk-tuk hire is also available on Grab in Phuket. I'm just not certain if it is available in Bangkok.
River Boat and Ferry
Bangkok has an extensive network of canals (khlongs) and rivers, and you can use boats and ferries to get around. The Chao Phraya Express Boat and the Saen Saeb Canal Boat are popular options for both commuters and tourists, as they're cheaper and faster than other transport in Bangkok.
The only downside of taking river boats and ferries in Bangkok is that the information about this transport option is not available on apps like Google Maps or Moovit. I've traveled around Bangkok by boat before, but I only did it when I had my Thai friends to show me around.
Essentially, there are a few areas that you can easily reach by boat, including Asok and Pratu Nam. These two areas in Bangkok are quite popular for accommodations due to the strategic location that's pretty well-connected with all types of transport around Bangkok.
Vehicle Rentals
Bangkok is probably not an ideal destination to rent vehicles if you're not familiar with the hustle and bustle in the city. However, if you're confident with your driving skills, renting a car or a bike in Bangkok is pretty easy. To rent a vehicle in Bangkok, you don't necessarily need an international driving license; any official permit with available information written in English will suffice.
I personally wouldn't recommend it for novice drivers, especially if you're not familiar with the traffic in Southeast Asia in general. However, car or bike rental in Bangkok can be a great alternative, especially if you prefer to explore the city as you go without any specific itinerary or timetable to follow!
Taxi and Ridesharing Apps
There are so many taxi operators and cab hailing apps available in Bangkok. While Uber has stopped operating in the country since 2018, you can use various ride-hailing apps in Thailand.
If you're from any other country in Southeast Asia, chances are you're already familiar with the Grab app. For European travelers coming to Thailand, you don't have to install a new app if you already have Bolt on your phone. As an Indonesian, I was also quite surprised when I found out that GoJek also operates in Bangkok. In addition, you can also expect to use inDriver in Thailand for cheaper ride-hailing alternatives in Bangkok.
I also got a chance to try the premium service with CABB from Suvarnabhumi to our AirBnB in Bangkok. Unlike the other apps, CABB provides an executive cab service that enables passengers to get some posh black taxi experience like in London!
The taxi fares for CABB were slightly higher than the regular taxis, but for good reasons. Not only can you expect high-quality service and hospitality from the driver (they speak English very well!), but they also provide top-notch facilities, from spacious seats to free wifi in the car. The latter tremendously helped, especially since I didn't get a chance to purchase a sim card for the internet when I landed in Bangkok.
The Best Places to Visit in Bangkok, Thailand
Through this guide, I'm going to split the best places to visit in Bangkok based on four different categories: museums and historical buildings, temples, arts and experiences, as well as shopping and entertainment. So, here we go!
Museum and Historical Buildings in Bangkok
Bangkok is a city steeped in history and culture. Amidst its modern skyscrapers and bustling streets, it's also a great place to visit for history buffs and culture enthusiasts.
In this section, we'll start with some of Bangkok's museums and historical buildings to delve into the city's architectural marvels and learn more about this enchanting city. So, here are some historical places to visit in Bangkok!
1. The Grand Palace
There is no doubt that the Grand Palace should be on the list for the best places to visit in Bangkok. It's a dazzling jewel in the heart of the vibrant city with its awe-inspiring masterpiece of Thai architecture and culture. The palace has been the city's landmark and the symbol of the Royal Family in Thailand.
As soon as you step inside, you'll be greeted by the intricate details with stunning golden spires and vibrant colors of the buildings. The Grand Palace compounds in Bangkok used to be the residential area for the Thai Royal Family until 1903 when King Rama V initiated the relocation of the residence to Chitralada Palace in the Dusit district in Bangkok.
Although the Thai Royal Family no longer resides in the Grand Palace, the building is still used for ceremonial purposes. During the mourning period after King Rama IX passed away in 2016, Thai people got in a long queue to pay respect to the former king until his funeral in 2017.
While the Grand Palace is free entry for Thai citizens, the entrance ticket for foreigners costs 500 THB (around $15 USD). The Grand Palace is also home to the revered Emerald Buddha, symbolizing Thailand's spiritual and cultural heritage. Don't forget to dress modestly and cover your shoulders and knees when visiting the temple!
Book a guided walking tour to the Grand Palace and Emerald Buddha now!
2. The National Museum
The National Museum in Bangkok, Thailand. Recommended by Ashley of Culture Snapshots. 
The National Museum is one of the best places to visit in Bangkok, especially if you want to learn about Thai history and culture.
The museum has 3 main focuses: Thai National History, History of Art and Archaeology in Thailand, and Fine Arts and Ethnology. These are covered across multiple buildings within the grounds.
Highlights of the National Museum include the Front Palace, the previous palace of the vice king that has stunning examples of traditional Thai arts, and the Funeral Chariot Hall, a warehouse full of impressive golden funeral chariots used by the royal family.
Even if you're not a history buff, the artifacts, art, and architecture of the National Museum are worth the visit. Plus you can combine the museum with a trip to the Grand Palace, as they are located in the same area.
3. Museum Siam
Thai food section at the Museum Siam in Bangkok, Thailand. Recommended by Paula of Thailand Awaits.
Whether you are visiting Thailand for your first or fifth time, you are bound to learn something from a visit to Museum Siam.
This collection of 14 zones explores Thai culture and history with a fascinating permanent exhibition, "Decoding Thainess" that looks at what it is to be Thai. Encompassing everything from food and fashion to ancient beliefs and Thai traditions, you will find answers to questions you will likely face the more you travel through this unique country.
The museum is housed in a beautifully restored 19th-century building and features interactive exhibits that allow you to learn about Thai culture in a fun and engaging way. You are encouraged to pick things up, play games, try on traditional costumes and so much more.
If you are looking for an escape from the heat or a change of pace between temple visits I highly recommend you stop in for an hour to so.
Getting to the museum by public transport is easy with the Sanam Chai MRT stop right at the door. It is a 3 minute walk to Wat Pho and 15 minutes from the Grand Palace. The museum is open 6 days a week from Tuesday to Sunday from 10am-6pm.
4. Jim Thompson House
Jim Thompson House in Bangkok, Thailand. Recommended by Anna of Spain Inspired. 
Bangkok offers a ton of things to see, but one that stands out is the Jim Thompson House. This complex was once the home of American entrepreneur and art collector Jim Thompson, who played a significant role in reviving the Thai silk industry in the 20th century.
The traditional Thai wooden structures hold an extensive collection of Southeast Asian art and antiques. Visitors can learn about the Thai silk-making process, find out about the mystery of Thompson's unsolved disappearance in 1967, and relax in the peaceful garden.
With guided tours available, an on-site boutique for silk purchases, and a café serving Thai cuisine, it's a unique blend of history, art, and nature right in the heart of Bangkok.
Temples in Bangkok
Nestled within the heart of Thailand's bustling metropolis, Bangkok's temples stand as serene sanctuaries amidst the urban chaos. There are thousands of temples you can visit in Bangkok, so you'll never run out of places to explore the intricate architecture and spiritual significance of each sacred site.
Among many, there are a handful of Buddhist temples in Bangkok you should visit whether it's your first time traveling to Thailand's capital city, or you want to revisit the profound spirituality for a transformative and enlightening experience in Bangkok!
5. Wat Arun
Wat Arun in Bangkok, Thailand. Recommended by Raksha of Solo Passport.
Situated on the banks of the Chao Phraya River, Wat Arun Ratchavararam or the Temple of Dawn is one the Buddhist temples to visit in Bangkok.
Initially known as Wat Makok, the temple was built in a combination of Thai and Khmer-style architecture. This iconic temple is close to the Grand Palace and Wat Phra Kaew.
One of the most prominent features to see in the temple is the Central Prang. Decorated with tin-glazed pottery and porcelain, the prang is at the height of around 80 meters and overlooks the river.
There are many terraces that the temple has which can be climbed to get amazing views of the river and surroundings. The best time to visit the temple is during sunrise or sunset. And you need at least 2 to 3 hours to explore the temple.
6. Wat Pho
The Reclining Buddha at Wat Pho in Bangkok, Thailand. Recommended by Kim of Explore Your Bucket List. 
One of the most impressive sights in Bangkok is the Wat Pho Temple complex. Dating back to the 17th century, this location is one of the largest and oldest temples in Bangkok.
There are many beautiful sculptures and buildings to see here (including more than 1000 Buddha images), but the most popular is the reclining Buddha. Measuring 46 meters long and 15 meters high, this is known to be the largest sleeping Buddha in Bangkok and the third largest in Thailand.
This remarkable structure is made from bricks, plaster, and gold leaf. And one of the most interesting features is the mother-of-pearl designs that decorate the soles of the feet.
Be sure to also look around you at the hall that houses the Buddha – the surroundings are very beautiful. And bring along coins that you can drop into the bronze bowls located in the hall that are believed to bring you good luck!
Join Wat Pho and Wat Arun Walking Tour now!
7. Wat Paknam Phasi Charoen
Wat Paknam Phasi Charoen in Bangkok, Thailand. Recommended by Helen of Differentville.
It's as tall as a 20-storey building and 40 meters wide, but its location on the less-visited west side of the river in Bangkok means that the Giant Buddha at Wat Paknam Phasi Charoen is still hidden from most tourists. Make sure you change that on your trip.
One way to see it is to take a trip to the temple itself. The Buddha itself is just one of the fascinating things to see at this temple complex – the decorative ceiling of the stupa is stunning, and there's a fun museum of odd artifacts underneath it.
There are two stations a short walk away from Wat Paknam, Watthakat on the BTS line or Bang Phai on the Bangkok Metro.
Or if you're tight on time, you can also see the Buddha on some boat tours. For more tips, check out this longer post on Bangkok's largest Buddha.
Arts and Experiences in Bangkok
Traveling to Bangkok is like stepping into a vibrant canvas of art and culture. From the enchanting chaos of Chinatown where ancient traditions and culinary delights merge, to the modern hub of contemporary expression at the Bangkok Art and Culture Center!
8. Chinatown
Chinatown in Bangkok, Thailand. Recommended by Sarah of A Social Nomad.
Bangkok's Chinatown is bustling, vibrant, and a great place to explore during your time in Thailand's capital city. This authentic Chinese cultural area is one of the most famous areas of Bangkok, its also one of the largest Chinatowns in the world and was founded in 1782.
In Bangkok's Chinatown, you'll find the world's largest Gold Buddha at Wat Tramit and the China Gate at the western entrance to Chinatown is a fabulous monument that symbolizes the Chinese community's loyalty to the Thai King. It's actually located in the middle of a traffic island, so you can't get close to it, but you can see it from the sidewalks.
One of the key things you'll want to do here in Chinatown is shop and there are alleyways upon alleyways of stores where you can find just about anything. Sampeng Lane is a great place to start, this long narrow lane was Chinatown's original high street.
The current main street in Chinatown is Yaowarat Road, and this is where you'll want to head on a night for some incredible street food. Once the sunsets food stalls start setting up, along the sidewalks, and there are also some fabulous seafood restaurants here too. You'll find traditional Thai foods and a lot of Chinese-influenced dishes.
Book the Chinatown Sightseeing and Street Food Tour in Bangkok now!
9. Khlong Ong Ang Walking Street
Khlong Ong Ang Walking Street in Bangkok, Thailand. Recommended by Rosalind of Frequent Travellers.
If you are staying in Bangkok and love street art, a visit to Khlong Ong Ang Walking Street should be on your list of places to see.
The walking street stretches across both sides of Ong Ang Canal in Little India and is a short walk from Sam Yot MRT Station. Here you will find a stunning collection of street art which range from the whimsical to artworks that depict the history and culture of this fascinating area of Bangkok.
If you plan to visit on the weekend, you are in for a treat as Khlong Ong Ang Walking Street transforms into a lively night market featuring live music, street food and market stalls. The Night Market is open between 4pm and 10pm from Friday to Sunday.
If you aren't visiting Bangkok on a weekend, the artworks of the walking street can be viewed any time of day. Khlong Ong Ang Walking Street is filled with vibrant color and a place to be enjoyed when visiting Bangkok.
10. Bangkok Art & Culture Center (BACC)
Bangkok Art & Culture Center in Thailand. Recommended by Sophia of Delightful Travel Notes. 
The Bangkok Art & Culture Centre (BACC) is a contemporary arts center easily accessible via the Silom and Sukhumvit Lines in Bangkok. The nearest train stations are National Stadium, Ratchathewi, and Siam. In addition, the center is right across from the MBK Center and Siam shopping malls, making it a convenient stop for visitors in the city.
Free to visit, the BACC is a modern piece of architecture that stands out in the urban landscape of Bangkok. It has a cylindrical shape and spiraled interior walkways that give visitors a fun experience as they ascend through the various levels of the building while taking in the displayed artworks.
The BACC hosts rotating exhibitions from Thai and international artists, ranging from art to photography, sculpture, and mixed media. Besides exhibition spaces, it also has commercial art galleries, craft shops, and art studios. If you are in Bangkok and need a break from the hustle and bustle of the city, the BACC will be a nice change of pace.
11. Amulet Market
Amulet market in Bangkok, Thailand. Recommended by Victoria of Guide Your Travel. 
The Amulet Market in Bangkok, Thailand, is a captivating destination I wholeheartedly recommend visiting. Situated in the south of the famous Khao San Road, this enchanting market offers a unique and immersive experience of Thai culture and spirituality.
The primary reason to explore the Amulet Market is its cultural and historical significance. Amulets, small charms believed to possess mystical powers, are deeply ingrained in Thai tradition. Visiting the market lets you witness this spiritual connection firsthand as you peruse the countless stalls adorned with amulets of various shapes, sizes, and materials. The intricate craftsmanship and diverse range of amulets on display are awe-inspiring.
Activities at the Amulet Market include engaging with knowledgeable vendors who can share the stories and significance behind these amulets. You can also purchase charms to partake in this age-old tradition and carry a piece of Thai spirituality.
12. Yodpiman Flower Market
Yodpiman Flower Market in Bangkok, Thailand. Recommended by Soumya of Stories by Soumya.
The Yodpiman Flower Market is one of the best places to visit in Bangkok. It is full of colors, sights, and smells – just like the city of Bangkok.
The markets of Bangkok are amazing. They are not just a great place to shop but also the best spots to immerse yourself in Thai culture and get a peek into the daily lives of the locals. The Yodpiman Flower Market is one of the most authentic ones in that regard.
At Yodpiman, you'll see a wide array of fresh flowers being sold every day. There are jasmines, marigolds, plumerias, and daisies. You'll also get fragrant roses and colorful orchids.
Visit the flower market in the wee hours of the morning when it's full of activity. Flowers of all kinds come in from all over Thailand. Simply soak in the vibe while wholesalers hustle to sell their blooms and retailers haggle.
You can take a ferry on the Chao Phraya River to get to the Yodpiman Flower Market. Be sure to take a walk on the riverfront promenade after your market visit to enjoy a serene morning by the water.
Shopping and Entertainment in Bangkok
The city that never sleeps, Bangkok offers various shopping and entertainment experiences for 24/7. It's not without reason that Thailand is known as one of the most affordable shopping destinations in the world.
From Chatuchak weekend Market where treasures of all kinds await, to the sophisticated ICONSIAM where you can go for luxury shopping, the city is heaven for shopaholics. From fashion items to top-notch skincare or beauty items, you'll never run out of things to hunt in Bangkok!
In this section, we'll also delve into Bangkok's nightlife where you can enjoy the city's party scene to the fullest!
13. Chatuchak Weekend Market
Chatuchak Weekend Market in Bangkok, Thailand. Recommended by Lavinia of Continent Hop (Image Source: Depositphotos).
Chatuchak market in Bangkok is one of Thailand's most famous and buzzing places. It is the largest market in Thailand with 8000 stalls that are spread across the beautiful market. Also known as the Jatujak Market, this place has everything you can think of and more.
While visiting Chatuchak Market, make sure to add a shopping spree to your 7 Days in Thailand Itinerary. You will find clothes, shoes and other fashion accessories at discounted rates here. You will also find a plethora of bags and trendy hats here.
If you are a fan of paintings, this market has a ton of unique paintings. You will also find perfect souvenirs here. You can buy decorative lamps, cute mugs, keychains, magnets, and much more.
You should also try some delicious local food here, especially the coconut ice cream and grilled fish. Carry cash as the vendors prefer it.
14. The Embassy Diplomat Cineplex
The Embassy Diplomat Screens Cinema in Bangkok, Thailand. Recommended by Ryan of Way Less Travelers.
After you are tired of walking around Bangkok exploring the myriads of beautiful temples, a perfect way to relax is watching a movie in VIP style.
The Embassy Diplomat Cineplex, located at the top of a luxury shopping mall in Bangkok, is an ultra-luxurious cinema where viewers can enjoy the best of cinema comforts. Equipped with cocooned fully-reclinable sofa chairs with leg rests or large bed-like sofas, compartmentalization for extra privacy, soft silky blankets and plush slippers, and even your own butler who you can call with your private service button.
In fact, The Embassy Diplomat Cineplex is the most luxurious cinema we've ever been in, even more fancy than the Capital Spectrum Cineplex Theatre we had the chance to experience during our amazing 3 days in Istanbul, Turkey.
What's more is that before watching your movie, you can enjoy a complimentary buffet meal of snacks, sweets, and beverages. When we went, it was Valentine's Day and there was even a live duo string quartet! talk about romantic!
Once it's time to enter the theatre, your own butler will guide you to your seats and show you all the cool functions of your sofa chair. Most zones encompass a large double sofa or bed, allowing for privacy.
This is the most comfortable we've ever been watching a movie and it was worth every dollar! For something as luxurious as this, you would assume that it would be very costly. Like flying first class on an airplane type of expensive. But what's great is that it costs only about 3,600 THB ( around $100 USD) for two people. This is definitely one thing you should not miss!
15. Soi Cowboy
Soi Cowboy in Bangkok, Thailand. Recommended by Baia of Red Fedora Diary.
Located in Bangkok's bustling heart, Soi Cowboy is a street of vibrant allure and neon lights. This compact street houses around 40 go-go bars and has affectionately earned the moniker of the city's 'Red Light District,' stretched between Soi 21 and Soi 23 streets.
Interestingly, the start of this street dates back to 1970, but the name comes from a bar opened by a retired American airman, T.G 'Cowboy' Edwards, in 1977. Since he was always wearing a cowboy hat, hence the nickname for him and later on to the street.
Each go-go bar is a unique venue, teeming with energy and adorned with alluring signage that vividly depicts the vibrant nightlife.
One of the absolute Thailand travel tips to remember, whether you walk the Soi Cowboy or go anywhere else, is to be attentive to your belongings and not fall for various scams.
16. ICONSIAM
Iconsiam in Bangkok, Thailand. Recommended by Taylor of Traverse with Taylor.
It wouldn't be a trip to Bangkok if you didn't visit one of the most fantastic places in the city: ICONSIAM. Now, you might be thinking: another mall? Why do I care?
But ICONSIAM is not just any mall. It is out of this world. Sure, its eight floors are filled with shopping boutiques, restaurants, and various kiosks, but what really sets ICONSIAM apart are its top and bottom floors.
Explore the bottom floor of ICONSIAM, the Sooksiam, for a Thai market experience complete with street food, Thai vendors, and a hustle and bustle you don't want to miss. They have the BEST bubble waffles and roti here- both must trys- especially if it is your first time abroad!
When you've finished, head up to the Starbucks Reserve- one of only a few reserve locations in the world. Try out some unique drinks crafted just for this Bangkok location and buy exclusive Starbucks merch as you head out onto the rooftop to take in the stunning views of the city.
17. Khao San Road
Khao San Road is the kind of place you'll either love or hate in Bangkok. Nonetheless, I think you should add Khao San Road to the list of places to visit in Bangkok at least once in your lifetime. It's centrally located, so you'll find it easy to get around as the road is close to some of the notable sites in Bangkok, like the Grand Palace or National Museum.
Every city always has that area dubbed as the backpackers' hub due to the wide range of affordable accommodations suitable for budget travelers. Khao San Road is one of the most popular areas for backpackers in Thailand, you can find numerous hostels or cheap hotels like Sawasdee Bangkok Inn Hotel.
Khao San Road is also notable for its nightlife, as the road comes alive at night with its vibrant and energetic nightlife scene where you can find hundreds of bars, clubs, and street vendors selling food and beverages. It's a great place to socialize and experience Bangkok's nightlife without breaking the bank.
Explore the street food vendors around Khao San Road and sample various Thai dishes, from pad thai and mango sticky rice, to scorpion skewers; it's a great way to explore both authentic and unique Thai cuisine!
18. Asiatique the Riverfront
Situated along the Chao Phraya River, you may see Asiatique from afar with its signature Ferris wheel. You can ride the Asiatique Sky for 500 THB (around $15 USD) per person where you can enjoy the panoramic view of the city around the river. But it's not the only thing you can do in the waterfront complex!
Asiatique is one of the best places to visit in Bangkok to enjoy the sunset and see the city's landmarks illuminated from afar. There's a pleasant promenade along the river where you can take a leisurely stroll and soak in the ambiance.
Most dinner cruises in Bangkok have Asiatique as their starting point, so you'll most likely have to board the cruise ship from the dock at the riverfront here if you book one to enjoy your night in Bangkok. While waiting for your boarding time, you can do plenty of activities around Asiatique the Riverfront.
There are a lot of vendors that sell a wide range of items, from t-shirts to souvenirs. Asiatique is also the venue for the Calypso ladyboy cabaret show, where you can enjoy the transgender talents and performers to provide a unique perspective on the diversity of Thailand's culture and the LGBTQ+ community!
Book a bundle package of dinner cruise and ladyboy show in Bangkok now!
19. Sky Bar
Lebua Sky Bar in Bangkok, Thailand. Recommend by Jeff of A Life of Y.
A drink at a Bangkok rooftop bar is one of those things you simply must do when visiting Thailand!
The Sky Bar at Lebua is probably the most famous of these due to its appearance in the Hangover Part II. Prices at the Sky Bar are a little higher than most establishments in budget-friendly Thailand but it's reputation as a world-class, award-winning bar makes it well worth the sky high prices if you can afford it.
Located at the top of the Lebua State Tower building, the famous bar itself is the main attraction. However, those looking for fine dining will be pleased to know that there are several Michelin-starred restaurants close by. Despite the high costs, the views across Bangkok are well worth the price of the delicious drinks!
Visiting just as the sun goes down guarantees a spectacular sunset over Bangkok whilst also seeing the city light up as the night begins.
Conclusion
Traveling through the lively streets of Bangkok will guarantee a fascinating experience as you can dive into a fantastic mix of history, culture, and entertainment during your trip to Thailand's capital city.
Whether you want to dig into Bangkok's historical spot to go back in time while wandering around the stunning Grand Palace or hunting the bargain sales from the quirky markets like Chatuchak to the ritzy malls like Iconsiam, Bangkok has something for everyone!
So, do you have any favorite place in Bangkok that this article hasn't mentioned? Share in the comment, and cheerio!
---
Marya The BeauTraveler
I am the founder and main editor at The BeauTraveler. I spent 4 years working in the aviation industry but ironically got to travel more right after quitting the industry in 2015. Born and raised in Indonesia, I started working remotely in 2017, and while I stay at home most of the time, I also regularly spend 2-3 months living a semi-digital nomad life elsewhere every year.
---
Disclaimer: 
This post may contain affiliate links. I receive a small commission at no cost to you when you make a purchase using my link.
---
Like my post?
---