While places like Nusa Penida or Nusa Lembongan can be a great addition to your Bali itinerary, the mainland itself offers various places to explore if you're a first-time visitor to Bali.
From the best waterfalls in Bali to some popular temples around Bali, I'll be sharing some insights about places you have to visit when it's your first time traveling to the island.
So, what are the must-visit places when traveling to Bali for the first time?
7 Places to Visit When Traveling to Bali, Indonesia
Don't start with the fact that beautiful beaches are the #1 must-visit places on the island, because since I was traveling with my family and they weren't really into beaches… It wasn't really my priority even though I always got my bikini ready, just in case.
If anything, now that I've been to Bali… I think if I'll get to Bali again next time, I'll just spend most of my days beach-hopping because I feel like I didn't do enough of that during my first time visiting Bali. And to be fair, I'm a beach person who tends to have a good time playing with the sands and water.
Plus, a lot of beaches there could be visited for free except for when you rent the chair by the shore. But in this section, let's put aside the beaches as we're gonna talk about the popular main destinations which some people consider must-visit on the island. I also skipped the famous Pura Lempuyang Temple, but I managed to visit some other popular places in Bali.
Are you in a hurry to plan your first trip to Bali?
Book our top picks for the best excursions in Bali to save your time! ☟
1. Tanah Lot
Known as one of the best sunset spots on the island, Tanah Lot is best visited in the evening when it's close to sunset time around 4 or 5 PM local time. I visited Tanah Lot in the afternoon around 12 PM, and I wasn't really impressed.
I'm not sure if it was because we didn't come at the right time during the sunset, but I didn't find anything special about the place. I know, I'm a travel snob by saying it but seriously…
The place was littered by travelers who weren't even mindful enough to let others pass their selfie spots. Like, hello… It's a public area. Stop thinking about the pics for your 'gram.
Pros & Cons of Visiting Tanah Lot
As I said in my previous post, most of the tourist spots in Bali have a flat rate for the entrance both for domestic and international tourists. While some people find it easy to travel in Bali on the budget, I figure it might not be the case for domestic travelers. The entrance ticket is IDR 60,000 (around $4.2 USD). And while I still find it expensive (what a cheap ass local tourist here lol!), I'm glad I've made my way here even though the main destination in Tanah Lot wasn't that impressive.
Why? Because surprisingly, Tanah Lot is a great place for some shopping. LOL.
I bought some nice summer dresses there for the cheap, also some souvenirs for people back home. And just so you know, since Tanah Lot was the first place we visited in Bali… I was already planning to buy a rattan bag for me in Bali. I checked out the price in Tanah Lot, and I found some that cost starting as low as IDR 100.000 (around $7 USD).
At the time, I thought I might find some that would be cheaper outside the tourist spots… Like Kresna, the popular souvenir center in Bali. As it turned out, most things at Kresna are more expensive. Also, the good thing about the sellers around Tanah Lot is that you could haggle for the lowest price! 🙂
2. Ulun Danu Bratan Temple
Located in Bedugul, Ulun Danu Bratan is most-known as the spot is pictured in the old edition of our IDR 50,000 note. Set within the highland of Bedugul, the weather in Ulun Danu Bratan is pretty chill compared to the other areas in Bali.
The temple is located on the shore of Lake Bratan, and as much as I wanted to recommend it… I wasn't really impressed by the spot either.
I mean, the fact that there were a lot of tourists visiting the area might be one reason. But other than that, I couldn't really see anything special about the spot that makes it worth visiting so…
Pros & Cons of Visiting Ulun Danu Bratan Temple
If I gotta be honest with you, the only reason why I visited this place is that I wanted to see the temple pictured on the IDR 50,000 note. Other than that, I couldn't really care less.
The entrance to Ulun Danu Bratan Temple is fairly affordable, for IDR 30,000 (around $2 USD) per pax.
I figured that there's a lot of Muslim community around Bedugul, so this area would probably be the most Muslim-friendly area in Bali compared to the others. You can find plenty of halal restaurants and even mosques around Bedugul, so I guess it's super suitable for any of you who's interested in halal tourism in Bali.
I personally couldn't care less about it, but my mom is a devout Muslim so of course, I had to be mindful of her. 😉
3. Tirta Empul
Tirta Empul is located at Tampaksiring in Bali, which is famous for its holy spring water, in which it is where both locals and travelers go for the ritual of purification. The temple around the water spring itself is dedicated to Vishnu, the 'preserver' in the Hindu triad of gods.
Even though it is used for Balinese Hindus to go for their purification ritual, you can also do a ritual purifying bath at Tirta Empul as a tourist. Just be mindful of what you should and you shouldn't do while doing it.
I wanted to do it, but it was that time of the month when I visited Tirta Empul so I was forbidden to come down for the purification ritual.
Pros & Cons of Visiting Tirta Empul
To be fair, I couldn't see any reason why you should visit Tirta Empul if you're not planning to do the purifying bath ritual there. As a tourist, I was trying to be careful when it comes to taking pics of my surroundings, especially in a holy place like a temple. Not that I complained, we went there and none of us did the purifying bath ritual.
At some point, it's good to gain knowledge about the place and see the process of how people do it… But really, we could've skipped it.
The entrance ticket here is IDR 30,000 (around $2 USD) per pax. And you would have to rent a sarong when you enter the area for free.
4. Garuda Wisnu Kencana Cultural Park
Set to be the tallest statue in Indonesia, Garuda Wisnu Kencana was inspired by a story from Hindu mythology about the search of amerta, the elixir of life.
It was designed by I Nyoman Nuarta, and I remember I met the artist while visiting his gallery in Bandung when I was in the 8th grade or something. He's got an art gallery, NuArt in my hometown and we went there for a tour from school.
Mind you, it was in the early 2000s so yeah… Mr. Nyoman Nuarta has spent years to finish all the installation at the cultural park. Even now, the cultural park isn't finished quite yet. If you manage to go to the cultural park, you will find the mock-up model for how it will be projected once it's done.
It's quite big, and definitely less touristy when we went there. If you're into art, or you're simply interested in Hindu mythology… You may find the place impressive.
Sadly, I'm neither so I was just like… Okay, the statues are huge. Now what?
Pros & Cons of Visiting GWK Cultural Park
I tell you what, the entry ticket was a total turn-off. Probably the reason why the place is less-touristy compared to others? I don't know why. It costs IDR 150,000 (around $11 USD) for each visitor. And if you want to use a golf car to get to the center, there's an additional charge of IDR 30,000 (around $2 USD).
With that price, you'd be eligible for a welcome drink. It wasn't much, but it was quite okay if you visit the park on a hot afternoon as we did.
Although to be fair, walking around the park on a really hot day might not be ideal for some people. I'd totally suggest bringing a bottle of water with you just in case.
Also, there's an ice cream stall in the building where you have to go through if you're planning to pay extra to get up to the GWK statue.
5. Dreamland Beach
I think this is one of the most popular beaches in Bali. And I gotta say, it's quite okay with the white sands and great waves around the beach… However, its popularity wouldn't go well if you're an isolated traveler like I am. LOL.
For exactly the same reason, I didn't go swimming at the beach. But instead, I just spent some time with my mom and my brother at the cafe eating pizza and drinking.
To be fair, this was definitely not an ideal place to bring my mom but I had no choice… I was too curious to see what the hype was all about here.
While I was quite impressed by the white sand and the wave, I wasn't really in the mood to swim because it was too crowded.
Pros & Cons of Visiting Dreamland
If you're into surfing, then yessss… You may not want to miss Dreamland Beach. But I think it'd be fine if I skipped this one too. Although it's a bonus point that there is no entrance fee to get to the beach. Maybe just spare some change to put in the donation box if you need a car to get there from the parking lot.
6. Uluwatu Temple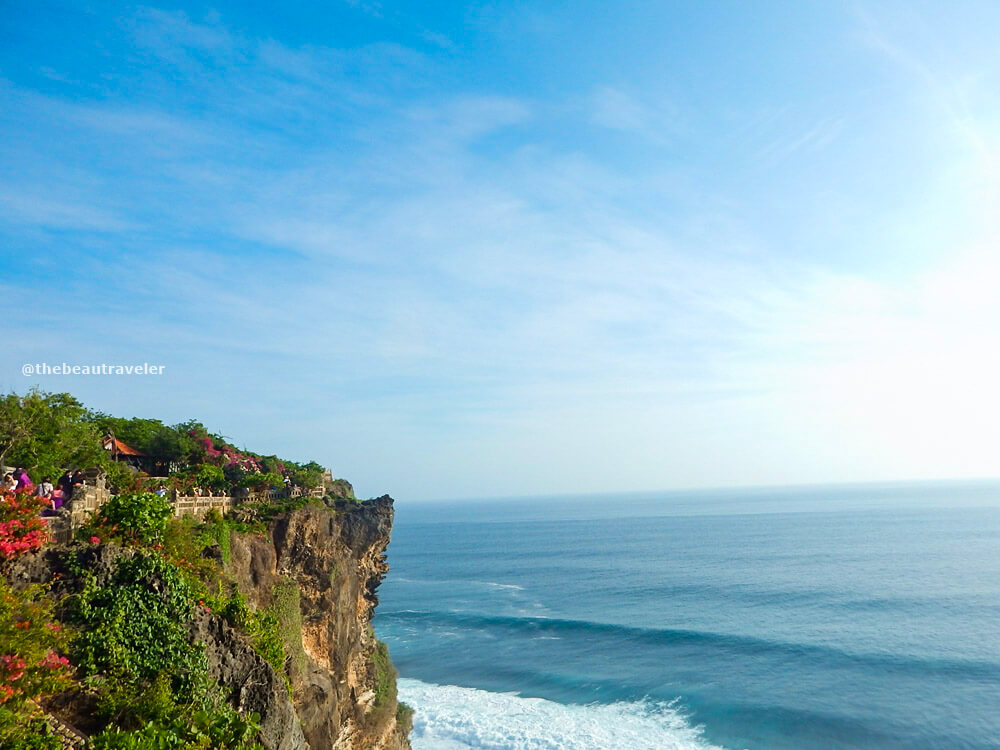 It's a sea temple where you can watch a Kecak dance performance, which is probably a must-visit if you're interested in art and culture. I gotta be honest with you, I'm not really into watching dance performances so I could really skip it…
I stayed at the temple to see the sunset as well. And although it wasn't super impressive, it was quite okay. Be careful with the monkey though, I saw one who stole a bottle of mineral water from tourist. What a cheeky monkey! 😐
You can also enter the temple, even though be mindful of those who actually pray there. Plus, you can't enter the temple area if you're in period, the situation I was in when I went there.
To be fair, pretty much the same as other tourist spots, I didn't find Uluwatu Temple impressive either. I don't know if it's just me being Indonesian and too familiar with everything about the place but well…
Pros & Cons of Visiting Uluwatu Temple
Honestly, I think I wouldn't be so bitter if only the entrance ticket to all these touristic spots wasn't so expensive. But nope, I'm a price-sensitive bitch when it comes to this, and I find IDR 50,000 (around $3.5 USD) still expensive to just get around the temple.
At that point, I started wondering whether the local Bali government actually designed Bali to be attractive for international tourists only. But who am I to complain, right?
If you're interested in watching the Kecak dance performance, I think the price would be around IDR 100,000 (around $7.1 USD).
7. Bali Swings at Alas Harum Bali
There are actually a lot of options to find the spots for Bali swing around Bali. Apart from some famous ones in Ubud, you can also get some Bali swing spots in Gianyar. One of them would be Alas Harum Bali.
Apart from Bali swing and some other Instagrammable photo spots, Alas Harum is also a great place for you to learn more about luwak coffee.
Luwak, Indonesian word for civet, and its infamous coffee that was once known as the most expensive coffee in the world. At Alas Harum Bali, you'll get a guide to inform you about the process of luwak coffee until it's ready to serve.
As you may already know, what makes luwak coffee special is because it comes from the coffee shat by the civet. Well, here not only can you pose at the Bali swing as you want for the gram, the guide will also show you how the coffee looks from the beginning, to when it came out as shit from the civet (seriously, they have some samples for it! LOL), and also the coffee that has been cleaned and ready to be roasted and served to get you through the day.
Pros & Cons of Visiting Alas Harum Bali
The freeloader inside me actually screamed for excitement when they said it's free entry. LOL.
Mind you, you don't have to pay for anything to visit Alas Harum. Plus, you'll get the knowledge about luwak coffee explained by a well-informed guide. Look, one guide for one group of travelers… What could have been better than that? And they speak good English too!
I mean, I didn't need that since I'm Indonesian myself and most of the guides at Alas Harum are also local people too. But I heard the guide at the group behind me and I was impressed.
Plus… We were eligible to get a sample of various coffees. There are 14 coffee flavors in total, they are served in some small cups which you could taste for free!
If you're interested to try their signature luwak coffee, it would only cost you IDR 50,000 (around $3.5 USD) too. Sounds great, right?
After coffee tasting, you will be guided to the souvenir shops where it almost felt like I got manipulated to buy stuff as I got served so well. I ended up buying some bath salts at the shop. 😛
For the Bali swing, you will have to pay extra for each Instagrammable spots. I couldn't bother to pay IDR 150,000 (around $11 USD) for just an Instagrammable picture, so I totally skipped it.
Lessons Learned from Traveling Around Bali
To be fair, even though I kept complaining about how expensive Bali is for local Indonesian tourists, I think traveling around Bali shouldn't be so expensive. In fact, if you just go there for beach-hopping and enjoy the beach waves, you could spend almost nothing to have fun there!
If anything, that's what I'll do next time I visit Bali again… Of course, I'm planning to probably travel solo or with some company that isn't my mom next time. Let's get wild, baby! 😛
But to be fair, there are a lot of beautiful places in Indonesia. And I'd rather go to some other place than come back to Bali now that I know it's super touristy.
So, have you visited any main tourist destinations in Bali? How did you find them? Would you recommend it to others? Let me know what you think, and cheerio!
---
Like my post?
---