When I booked the room to stay in Hat Yai, I initially booked it for just three days. I chose SC Heritage Hotel in Hat Yai as the room looked quite decent with a nightly rate that I could afford for my trip. I don't need much for the accommodation, I only need one with an elevator to easily take around my big bag on my own.
Initially, I booked the room through Agoda during my stay at Livotel Hotel in Bangkok, I picked the Standard room at the hotel. But when I decided to extend my stay in the city for the other two days, the receptionist told me that the Standard rooms have been booked for the weekend, so I had to book another type of room.
As a result, I got the experience of staying at SC Heritage Hotel in Hat Yai in two different rooms. Both standard and deluxe rooms.
So, if you're considering SC Heritage Hotel as your accommodation next time you visit Hat Yai, I'll share my firsthand review of the rooms in this post. Read it on! 🙂
SC Heritage Hotel in Hat Yai, Thailand
Since it was my first time to be in Hat Yai, I had no expectation about where to stay in the city when I decided to book a room at SC Heritage Hotel. The only reason why I ended up opting for the hotel was simply because of its night rate.
My first booking for a standard room at SC Heritage Hotel Hat Yai was around 145,505 IDR (around 310 THB or $7.10 USD). I figured not only could I stay in a hotel with an elevator, but the room also looked great for the budget. The only difference was that, unlike Livotel Hotel Kaset Nawamin where I stayed in Bangkok, SC Heritage Hotel looked a bit like an old hotel that still stands with some glory of its past remaining in the building. After all, maybe that's why they put the word "Heritage" in the hotel's name. 
The location isn't so far from Hat Yai train station. I paid 50 THB for a Grab car from the train station to SC Heritage Hotel, and it took me around 20 minutes to reach there. One of the most legendary street food in Hat Yai, Chen Loong Boat Noodle, is only around 15 minutes from the hotel. During the night, there are even more options to try any other street food around the city.
I arrived at around 10 in the morning, and I asked whether I could check in early. And since my room is ready, the receptionist allowed me to do so. The first room where I stayed at the hotel, the standard room, was on the 5th floor.
When I moved to the Deluxe room a few days later, I got a room on the 3rd floor.
Standard Room
The room was quite spacious, and it definitely has everything that I need for accommodation. Needless to say, I definitely didn't regret my decision to book the hotel for my stay in Hat Yai.
I barely paid $10 USD per night, and not only is the bed quite comfortable to sleep on, but the bathroom is quite big as well. There's also a small balcony where the air conditioner fan was located. The only downside of the room is that it wasn't super clean.
I don't know when was the last time they mopped the room, but I didn't dare to walk around the room without wearing my flip-flops. Especially when I went outside to the balcony since it was super dusty.
I don't think they serve breakfast at the hotel, but I don't see any restaurant inside the hotel building. But the hotel is situated in a strategic location anyway, so you could easily just walk around to find the nearest eateries from the hotel.
Bed Room, Bathroom, and Facilities for the Standard Room
Apart from the cleanliness which I think they could totally improve, the bedroom has everything I need. The wifi connection works perfectly, and even the bathroom is quite spacious. I don't know though, I feel like this hotel was probably quite something a long time ago.
Other than that, the room location is quite confusing too. But you'll get there eventually. LOL.
The bathroom came with some simple amenities like a small soap bar, but that's all. So you still need to bring your own toothbrush and toothpaste if you consider staying at this hotel.
SC Heritage Hotel seems to also offer a monthly stay if you're interested in staying there for a long term. Honestly, I was considering doing so if I ever get a chance to come back to Hat Yai. Especially now that I think I'd prefer slow travel to anything else.
Deluxe Room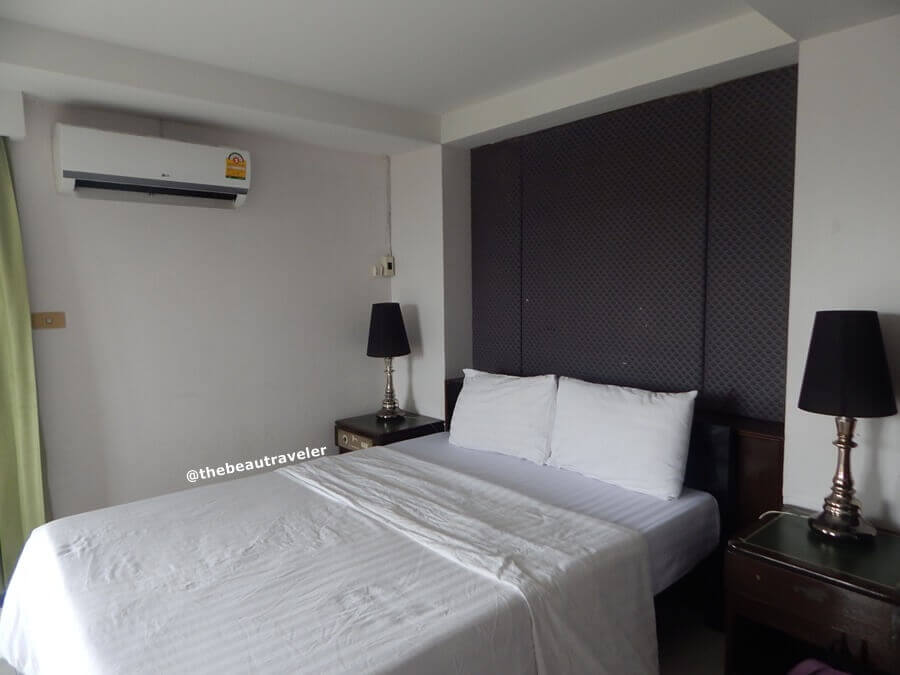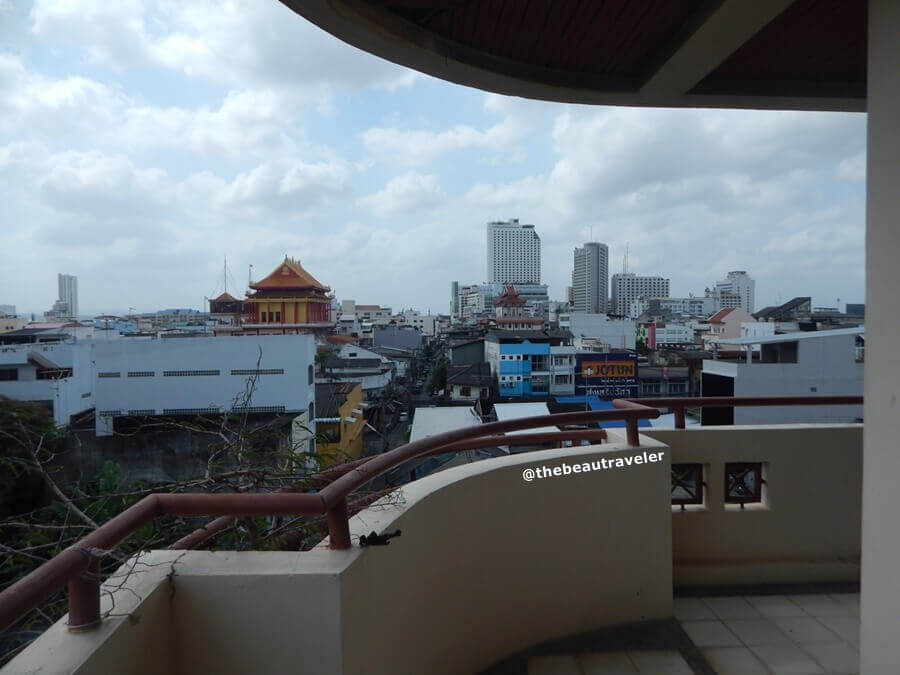 I eventually decided to extend my stay in Hat Yai, only to find out that the standard room type was fully booked when I wanted to lengthen my stay. As a result, I had to move to a Deluxe room instead, which I honestly didn't regret at all.
I paid 352 THB (around $9.94) per night for Deluxe Room, and everything was much, much better than the standard room!
If the standard room was big enough for a solo traveler like me, Deluxe Room is super huge! Not sure if the hotel staff is discriminatory to the Standard Room, but the deluxe one is also cleaner! 😛
The room comes with a desk, a coffee table, and a big cupboard that I could only imagine that it would be more convenient to stay in the deluxe room if you want to stay at the hotel for a long term.
Bed Room, Bathroom, and Facilities for the Deluxe Room
Just like the Standard Room, the Deluxe Room also has a balcony… But bigger! The only downside is that I wasn't sure how to lock the door to the balcony, so it might be a bit risky if you're paranoid. I ended up closing all the curtains at night as I could only imagine someone could probably see me from outside even though I was on the third floor, and it seems like SC Heritage Hotel was the highest building in the surrounding.
If the Standard Room came with a shower, there was a bathtub in the deluxe room. Honestly, I was surprised!
I always thought River Hotel in Ha Tien was quite cheap for a hotel room with a bathtub, but I paid less than $10 USD for a room with a bathtub in Hat Yai. Madness, in a good way! LOL.
But just like the Standard Room, they only provide a small soap bar for amenities, so nothing fancy except you have a bathtub for yourself in the room.
Final Verdict: SC Heritage Hotel in Hat Yai, Thailand
If budget is your concern, you probably want to stay at the Standard Room in SC Heritage Hotel Hat Yai. But if you're looking for a convenient place to stay in Hat Yai that doesn't break the bank, I'd strongly recommend you the Deluxe Room instead.
It's cleaner, with only 40 THB (around $1.28 USD) difference you will get a bigger balcony, a more spacious room with a bathtub… You almost have nothing to lose!
You also don't have to worry about finding a place to eat since there are a lot of options to eat around SC Heritage Hotel. If you're more into drinking sugary drinks like Thai tea, there's a Thai tea stall not so far from the hotel. I literally went there every day I was in Hat Yai just to get my comfort tea!
(+)
The night rate is crazy cheap, even for me, who loves living a frugal life! Where else could you get a room under $10 USD with a bathtub?!
Strategic location around the city center, where you could easily stroll around the area to find something to eat or somewhere to go. It's relatively easy to go to the night bazaar, as well as to the mall!
The hotel staff can communicate in English just fine.
(-)
The Standard Room is quite dirty. They could definitely improve the cleanliness of the room, although I didn't experience this for the Deluxe Room.
It's an old hotel, so I don't know if it's just me… But I got some spooky vibes when I stayed there.
Are you planning to travel to Hat Yai anytime soon? Have you had any experience staying at SC Heritage Hotel in Hat Yai? Leave your comment below, and cheerio!
---
Disclaimer:
This post may contain affiliate links. I receive a small commission at no cost to you when you make a purchase using my link.
---
Like my post?
---