If just like me, you've also passed your adolescence some time around the early 2000s, then I think you'd be familiar with Ontario. I mean, some famous Canadian musicians are originally from around there. To name a few, there's Avril Lavigne and SUM 41.
Well, on this week's $10 series, we're going to cover the capital city of Ontario: Toronto! 🙂
And today, Stefan from Stefan Round The World will accompany us to travel around the city and give us tips so we can spend our $10 wisely in the area. So, there we go!
Nope, Toronto is Not As Expensive As They Probably Tell You!
Despite being an expensive place to live, there are plenty of things to do in Toronto for $10 or less.
Whether you're planning to visit Toronto on a budget or you're just hoping to avoid overspending, here are some of the best ways to spend your time in the city for less than 10 bucks!
Explore the Botanical Gardens
There are two amazing botanical gardens in Toronto – the Edwards Gardens and the City of Toronto Botanical Gardens.
Both of these are free to enter although they rely on donations to keep operating. There are helpful guides at each of the gardens that can tell you everything you need to know about the plants and designs.
This is a great thing to do in Toronto when it's raining or if you're traveling with kids and looking for a fun and unique experience. Most people donate $5 to $10 although you can explore for free if you're on a tight budget!
Hop on the Ferry to Centre Island
For just $8, you can grab a round trip ticket on the famous Toronto ferry ride to Centre Island.
From the ferry, you'll be able to enjoy amazing views of the Toronto skyline and rest your feet while the boat bounces over the waves.
There's a lot of things to do on Centre Island, from bike riding and trail walking to petting zoos and picnics.
The views from Centre Island are incredible and there's a number of quiet, public beaches where you can swim in Lake Ontario with the Toronto Skyline looming in the distance.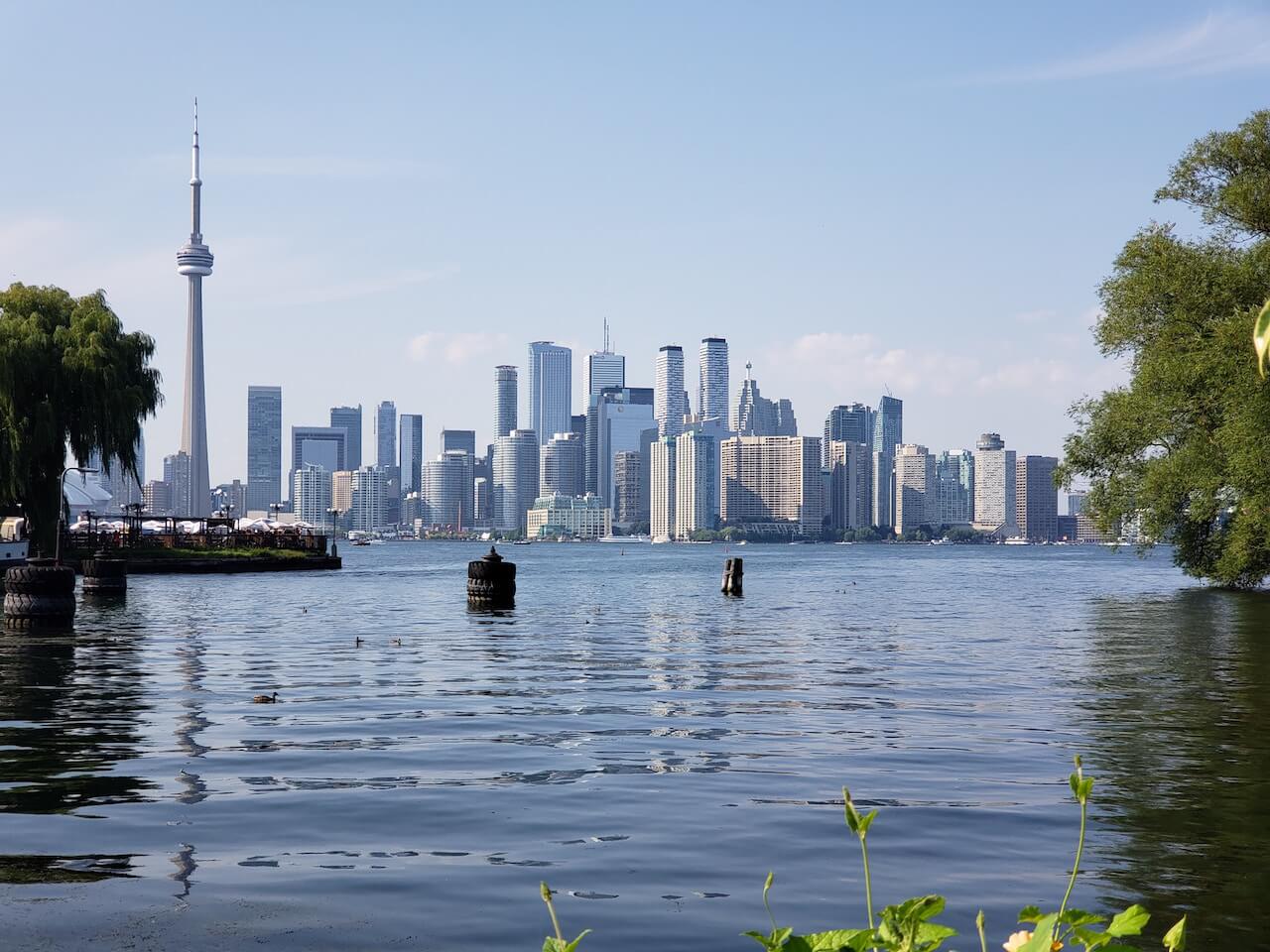 Don't forget to pack some snacks and bring a few drinks!
Cafe Hop in the Fashion District
In Toronto, most coffee drinks cost $2 to $3, even at ritzy cafes. It's the Fashion District where you'll find some of the best cafes in Toronto.
Something I love doing is visiting two or three different cafes over the course of a few hours of walking around. At each one I grab a drink, sit on the patio or somewhere with the view, and relax while watching the city of Toronto pass by.
This can be a fun experience, especially if you're exploring the city and hoping to stick to a tight budget. $10 is more than enough to visit two or three cafes!
Grab Dinner at Frankie's
Frankie's is a classic Toronto institution and one of the best diners in town. Just about everything they serve is under $10 except for a few unique items.
Here at Frankie's, you can enjoy homemade burgers, huge omelettes, full plates of classic breakfast, tasty sandwiches, and everything else you would expect at a diner.
Why go somewhere fancy an upscale when you can have a better and tastier experience here at Frankie's?!
---
Contributor: Stefan from Stefan Round The World
Stefan created his blog so you can find plenty of helpful travel resources that'll help you make the most of your time abroad.
Instagram
---
---
Like my post?
---