When in Rome, do as the Romans do.
And that's exactly what we'll dive in today on the $10 series for the week. Marta from Learning Escapes, a native Roman who's currently residing in Dublin, will share with us how you could spend your $10 wisely in her hometown.
Talking about the capital city of Italy, of course it's true that you'll have a good reason to eat pizza various Italian delicacies. But, did you know that you could get more than just a pizza with your $10 in Rome?!
So, how do you make the most out of your stay in the Eternal City of Rome? Check this out!
Roaming Around Rome (and Some Breakfast Hack)
Rome is a surprisingly easy city to enjoy on a budget.
Accommodation in the eternal city is expensive so I will not go as far as saying it is a budget destination per se, but once you have a safe roof over your head, there are many things you can do in the city for very little and indeed many you can enjoy for free!
What You Can Get in Rome for 10$
To put in context the advice below, here is more or less what 10$ can buy in Rome.
The currency in Rome is the Euro and at the time of writing, 10USD are the equivalent of about 8.60 Euro. This really isn't much for a big European capital, however, if you like walking and don't have to spend on public transport, you can stretch this budget to cover a few cool experiences.
My advice is to spend your money on food and spend your day strolling around Rome taking in the free views. This is how I would spend a budget-friendly day in Rome
Start Your Day with Cappuccino and Cornetto
Start your day with a true Italian breakfast made of cappuccino and cornetto. While a bit of an indulgence in terms of calories, this type of breakfast is typical in Italy and a foodie experience I highly recommend.
The cost of it varies but the average is around 2.20 Euro. Make sure you have them at the bar and not at a table: if you sit, the charge is much higher and your budget would take a huge hit. The charge gets easily above 5.50 euro for table service.
Head to the Colosseum and the Archaeological Area
After breakfast, head towards the Colosseum and walk along the imperial forums for a taste of ancient Rome.
The best way to enjoy this area and learn about the local history would be to take a guided tour of the forum but you can grasp a surprising amount about life in the ancient city even just walking along its perimeter.
The same can be said about St Peter's and the Vatican: while it is indeed worth paying to visit the museums, if you can, it is also worth just heading to St Peter's square and take it its imposing architecture. Both the square and the main floor of the basilica are free to visit at the time of writing (not the museum nor the dome).
Take a Stroll along Rome's Famous Piazzas
Other important sites you can visit for free are the Pantheon, Rome's famous piazzas (don't miss Piazza Navona and Campo de' fiori!) and of course some of Rome's many churches.
Unlike museums, churches are free to visit and often host incredible art.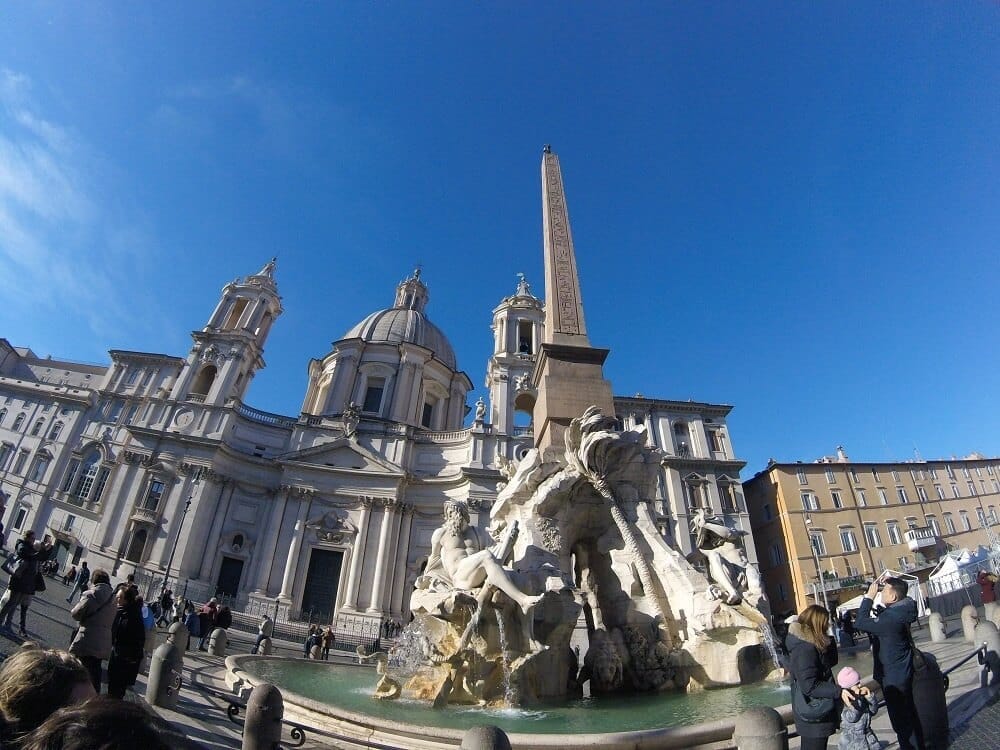 Get Pizza
After visiting the sighs, I recommend a Roman lunch: a 10$ budget will not allow you to enjoy any of Rome restaurants but you can still have a delicious meal if you like pizza.
One of the most popular forms of take away meal in Rome is pizza al taglio (slices of pizza): you find it almost anywhere in the city and the cost is by weight.
With about 3 euro you can eat a very respectable slice of pizza margherita and you don't' need to spend money on a drink. Rome is full of drinking fountains and their water is free and delicious!
Go to the Park
You can enjoy your pizza as you walk around town or take refuge in one of Rome's many parks.
Rome city center is surprisingly compact and you can cover a lot of grounds even just on foot: parks are frequent and a lovely way to take refuge from the city traffic, often overwhelming.
Top It All Up with Gelato
The last thing I would recommend spending your money on is the other Rome delicacy: gelato.
Like coffee, you can find it almost everywhere in Rome and its cost is contained: you can have a small one for less than 3 Euro and it is the perfect companion for city strolling!
---
Contributor: Marta from Learning Escapes
Marta is a mum of 2, coffee lover, and an Italian expat in Ireland. An avid home swapper who is originally from Rome, she has been living in Dublin for the last ten years.
---
---
Like my post?
---