When I first planned out my Borneo trip itinerary, I was a bit conflicted about the places that I wanted to visit. Since Borneo is known as the Emerald of the Equator, I knew that I wanted to focus on enjoying nature on the trip.
When I consulted with Suzie about my trip to Brunei, she recommended Ulu Temburong for the nature part. She even sent me the link of some Korean TV show about traveling to Brunei. According to her, I could follow their itinerary with Ulu Temburong included.
Unfortunately, when I checked the price of the tour package to Temburong, it was freaking expensive! Like, to join a 2D1N tour in Temburong, it costs almost $200 and I simply couldn't afford it. 🙁
So, as an alternative, I tried to find some nature destinations in Malaysian part of Borneo. I've got several options in the firsthand, with Gunung Mulu, Niah Caves and Bako to choose. Long story short, I decided to choose to go to Bako National Park instead.
Bako National Park
As I did some research about all the options I had, I also tried to adjust it with my budget. My main consideration is also the transportation to get to any of the places.
At first, Gunung Mulu sounds like a good place to visit but the only option to get there is to fly from Miri. Plus, the only places that I wanted to visit there is the Pinnacles yet it is so freaking expensive that I might as well just opt to visit Temburong with the budget. 😐
I had also considered Niah Caves, but then the caves are located somewhere in the middle of Sibu and Miri, two cities that were a part of my Borneo trip this time. And it's relatively far from either of them, that the only option for me is to go back and forth. Not an ideal option for me, so then Bako seems like the best place to go in this situation. It's an active vacation destination that is easier to reach from the city center.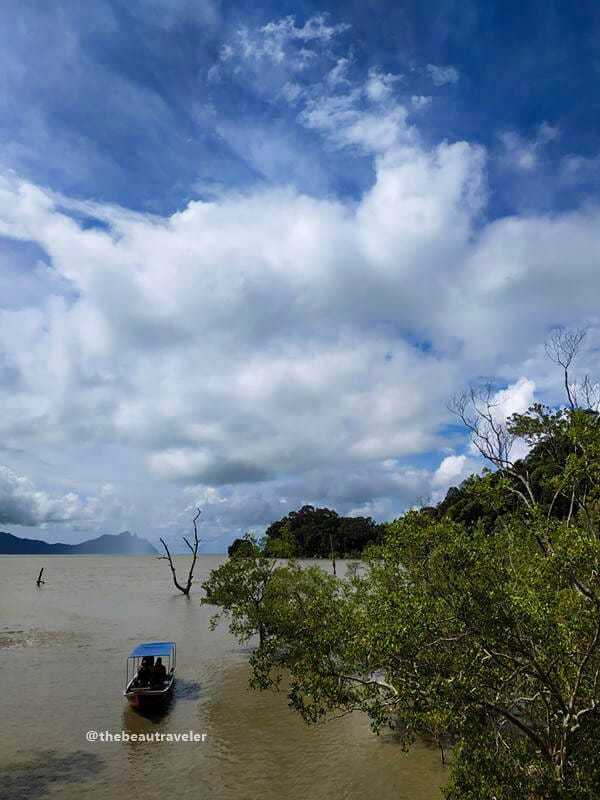 It's also worth to note that Bako National Park is the first national park in entire Sarawak. Started operating in 1957, Bako offers the perfect introduction to Sarawak's forests and wildlife which contain a wide range of vegetation.
As for now, Malaysia has got numerous national parks that you could visit nowadays. The most popular one is probably Taman Negara National Park around Pahang. Which I've never been to before.
And if that's not enough reason to visit Bako, it is also easily accessible from Kuching with a relatively low budget from the city center. There's plenty of things to do in Bako too, from hiking to just enjoying the nature life. If you're into some of those activities and looking into taking some proper gear to support your hobby, you can check out Gear We Are to see if anything there fits your needs.
Bako National Park from Kuching by Bus
The day before going to Bako, I went to Semenggoh with Gabriel, a grab driver that took me back to the hostel from Kuching Cat Museum. He was taking another guest to Bako from Kuching on the same day, and he offered me a lift in the morning. However, I was already planning to leave later in the afternoon for some reasons and I had to refuse.
However, I still used some help from Gabriel as he told me how to get to Bako National Park from Kuching. He directed me to go to the wet market next to Electra building in Kuching, as the bus departs hourly from there. The wet market is not so far from Woodpecker Lodge, although neither is it close to the hostel. However, due to the tight budget, I walked to the wet market for around 30 minutes.
The bus left at around 1 PM, and there was a paper pinned up on the bus window that state clearly about the fee for each passenger. For local Malaysian, it only costs 3 MYR (around $0.8 USD) while it's 5 MYR (around $1.2 USD) for foreigners.
So, I was talking to the bus attendant in Bahasa when he actually asked me for 3 MYR instead of 5 MYR for foreigners. Well, in that case, I'd consider myself lucky as I had to pay for the foreigner fee when I took the bus on the way back to Kuching from Bako. 😛
The first thing that I've read a lot on the internet about the bus to Bako National Park is regarding their lack of punctuality. And I gotta say, the bus stopped for numerous times before reaching to Bako. I admit that the way this bus operates won't be ideal for those who are planning to visit Bako for half a day.
However, I traveled slowly this time and I was nowhere in a rush to reach the destination, so I enjoyed the bus ride even though it almost took around 2 hours to get to Bako market.
Bako National Park from Bako Market by Boat
If you take the bus to Bako, chances are you'll stop at Bako market. The visitor center is located not so far from there, and that's where you could purchase a boat ticket that would take you to the national park.
If you travel in a group, you can just rent the whole boat for your group as they charge you less if that's the case. However, since I traveled solo, it cost me 20 MYR (around $4.8 USD) for the return ticket as I had to share the boat with some other travelers.
At first, I was a bit nervous as I traveled there solo and I shared the boat with a group who would only do the tour for half a day. As I already booked accommodation for a night at Bako, I confirmed with the receptionist to make sure that there would be no issue when I got back the next day.
The receptionist ensured me that I could keep the number written on the boat ticket, should there be any miscellaneous. Other than that, I could just squeeze into any boat leaving from Bako the next day.
Staying Overnight at Bako National Park
It took us around half an hour to get to the national park from the jetty at the visitor center. As I had already booked my accommodation online, I also had to confirm my booking before getting into the boat to the park. The process was quite easy, although please mind that you need to present the hard copy of your booking here.
How to Book Accommodation at Bako National Park Online
Since I decided to go to Bako instead of Gunung Mulu or Niah Caves, I already planned out to stay overnight there for the sake of experience. So, that's what I did.
I booked the accommodation through Sarawak eBooking Portal. Other than Bako National Park, you could also book accommodation in other national parks in Sarawak such as Niah, Similajau etc. The website is not the best looking portal, but at least it was effective when I used it to book my accommodation.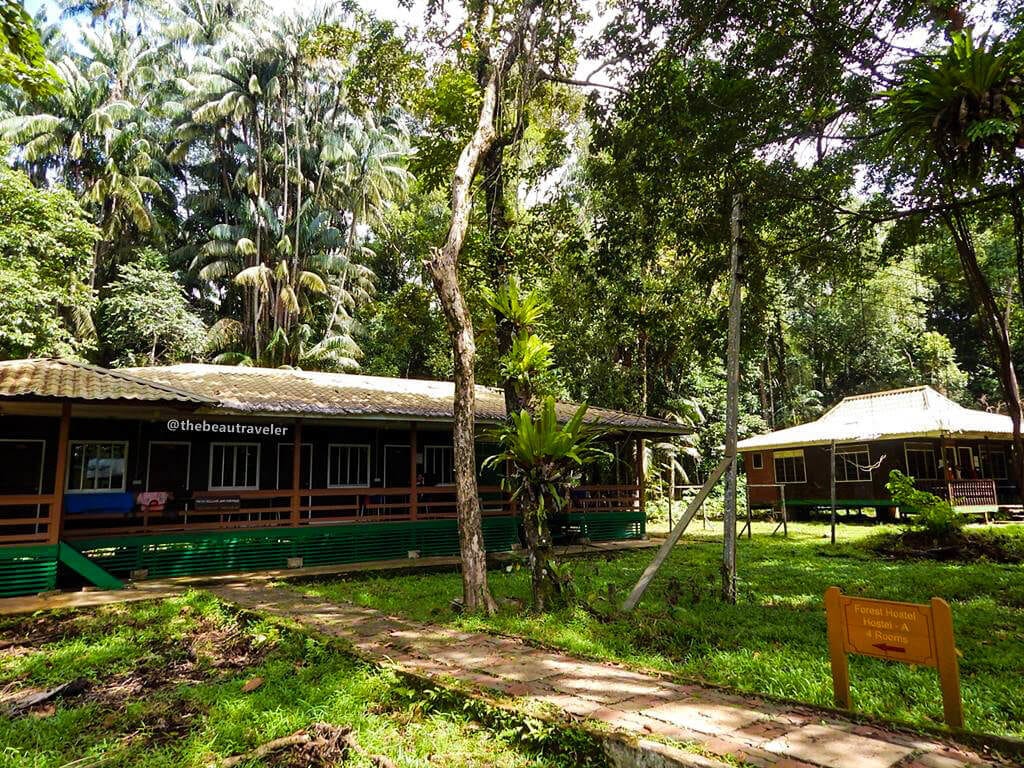 For this accommodation, I booked the one with the cheapest night rate: the forest hostel. It only cost me 15 MYR (around $3.6 USD)
They provide a room with 4 beds in each room. When I stayed for the night, I shared the room with a Malaysian tour guide, as well as two couple travelers from Spain: Laura and Andres.
The facilities are not so bad, although they're pretty basic. For example, instead of an air conditioner, they provided 2 ceiling fans in the room where I stayed for the night.
And just know that the room was very humid that it got me conflicted when I stayed in the room. Like it was too cold when we turned on the fans, yet it was freaking hot and humid when we turned it off.
Other than that, please mind that they don't provide either towel or blanket for this type of accommodation. For me, I brought a batik clothing to use as a blanket when needed and a small towel for myself.
What I found surprising is that I didn't experience anything bad with bugs or mosquitos despite how humid the room was. Like, I actually prepared myself with some mosquito repellent, but I ended up not using it at all. But maybe it has something to do with the fact that I came during the rainy season. So if you're planning to go there, better be prepared than sorry! 😉
Activities at Bako National Park for a Female Solo Traveler (That Doesn't Involve Trekking)
My first concern when it comes to Bako National Park is that… Since it's practically a jungle, I wonder whether it would be safe for me to stroll around on my own. Bako is quite known for its moderately easy trekking track, and I wonder whether I would find it easy.
Mind that I rarely do exercise, and I struggled a lot when I did trekking at Sa Pa in the winter. Like it was so slippery that I doubt I would survive without the black Hmong lady that helped me throughout the trekking activity.
So, when I checked in to my accommodation, I made sure to occupy myself with a map to see how I could get around. Also, I used Digi for my phone provider and I could only get the signal around the reception area. Yup, the service there is quite limited, so I could only rely on the physical map basically.
At first, I wanted to reach one of the easiest trekking track. But when I got further inside the jungle, I was a bit worried and I really just tried to trust my guts whether to continue or just come back. So, I came back.
I decided to just stroll around the shore. Like, if worse comes to worst, at least I could still see people around there. The thought of being lonely in the jungle around 4 PM pretty much scared the little ol' me.
So, after trekking for almost an hour inside the jungle, I came back and went to the shore to find some silver monkey chilling around there.
Apart from these silver monkeys, Bako National Park is also famous as a home for proboscis monkey, or we Indonesian call them bekantan. I saw a couple of them on the way back to the hostel. However, they were far on the top of the tree for me to take a picture of them.
But it didn't disappoint me though, even the thought of seeing them live happily in nature kinda relieve me in so many ways. And I totally felt like living in the jungle for real when suddenly a big fat pig totally came out of my way around the hostel. Talking about living in the wild. HAHA.
But then again, if I ever regret any decision when I did this Borneo trip, Bako National Park is definitely not it. 🙂
Since I shared the room with one of Malaysian tour guide, he told me that it was also recommended to do the night trekking as more animals came out during the night. He went out until midnight with his guests, but I didn't fancy to join as it was raining and I honestly just wanted to go to bed while enjoying the night view around the jungle after dinner.
Meals at Bako National Park
When I got to Bako National Park, I was actually a bit paranoid as I thought I would find an ATM before I took the boat to the park. Apparently, there was none. Not in the visitor center, and neither was there at the park. I only had around 70 MYR (around $17) in cash with me, and it only left me with around 50 MYR after the boat ticket.
As I read in some articles that meals at Bako could be such a rip-off, I got really paranoid that I'd end up running out of cash.
Thank God, apparently, the price of the meals at Bako National Park was anything but a rip-off. Like, I spent normally less than 10 MYR for each meal. It was a buffet, so I could pick what I fancied and the cashier would calculate everything.
Although for the soft drinks, I'd agree that it was a rip-off since a can of Coke could cost you like 4 MYR. But other than that, I survived with 70 MYR in Bako, with some money left to have some KFC by the time I got back to Kuching. 🙂
Tips for Traveling Solo at Bako National Park
Well, some people find Bako National Park quite easy to explore and I think it's not that difficult either. But then again, I can't really consider myself as someone who gets used to explore nature on my own. Hence, I feel a bit hesitant to do this or that while I was there.
I know some bullshit people say about traveling as a way to discover themselves. While I wouldn't say that it's fully wrong, I think if there's any way to find your own self while traveling, that would be the understanding to follow your guts and increase your awareness to your surroundings. Especially when you travel solo.
So, from the perspective of a woman in her late 20s who genuinely love makeup better than hiking, here are some tips I'd like to share to you if you happen to be in the same shoes and planning to stop by this national park.
The Dos at Bako National Park as a Female Solo Traveler
If you plan to stay in Kuching for awhile before going to Bako and have a big bag with you, I'd recommend you to check with your accommodation in Kuching whether they have storage for you to leave your belongings when you go to Bako. With the boat trip and the area full of sands and whatnot, this place is not suitable for you trolly dolly like me. 😉
Only take with you the essentials. It's not really recommended to apply the 10 steps Korean skincare in the mid of jungle-like Bako.
Bring your own blanket and towel.
It's pretty handy to have a small purse with you to take around. I had my camera bag with me so that I could keep my passport and money whenever I go out of the lodge. I mean, better safe than sorry right?
Talking about money, always bring a sufficient amount of cash with you since there's no ATM around. I spent approximately 40 MYR for my 2D1N stay at Bako National Park. For me, the amount of money was sufficient to get the boat ticket, as well as 3 meals that I had there.
While flip-flops sound like a great pick to wear, if you're planning to do the trekking, I'd strongly suggest you wear the most comfortable sneakers that you have.
The Don'ts at Bako National Park as a Female Solo Traveler
I couldn't stress this more than anything, but anything you do… Please do not litter.
Overestimate your capability to trek or do anything else around the park alone. You see, before I got to Bako I read so many articles stating how easy it was to trek at Bako. But when I did it myself, I basically just tried to communicate with my instinct and there was a point that I felt like I wouldn't be able to continue my journey trekking. Our capability could be different, so always trust your guts. If you travel with some FOMO while at the same time you're not too sure of your capability to explore on your own, I'd recommend you to hire a tour guide instead.
Avoid taking too many stuff with you. This is the place where you should force yourself to travel light. 😉
Is Bako National Park Visit-Worthy While in Sarawak?
Absolutely.
I loved my time there, especially since I could relax and chill while watching the wild in my surroundings. That's such an exotic experience, and I'm a Southeast Asian myself. 😀
If you're planning out to stop by Kuching and you want to experience some nature in the moderate level, please do visit Bako National Park.
So, have you been to Bako National Park? Or have you been to other national parks in Malaysia? Tell me your experience, and cheerio!
---
Like my post?
---