I decided to stay in Bario for 3 days and 2 nights. While the destination is pretty secluded, there are some tours available from Miri although I challenged myself to arrange the trip on my own and I suppose I managed to have a good time in Kelabit Highlands!
Needless to say, Bario was actually my serendipity when I planned out my trip to Borneo. Before I finally decided to go there, I knew nothing about Bario or Kelabit Highlands in general. But in this post, I want to share some tips on where to stay and what to do around Kelabit Highlands in Sarawak.
Some random pic on Instagram is the reason why I ended up traveling to Bario during my Sarawak trip. I flew from Miri and now that I've been to Bario, I could proudly say that I've been there and flown with Twin Otter as a passenger. So, what's so special about Bario?
Why I Was Interested in Visiting Bario
If I decided to visit Kuching for their nickname as the cat town while I'm a cat lady, then I went to Bario solely for the sake of the pictures I've seen on Instagram.
Bario pictures that I've found on the internet after I decided to google it, they literally remind me of childhood. Why? Well, I don't know about you, but I think all Indonesians could relate to the idea of this drawing default when they were a child. A drawing of a mountain with rice paddies and the winding road up to the mountain.
The pictures of Bario that I've found on the internet, they exactly look like that. And I was intrigued.
Things You Need to Consider Before Going to Bario
Even though I really wanted to go to Bario, there were some things that I had to consider before I finally booked a flight ticket there.
And it was the fact that it is located in a secluded area where not only it might take very long to get there by road due to the infrastructure, but also because it might be a challenge to get some internet connection there.
I had to consider first since I work remotely, and I had to check with my clients before I sorted out everything for the trip. So then I asked my clients first, and they decided to send some work material in advance before my departure to Bario.
Apart from that, I also tried to gain more information about the internet connection around the area. That's when I found some post from Eris Goes To on Bario. It was a pleasant surprise as I've actually followed her on WordPress since forever, yet I found her posts on Bario through Google.
After doing some research and getting some recommendation, I was told that there are some guest houses available close to the town square in Bario. In the town square, I should have no problem with the internet connection as there will be some paid service available as it's close to the internet center.
Obviously, there's no ATM service either in Bario. So, cash is the only way to do all the transactions in the whole town.
Local people in Bario frequently plan out a trip to Miri for all banking and even grocery matters. So, make sure to have everything you need in your bag if you're planning out a trip to Bario.
Where to Stay in Bario
As my main consideration is the internet connection due to my remote job, I decided to focus on homestay around the town square. As I got some information through my research on Bario, there's this internet center in the town square where you could pay for the limited internet service.
That's because no reception is available in Bario. Not even local Malaysian phone providers.
So, after getting some contacts about accommodations close to the town square, I decided to stay at Tarawe Homestay.
Tarawe Homestay in Bario
I contacted Uncle Lian, the owner of the homestay, through Whatsapp once I already got the permission from my clients to get a couple of days off to avoid the inconvenience of getting no internet connection during my stay in Bario.
The night rate at Tarawe Homestay is 50 MYR (around $12 USD), excluding meals.
Most of the accommodations that I've found in Bario actually include meals on their daily rate. However, it's probably because most of them are located deep inside the villages. At Tarawe Homestay, since it's close to the town square, there were some eateries around the homestay. So, meals from breakfast to dinner wouldn't be a big issue.
---
You can contact Uncle Lian through Whatsapp on +6013 845 1213 or e-mail at liantarawe@yahoo.com.
---
The average meals cost around 5 to 10 MYR. Don't expect anything fancy, but you could find some menu from instant noodles to even laksa around the town square. Not so bad.
How to Get to Tarawe Homestay from Bario Airport
I kept communicating with Uncle Lian before my arrival, and I basically informed him about my initial plan on what to do in Bario and he basically arranged everything from me. Including transportation from the airport to the homestay that cost 20 MYR.
As it turned out, he actually picked me up from the airport. He said that there are times when he got busy and he couldn't accompany the guests too. But if he got some free time, he wouldn't mind taking the guests around. Like what he did to me, taking me to explore Bario town.
It takes around 15 minutes driving from the airport to his homestay. Not so far, but then again Bario is just a small town. 🙂
His homestay is such a cozy place to stay. It's located only around 100 meters from the town square. And it takes only 2 minutes walking from the homestay to Bario internet center. Very convenient!
As we talked during my stay in Bario, I found out that he used to play for Shell company in Miri. Nowadays, he's involved in some government projects for Bario development. And he does some design as well. Such a humble man with tons of talent!
First Impression: Staying at Tarawe Homestay
I suppose he applies his designing skill in his homestay as it's so cozy and homey. Be careful with the stairs though, as it could be so slippery.
Speaking of it being homey, so Uncle Lian actually has a cat who could get so clingy to the guests. And she just delivered some litters of kitten.
Uncle Lian told me that he was thinking to get rid of them, but then when he was about to do it, he didn't have the heart to do so. So then, for the time being, he kept the kittens around the porch.
Well, since I'm a crazy cat lady myself, I wasn't even complaining since that only made me love the homestay even more. However, Uncle Lian kept reminding me to close my bedroom door since the mama cat occasionally joined in when you're not looking.
He even told me a story about how the cat once snuck in the room and slept to one guest that woke up in the middle of the night and screamed as she got shocked.
Well, maybe this also should be put in your consideration if you're looking for accommodation in Bario. But if you're a cat lover like me… I could guarantee that the homestay is a perfect place to stay in Bario 🙂
It has everything you need. There's a squat toilet, as well as seating toilet bowl and shower. The bedroom is also nice too, all provided with a blanket and towel.
Internet Connection around Tarawe Homestay
Also, you don't need to worry about the remote job if you're planning to stay here as since it's close to the internet center, the reception is there for 24 hours. There should be no issue, all you need to do is just to register for the internet plan in the internet center for 5 MYR.
The internet connection only reaches in radius 100 meters from the internet center building, which is not so far from the homestay.
For 5 MYR, you will get a username and password that you could use for one device only. It's valid for a lifetime. So, you can always reuse it if you're thinking to visit Bario again in the future. 🙂
What to Do in Bario
At first, Uncle Lian and I planned to rent a bike to get around Bario the next day. Yes, we can rent a bike from IBU Tunggal Association for 35 MYR per 8 hours. This is the association of single mothers in Bario where they do a small business through handmade souvenirs as well as bike rental.
However, the next day we found out that one of the bikes got broken so we decided to take a walk to see around Bario instead. Walking around Bario is still doable, just make sure that you get a map with you and most importantly, you know how to read a map.
Remember, there's no internet connection here so you can't rely on Google maps over here. But, look at the bright side… It's a small town so you will get used to the great hospitality from the people in a way that you could always ask around to get connected with the locals or just ask how you get back home.
1. Visiting Bario Museum
As Uncle Lian was free to take me around Bario, after lunch on my first day we went straight to Bario Museum that is located not so far from where we had lunch. It was free entry, and Uncle Lian told me that he was the one designing the building.
The new structure was erected in 2015, and you could read some information about Bario and its people. From the head village from time to time, some information about Penan people in Bario, and even just to take some photos around the painting version of Bario.
There wasn't a lot of information you could find there, but if you come there with almost zero knowledge about Bario, visiting this mini museum actually helps you understand the basic knowledge of the area.
2. Enjoy the Local Food of Bario
If you asked me what's the highlight of visiting Sarawak, then I'd say… The food!
Seriously, I didn't find any single food that failed me. And that applied to my short visit to Bario.
Bario is actually known for its food festival that is held annually around June or July. The food festival, which the local people call Pesta Nukenan, is a three-day event that showcases the food and cultural heritage of the Kelabit Highlands.
This period is considered Bario's peak-season, so if you want to enjoy the most of Bario, do your research about this annual event and book everything in advance. 🙂
Apart from the food festival, Bario is also famous for their salt as well as pineapple. Unfortunately, it's not pineapple season when I visited. And I didn't get a chance to buy some salt to bring back home either to try the difference.
However, I swear that I've tasted the best laksa in the world. And I'm not even exaggerating.
I had Laksa Bario around the town square, and it was super delicious. Served with some seafood and fish cake, it was really mouthwatering even when I write this. Along with some ice tea, I only paid for 7.50 MYR. Definitely worth the money to eat the yummiest laksa in the world! 😛
3. Looking at the Beauty of Bario from Above
It took only around 30 minutes walking from Tarawe Homestay to get to this hill, where a gazebo stood to see the view of Bario from above.
FYI, Bario is located very close to Indonesian border in East Kalimantan. In fact, I just noticed it only a few weeks before my departure to the town. So, by the time I arrived in Bario, I asked how long it would take to get to the border from Bario.
Uncle Lian said that it would take around 4 hours walking from Bario to East Kalimantan border, since the infrastructure isn't ready so the only option is to walk there through the jungle. It might sound so far, but it's possible. And some people actually do it.
From this gazebo, we could actually see the side of Bario and the side of Kalimantan. So I think it's a pleasant thing to know that you could be somewhere where you could see two different places at the same time. 🙂
4. Visiting the Bario Plane Wreckage
In 1964, a Scottish Aviation Twin Pioneer CC skidded while trying to land on a wet runway in the area where was once Bario airport. It eventually ran into a ditch, and the wreckage is well-preserved until now in the place where it happened.
Nowadays, they moved the airport to the new area where you will land if you take a flight from Kuching, Miri, or Marudi. The area that was once the airport is now surrounded by rice paddies and some homestay.
You'll still be able to see the full-bodied structure of the plan wreckage without the interior. Since I went there with Uncle Lian, I asked whether he was already born at the time it happened. And he said he was a little kid when it happened.
Speaking of which, the picture of this plane wreckage is also something that triggered me to visit Bario. 🙂
5. Take a Look at Kelabit Longhouse in Bario
If you're keen to stay at a traditional longhouse, I think there are some accommodation available in Bario where you could actually do so. My consideration on why I didn't opt to stay in the longhouse was not only because it's usually far from the internet center, but also the night rate that is more expensive.
However, it might be worth-spent if you're really interested in learning the culture of life in the longhouse with the locals.
If you don't stay in a longhouse but you want to take a look inside one, there are some longhouse where you could pay to enter.
Lucky for me, as I strolled around with Uncle Lian and he took me to his relatives' longhouse where his grandma used to stay. So, I didn't pay for any entry fee to enter a longhouse.
Right now, there are 12 families living in the longhouse where most of them stay elsewhere in Miri or any other cities. When I visited the longhouse, there were 2 of Uncle Lian's cousins there with their cat.
In the longhouse, you could see how it is still alive with so many memories through the old pics and so many other stuff hung on the wall. There's even one corner where you could find the combo of a modern and traditional kitchen.
6. Checking Out the Church in Bario (or Maybe Attending a Sermon if You're a Christian!)
I'm not a Christian, but I was intrigued when I read some random information about how in 1973, people converted to Christianity en masse. Nowadays, Kelabit people even attend the church twice on Sunday, both in the morning and in the evening.
Upon writing this article, I got even more amused with the finding of this article as I found out that the Konfrontasi by Indonesian first president Soekarno actually made an impact in Bario through Bario Revival.
And even so, as Solomon Bulan, the preacher with the book, was actually the first person whom I had a conversation in Bario. He flew with me on the same flight from Miri, and on the way back to Miri, I even sat beside him on the plane. Bario is THAT small. 😛
7. Strolling Around Bario and Enjoying the View
If there's anything that I could get from Bario, then I think it's a perfect place to relax. Also, if you're a big city girl looking for a getaway to some remote place to enjoy life and nature to the fullest, then I think Bario is a place to go.
Bario offers the beautiful nature that takes your breath away. If you remember my post on the flight to Bario, you might recall when I said that I saw the beauty of Borneo from above that it almost made me cry.
Well, it's basically the same way when you stroll around Bario. You're surrounded by the beauty our nature could offer. And if you're the kind of travelers who couldn't leave without any picture on the place you visit then I could guarantee that you would get plenty of pictures in Bario.
And honestly, with so many research on how important it is to have some kind of internet detox in the era of social media like these days, staying in Bario for a few days totally helps you to find other activities that are more meaningful than just checking out the likes on your Instagram or sharing fake news on Facebook. 😛
In Bario, I find it easier to connect with people for some reason. Because I barely see anyone with the phone in front of them. And it's nice to live like that for a while.
My View on Bario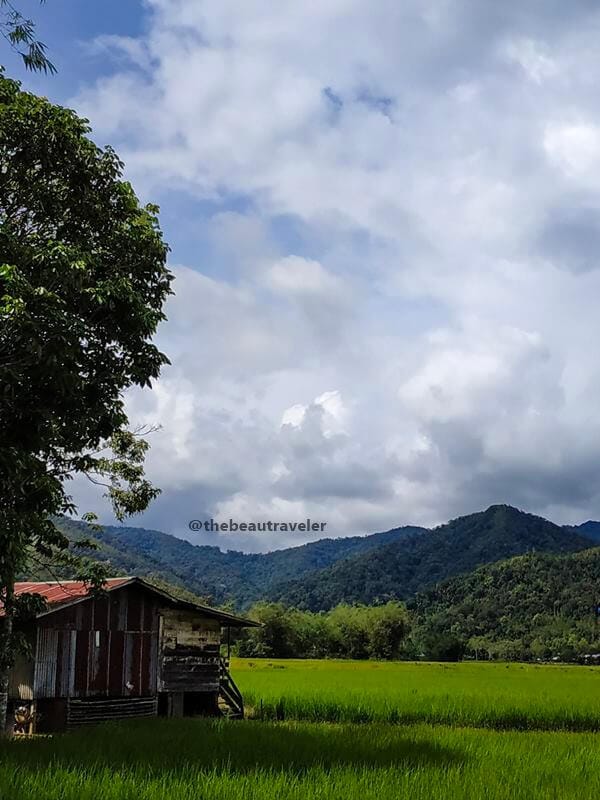 If there's anything that I should be thankful for the trip to Bario is that I'm so grateful that I came across some random pic on Instagram that made me want to stop by this town. Otherwise, I might have missed visiting Bario on this trip, and that would have been a bummer.
I would totally recommend you to make a stop here, especially if you're a big city girl like me. Believe me, the beauty of nature and the hospitality of the people could offer here are worth the fact that there's no wifi outside radius 100 meters from the internet center.
The place will remind you a bit about how life was before social media. Except maybe now you could strike a pose around the rice paddies to save for later so you could upload it on your Instagram once you get the reception whatever.
This is the place where you could take some time to breathe. A nice place to remind you that everything, in fact, will be just fine.
So, are you interested to visit Bario anytime soon? Drop your comment below, and cheerio! 😀
---
Like my post?
---