Traveling by bus in Borneo is not impossible. The only downside is that the information is quite limited, so you need to dig deeper to find out the best way to cross the country borders within the island. Whether you want to travel from the Indonesian part of Borneo to Malaysia or vice versa, getting on a road trip to travel across the border in Borneo can be done quite easily.
And this time, I'll share with you how I've done my Borneo trip, particularly the route from West Kalimantan to Sarawak. In case you're curious what kind of route I took on my last trip, I got to Kuching in Sarawak from Singkawang in West Kalimantan.
How did I get there? Check this one out!
Some Alternatives You Could Opt to Get to Sarawak from West Kalimantan
In case you didn't know, I've done road trips for most of the routes that I took. It took a while for me to create an itinerary for some reasons. One of them is because I wanted to visit Singkawang but there was no clear information regarding the transportation from Singkawang directly to Kuching.
I thought I would have a privilege in terms of getting information as I'm Indonesian, but I barely could find any information even in my language. I even took some time to shoot some questions in some groups only to realize that no one got a clear information about this either.
Well, it's actually not that difficult to get to Sarawak from West Kalimantan. But that if you think about going there straight from Pontianak. From Singkawang, it's something else.
Things might have been easier if only I didn't want to go to Singkawang. But I did, so I had to put a little more effort to find out, just so I could finally share you my knowledge here. 😉
By Flight
As I mentioned before, it is relatively easy to get to Sarawak from Pontianak.
For example, if you want to go to Kuching from the capital city of West Kalimantan, there's some daily flight from Pontianak to Kuching by AirAsia.
Even if you want to go to some other cities in Sarawak like Sibu or Miri, you could also go for the flight via either Kuching or Kuala Lumpur.
By Land
Also from Pontianak, there's a daily bus to Kuching by Eva. Operated by the Malaysian bus firm, you could book the ticket online through Easybook. This would have been my last shot if I couldn't manage to find a way to get to Kuching from Singkawang, but thank God I found a way. 😉
Supposedly, there's a public bus from Aruk to Kuching. In theory, I could get to Aruk first to catch the bus. But then again, it was my first time to step on Borneo and even the locals couldn't tell me clearly about where the bus stop is or how I could get there. So really, as an Indonesian, I gotta say we suck in that part. Boo!
Lucky that I decided to lurk on what I could get for more information around Singkawang and I found this random Facebook fan page Info Singkawang. I dropped them a message to get more information and they gave me the number of shared taxi provider for Singkawang-Kuching route.
Apparently, it's quite common for people in Singkawang to use this shared taxi provider to take them to Kuching. So, this service is what I chose to take for my transportation option.
Shared Taxi Experience from Singkawang (West Kalimantan) to Kuching (Sarawak)
For this journey, I got connected with Jie To through his Whatsapp number on +62 852 5229 9216.
It's a point-to-point service, so the driver picked me up at my hotel in Singkawang. It departs daily, early in the morning.
When I spoke to Jie To the first time, he informed me that the time of departure is usually at 4 in the morning. However, on the day of my departure, the driver texted me in advance to inform me that he'd pick me up at around 4.30 AM. And he did.
They charged me IDR 350,000 (around $24 USD) for the trip, where I had to share the car with 2 other passengers.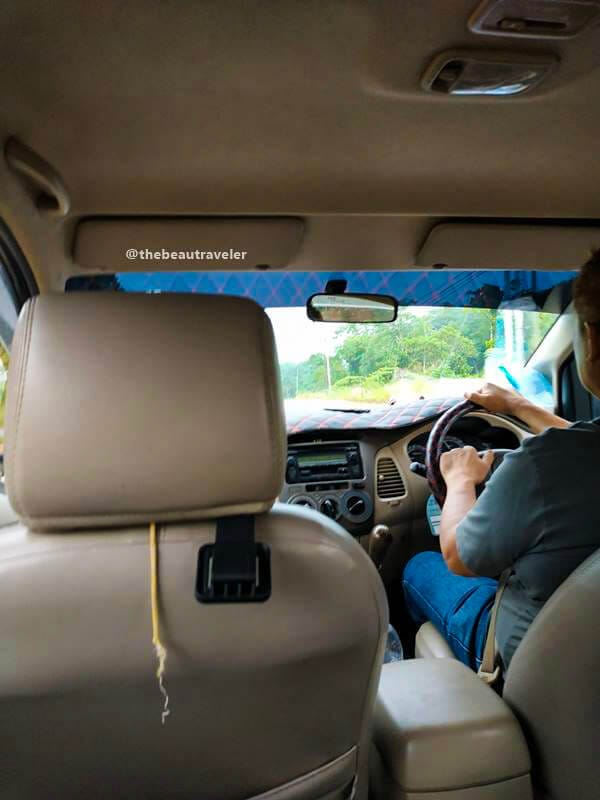 At first, I was a bit hesitant when Jie To told me the type of the car. It was because I had a relatively big luggage with me and I didn't want to feel uncomfortable for taking too much baggage space in the car. But apparently, there wasn't a problem as they left the whole back row for the baggage.
The Journey
Honestly, since I started really early in the morning and I barely slept the previous night, I spent most of the journey sleeping. 😛
We stopped somewhere for the breakfast in some area before the immigration. I had chicken porridge for breakfast, and then we stopped at the immigration in Sambas, where the Indonesia-Malaysia border is.
According to the other passenger who shared the taxi with me, the difference between our journey and the bus from Pontianak to Kuching is the border used for the immigration. From Singkawang, they usually pass the border in Sambas, while the bus from Pontianak usually gets through Sarawak via Entikong.
She also thinks Sambas border is better since the immigration office is relatively new so it's more organized.
The Immigration
Based on my previous experiences even before the journey, I knew that passing country borders by land is usually more challenging. Especially compared to the immigration experience when you go abroad by flight.
I mean, I've been getting randomly checked at Malaysia-Singapore border when I was en-route to JB from Singapore. Also, the last time I got to Singapore from JB with my brother, he got interrogated by the immigration in Woodlands for almost 2 freaking hours!
Therefore, I was expecting it to be a bit difficult. But apparently, it was soooo smooth and easy. In fact, if anything, I felt like the Indonesian immigration was more strict compared to the Malaysian one. And I'm Indonesian.
Like, the Indonesian immigration asked me some questions to ensure that I wasn't going to Kuching as an illegal immigrant. The immigration officer asked me things like when I'd go back home and what I was gonna do in Kuching etc. The Malaysian immigration officer legit just checked my face and stamped my passport.
Review & Verdict
I'm really glad that I decided to take the shared taxi from Singkawang to Kuching. Since it's a point-to-point service, they took me to my accommodation in Kuching so there was no need for additional traditional expense through Grab.
In terms of the price, it was also quite fair. The only thing that I suppose could improve is the system and also the information about this service. Like, seriously… I couldn't even get any info in Indonesian through Google, let alone for foreigners who barely speak Indonesian.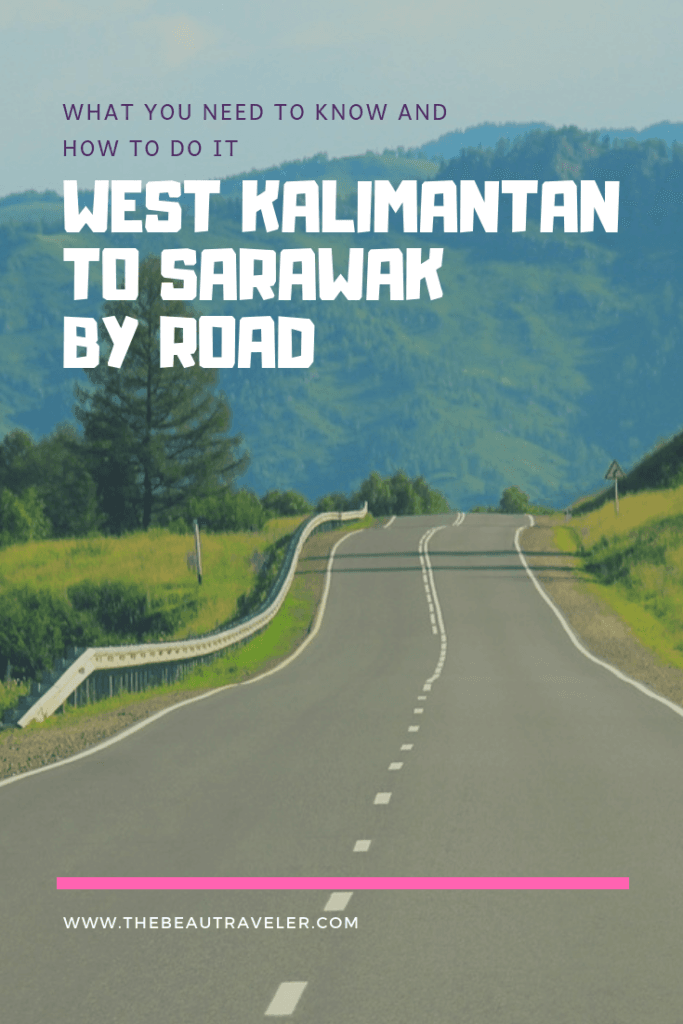 I personally would recommend the service if you happen to come across my blog as you want to cross the Indonesia-Malaysia border through Singkawang as I did. 🙂
The only minus of this service is that it comes without insurance, so maybe you might want to reconsider taking this service if you're the kind of traveler who couldn't travel without it.
So, do you have any other experience crossing Indonesia-Malaysia border? Maybe from Entikong? Let me know what you think, and see you in my next post to continue my story on Borneo trip. Cheerio! 😀
---
---
---
Disclaimer:
This post may contain affiliate links. I receive a small commission at no cost to you when you make a purchase using my link.
---
Like my post?
---