Turkish hammam, or Turkish bath, is probably one of the must-do activities when you're in Turkey due to its popularity and historical values. However, I had never done it until a few months ago when I came back to Izmir for the first time after 12 years.
Back when I was a student, I considered Turkish hammam quite pricey at the time. And when I stopped by Istanbul and Mersin a few years ago, I got too busy catching up with my friend and my (then) boyfriend to even think about hammam. So in this post, I will share some bits to guide you on what to expect when you're planning to do your first Turkish hammam.
Should you be worried about walking around naked with strangers? Do you have to bring your own shower gel or shampoo for the Turkish bath? I'll share what I know about Turkish hammam, and if you've done this before, feel free to add what you do in the comment section after the post! 😉
So, what do we need to know about Turkish hammam? Here we go!
What You Need to Know About Turkish Bath and Hammam Spa
Public bathhouses have been around since back during Roman and Hellenistic culture. Turkish hammam is a communal steam bath, and the term emerged in Muslim societies during the Ottoman as a part of their religious values.
Growing up in a Muslim household, I think it makes a lot of sense given the idea there was this hadith that I read almost everywhere about how "cleanliness is next to godliness." On top of that, Muslims also required to do wudhu (cleaning after themselves) before prayers, so I think I could see why we could put two and two together.
However, I gotta be honest that I had no idea what Turkish hammam is all about. Until at one point, I got hooked into watching this Turkish drama "Magnificent Century." Some scenes of the harems doing Turkish bath in the series got me curious to see how the experience is.
What you need to understand when it comes to Turkish hammam nowadays is that there are plenty of services available in the market. If anything, you can probably find Turkish bath and hammam spa services in many hotels throughout Turkey.
However, if you want to get an authentic experience, try to find a hammam with the word "tarihi" on it wherever you are in Turkey. It literally means historical, so when you find a place with the word on their brand, chances are the bathhouse has been there for probably hundreds of years.
And that's why I chose Karatas Hosgor Hamami in Izmir. Since I went there for a Turkish bath and experienced it firsthand, I didn't get a chance to show you the real picture of the whole bathhouse. But other than that, I tried my best. So let's talk about my experience of having my first Turkish hammam at Karatas Hosgor Hamami!
Turkish Bath at Karatas Hosgor Hamami in Izmir
What you need to be aware of when it comes to Turkish hammam is that historical isn't always equivalent to fancy. You would be surprised by how the place looks a bit run-down from the outside. But don't worry though, I can guarantee you that the place looks 10 times more decent inside! 😉
Like most Turkish bathhouses, Karatas Hosgor Hamami also has a respective schedule for both men and women. I couldn't find the schedule online and I just went there, hoping for the best. But lucky for me, I got there in time to go straight having my first hammam experience!
If you happen to be in Izmir, you could take the tram and stop at Karatas tram station and walk around 5 minutes from there. Mind you, the building is a bit hidden and you might miss out the first time. I literally circled around as Google Maps could sometimes be my best friend as well as my worst enemy when I try to find an address. LOL.
So, here are my findings based on my first Turkish hammam experience!
The Preparation for Turkish Hammam
Depending on the bathhouse you're going for a Turkish hammam, more often than not, they split the working schedule for men and women.
At Karatas Hosgor Hamami in Izmir, based on the schedule board that I saw in front of the building, the schedule for men is split into two working hours in the morning (7 to 11 AM) and in the evening (5 to 11 PM). In the daytime, they serve Turkish bath for women starting from 11 AM to 5 PM.
When I decided to go to Karatas Hosgor Hamami, I prepared some stuff, including a bathing suit, shampoo and shower gel to use since I didn't know what to expect when I'm there.
When I entered the building, I was surprised by how lovely the building was inside compared to what it looked like from the outside. It is mostly built by furnished wood with a big chandelier in the center of the lobby. It was lovely.
A lady welcomed me in Turkish and asked what I wanted to have, so I told her that it was my first time so I would like to make the best out of my time there. She asked if I'd like to get an additional massage with either oil or coffee scrub, and as easy as I could be, I said yes to the offer. LOL.
The lady gave me a peshtemal, a thin cotton towel to wrap myself for the hammam, and a regular towel that I can use after the bath. Then, she directed me to the changing room and told me to leave all my belongings and take the room key with me during the hammam.
It was actually quite convenient, as the key came in the semi-bracelet form so that I could put it around my wrist. The lady also told me that I could just wear my panty for the hammam since everyone else is topless while doing that.
As a result, I didn't bring anything for the hammam except my body and panty. And that's why I didn't have any picture about the process and everything, because God knows I'm not gonna upload my topless pic for the internet to see. 😛
The Price for Turkish Bath and Spa at Karatas Hosgor Hamami
Mind you, since I didn't know how much I should expect for the whole service, I asked the lady how much it'd all cost me before I entered the hammam section. She told me it would be 160 TL (around $11.40 USD) in total, so I agreed.
However, I found some discrepancies when I noticed the price list on the counter right after I finished my session. Based on what I read there, the regular Turkish hammam should cost 45 TL (around $3.2 USD), while the extra massage is 25 TL (around $1.7 USD), and the sauna is 35 TL (around $24). For waxing, it should be 20 TL (around $1.4 USD). In addition to that, it was also written that for tourists the price should be $20 per hour OR 20 euro with massage included.
I'm actually not sure why I only paid 160 TL if they considered me as a tourist. But at the same time, based on their a la carte services on the price list, I should have only paid 105 TL. I could only assume that the oil or coffee scrub option costs 55 TL. Otherwise, they probably just gave me a discount for my effort to communicate in Turkish. Or maybe it's just wishful thinking? 😛
Honestly, I didn't bother to ask even though I found it weird as I was in fear of having to pay more than what we agreed on. I hope you understand. LOL
The Sequence of My First Hammam Experience
Honestly, I was kinda nervous when I entered the hammam place as I wasn't sure what to do. I mean, except for during foreplay on my one-night stand (LMAO), I never really got topless in front of strangers. LOL.
But anyway, the lady did a good job to tell me to relax. She told me to do sauna first for around 15 minutes, and after that, she said the natir, which is the female attendant for the hammam, would come when it was my turn.
At first, I couldn't help but hold onto my peshtemal during the sauna. But eventually, I just couldn't care less as I had the sauna for all by myself and everyone around the hammam area didn't seem to care about them being topless either. So I went all out and started to relax before the female attendant called me to come to the hammam area.
Well, that's where the culture shock began. 😛
As you probably know already, Turkish hammam is associated with a marble room with a few small basins around them. While the part of the hammam scene on the TV was each person being attended on these basins, it wasn't the case in real life.
Well, yes… We basically cleaned up around the basin. But most of the Turkish hammam happened in the central dome. The scrubbing, the washing, the massage, and everything…
First thing first, the attendant scrubbed every inch of my body to the point I had to question how dirty I could be. LOL. They used this loofah-like called kese, and while I occasionally pamper myself through massage and spa and it wasn't my first time to have someone scrubbing my body, I gotta say that the scrubbing during hammam was a bit rougher than what I had ever experienced before.
After scrubbing, the attendant prepared the foam-filled clothing for the massage. I honestly have no idea how she prepared it since I laid down when she did that, but it was the foamiest bath that I've ever done in my whole life. LOL.
Although I'm not sure if it was just because I'm not immune to the smell, but I thought the foam had this detergent-like fragrant that I'm not really a fan of. Nonetheless, I would definitely still go back for Turkish hammam whenever I get a chance since it was quite a nice experience for me! 🙂
And after the washing and everything, it's time for the extra massage. The attendant asked whether I wanted to use oil or coffee scrub for this, so I chose the latter. Again, I found the massage quite rough compared to what I usually had back home. Still though, I didn't regret the experience one bit!
My Overall Experience with Turkish Hammam
Once it's all done, I came back to the main lobby and this time the lady who welcomed me the first time asked if I wanted to have anything to drink. I had a bottle of water, and then I returned to my changing room.
Since all my body was wet, including my hair, I also wondered if they had a hairdryer for me to dry out my hair before heading back to Alsancak, the area where I stayed at an Airbnb in Izmir. After I changed my clothes and everything, I found out that they also have a hairdryer that I can use around the lobby. It's convenient. 🙂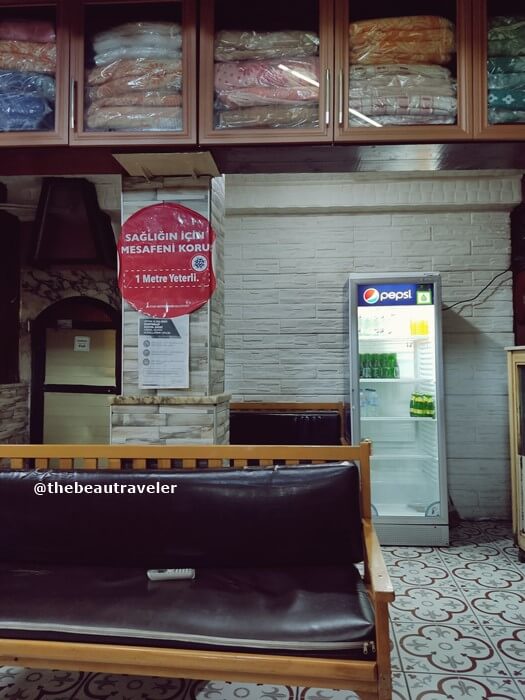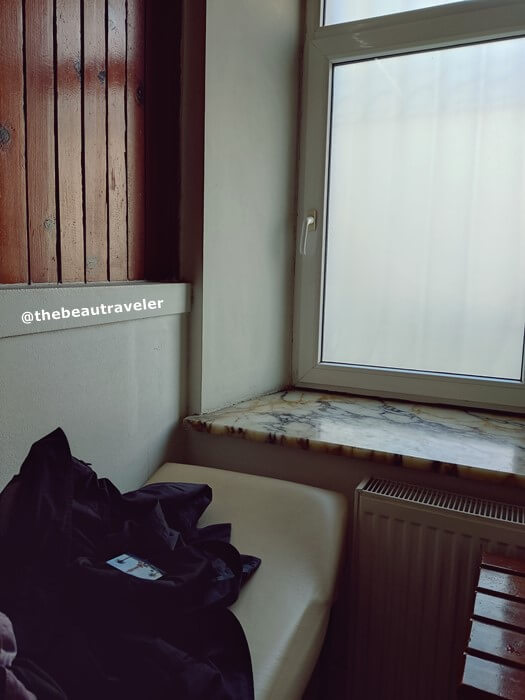 Now that I've experienced Turkish hammam, I have to say that it's quite a nice cultural experience. I'd definitely recommend it to anyone planning to go to Turkey.
However, I personally prefer traditional Indonesian spa, especially since I found the massage quite rough to my liking. Although if anything, the washing part was top notch as I never felt like I was that dirty until I saw my own dead skin cell during the hammam.
So for me, I would probably come and have another Turkish hammam if I ever go back to Turkey again someday. And maybe next time I'll try another hammam place to see if I experience things differently then.
Well, that's a wrap for my first Turkish hammam tips… Have you tried Turkish bath when you were in Turkey? Do you have any other recommendation for a Turkish bathhouse where you've been? Share your two cents in the comment, and cheerio! 😉
---
Marya The BeauTraveler
I am the founder and main editor at The BeauTraveler. I spent 4 years working in the aviation industry but ironically got to travel more right after quitting the industry in 2015. Born and raised in Indonesia, I started working remotely in 2017, and while I stay at home most of the time, I also regularly spend 2-3 months living a semi-digital nomad life elsewhere every year.
---
Like my post?
---