Ever since I started planning my last Indochina trip, I knew that I wanted to travel overland from my first stop in Ho Chi Minh City to when I flew back home from Kuala Lumpur.
At first, I didn't think much about the transportation that I'd opt for my journey. However, since I took the minibus from Ha Tien to Kampot, I figure that maybe the best choice that I could make in terms of transportation would be by bus. It would be more convenient for me since I brought big luggage, and the bus will have a space for it without me feeling guilty that my bag took too much space on the trunk of the car.
So when I left Kampot to Phnom Penh, I decided to just book a bus ticket by Giant Ibis through Bookaway.
I initially planned to book a sleeper bus from Phnom Penh to Siem Reap. However, when I was about to book it, the sleeper bus was sold out, so I ended up using the same bus operator again for the road trip in Cambodia.
So, I'm going to share my insights on using their service as the transportation mode in Cambodia. What's my review on Giant Ibis, possibly one of the best bus operators in the country? Check this out!
Giant Ibis Transport in Cambodia
Apart from providing the service around Cambodia, Giant Ibis also provides some border-crossing service around Indochina. Besides the inter-city routes, they also have some bus services to Bangkok and Ho Chi Minh city.
As I booked the ticket from both Kampot and Phnom Penh through Bookaway, I figured that they also had some pick-up service from your hotel. Since the pick-up service from Two Moons Hotel was listed in Kampot, I booked it when I purchased the ticket through the platform.
Unfortunately, the hotel where I stayed in Phnom Penh wasn't available on the service list, so I had to order a taxi at my own expense in the capital.
The bus tickets cost around $9 to $10 USD, which I'd consider affordable given the idea that they provide an excellent service in my experience.
Pick-Up Service
I only used their pick-up service when I was in Kampot. The departure time was 13.45, and my pick-up time was at around 13.00 from the hotel. At first, I thought that they would pick me up with the bus we'd use to Phnom Penh.
As it turned out, the pick-up service was available only from the hotel to the bus office in Kampot. They picked me up with a minibus slightly later than the scheduled time at 13.00.
I got a bit nervous when it was passed 13.00, and no one picked me up yet, so I asked the staff at Two Moons Hotel to contact the Giant Ibis bus office to confirm my pick-up time.
Not so long after the staff at Two Moons Hotel called the office, someone picked me up with a large minibus. Honestly, the minibus was so convenient that I lowkey wished I'd get on it for a long journey. LOL.
It was spacious, and I was the first one they picked me up. After they picked me up from Two Moons, we stopped at another hotel as 2 other passengers would go to Sihanoukville with Giant Ibis too.
The bus office was located not so far from the hotel. It took probably only 10 minutes to drive to get there since it was still around the riverside in Kampot.
My Experience with Giant Ibis in Cambodia
Once I arrived at the office, as usual, I checked in to confirm my booking. They asked whether I have a bag that I want to keep in the baggage storage, and they gave me the baggage label for when I take my baggage in my destination.
Not gonna lie, when it comes to their work and system, Giant Ibis keeps it professional. They use the baggage label for the stuff we've got in the baggage storage. The bus attendant was super friendly and informative too.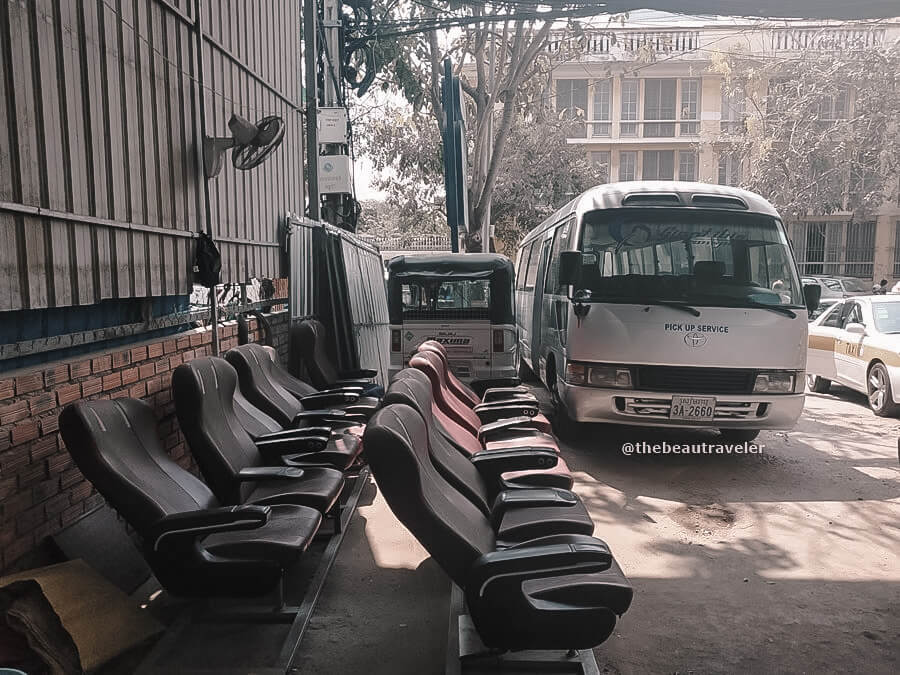 Punctuality
I had two different experiences in terms of punctuality for both trips I took with Giant Ibis in Cambodia. The bus I took from Kampot to Phnom Penh, it departed on-time. The bus arrived at 13.45, the estimated time departure written on the ticket.
However, when I took the bus from Phnom Penh to Siem Reap, the bus was delayed up to an hour due to some technical problems. If I understood correctly, the bus that was supposed to take us to Siem Reap got some issue, so we had to change it into the new one.
For that reason, the new bus got a different seat configuration that affected our seat number on the ticket. I had to watch the argument between some boomers who fought over their seats.
The problem was that we were supposed to use the bus with 2-2 seat configuration, like the one I used from Kampot to Phnom Penh. Due to the bus issue, we had to change into the one with 2-1 seat configuration.
The boomers were arguing over the seat, because this boomer couple sat on a seat where this solo boomer traveler insisted on having the seat number on his ticket. An unnecessary drama that I felt so hard to the bus attendant who had to deal with that.
Refreshment
For both routes that I took with Giant Ibis, they gave us some refreshments for each journey. The bus attendant served us a packet of pastry and a bottle of mineral water for each trip I had with Giant Ibis.
I didn't get a chance to try the pastry they served for my Kampot-PP trip because it didn't look good (I could be so picky and judgemental when it comes to food, okay!), but I tried their bread on my trip from PP to Siem Reap. It was a chocolate-filled bread, and it wasn't bad!
Customer Service
Based on my experience, I think they served their customers really well. From the staff on the check-in counter to the bus attendant during the journey… It was all great!
Almost everyone speaks English, which seems to be not so surprising in Cambodia. The bus attendant also gave us directions about the whole trip in general, along with the information needed like the wifi password or where we'd have a toilet break.
Other Facilities
Even though they claim that they offer wifi connection on their bus, it didn't seem to work on my phone. I have 2 phones, one I use for work and the other for my personal use. I tried in both, and it didn't seem to have a legit connection.
I didn't try to charge my phone on the bus from Kampot to PP. However, I did it on my journey to Siem Reap, and the USB socket on my seat works well.
It was essential on my trip at the time, as the delay made me use my phone even more than I predicted. And I needed my phone since I booked a pick-up service for when I arrived in Siem Reap. 
Toilet Break
Since the bus I used for both Kampot-PP and PP-Siem Reap route didn't come with a toilet, we had a couple of toilet breaks in our journey.
For Kampot-PP, we stopped once at a gas station for around 30 minutes. There's a convenience store too there if you want to buy some snacks or refreshments apart from the toilet break. Although a friendly reminder that the price in the convenience store is kind of a rip-off.
I suppose since PP-Siem Reap was slightly a longer journey compared to Kampot-PP, we had 2 stops on our way to Siem Reap at the time. The first was for 10 minutes, where only those who needed to use the restroom got off the bus.
The second one, we had a stop for around 45 minutes at some small cafe with public restrooms available. We were allowed to order some snacks during that time. The cafe itself looks quite a lovely cafe with so many options on the menu.
However, be mindful of the way the cafe served their customers. It seems like they were understaffed. Well, imagine… Around 40 of us stopped there for a toilet break. Around 20 of us ordered something at the cafe, and the staff seem to not get used to handling that many orders.
It didn't seem too much, but you could really tell that the orders were somewhat overwhelming for the cafe staff. They made me a wrong order, and some people also got upset about waiting for their change longer than they expected.
If you don't need to buy anything at the cafe, the best thing you could do is to refrain from ordering anything unless there are like 5 staff at the cafe. There were only 3 of them when we stopped there for the toilet break.
My Final Verdict on Giant Ibis
If you ask me what the best bus operator in Cambodia is, I'd tell you hands down Giant Ibis for sure!
It is convenient, not so pricey, and their customer service is bang on… Definitely worth the money!
Bonus point if you also stay at the hotel where they provide a free pick-up service from… I was lucky that I stayed at Two Moons Hotel in Kampot so I didn't need to spend extra money on transportation to Giant Ibis office.
Unfortunately, the accommodation where I stayed in Phnom Penh wasn't available on the hotel's list where they provide free pick-up service. I had to spend $2.5 USD extra for the taxi to get to their office in the capital city.
So, it was my experience with Giant Ibis… Have you used their service in Cambodia? How was your take on their company and the service? Do you have any other bus operator that you'd like to recommend in the country? Share with me in the comment below and cheerio!
---
Disclaimer:
This is a sponsored post. All opinions are mine.
---
Like my post?
---