I got some kind of writer's block lately. Not because I had no idea what to write, because I've actually got plenty of topics that I want to write on… But rather I was too lazy to sit down and start writing in front of my computer. My back hurts from carrying this dry sense of humor. LOL.
On a serious note though, I also got some other projects that I've been working on. I'm transitioning for my VA role, as now I'm more responsible for content creation instead of just managing clients' social media. But anyway… I'm here now, so forget about work! 😀
I know that the first thing I need to write after this writer's block passed would be the review of the accommodation where I stayed in Nusa Penida to catch up with my last Bali post. So, if you're planning to go to the island and considering some options for the accommodation, I'll share my experience staying at Penida LaCasa Cottage in Nusa Penida on this post.
Penida LaCasa Cottage, Nusa Penida
At first, I was considering some bungalow options on the island, but on the day when I booked it… I eventually changed my mind. I gotta admit, the pics of property I saw on their page kinda lured me into booking my stay there. Especially the picture-perfect mini infinity pool that looks so instagrammable. #guiltyascharged
So at the time, my option is either to book a bungalow without a swimming pool or a room at Penida LaCasa Cottage with a mini swimming pool. I ended up booking for the latter. And I wasn't disappointed.
I mean, I didn't stay at the bungalow to compare with but my family and I definitely had a great stay at Penida LaCasa Cottage. As we hired Bli Made for our transport around Nusa Penida, he also took us to the cottage from the port. It took only around 30 minutes by car from the port to Penida LaCasa Cottage.
My First Impression at Penida LaCasa Cottage
As much as I like the accommodation, I have to say that Penida LaCasa Cottage probably wouldn't be suitable for the party goers. In fact, it's located in a really quiet area. There's no restaurant, cafe, let alone bar within walking distance… So, we really didn't explore much in Nusa Penida in terms of culinary since we mostly had our meals at the cottage.
The accommodation is suitable for anyone who's planning to rent a scooter though. I mean, it's easier to stroll around with the scooter. We rented a car for the tour only, and there was no online cab service available on the island… We didn't have a choice but strolling around the cottage.
The Check-In Process
I booked the accommodation via Traveloka, and it was such an easy check-in. We checked in early since we arrived at around 12 PM, and the staff was super friendly. In fact, if there's one thing that is the most excellent about this accommodation… That would definitely be their human resources. They're so friendly and accommodating!
They didn't ask for any deposit during our stay there. They simply just asked for my ID card, and I was told to write my data manually on their book. Judging from the accommodation and its services, I suppose this accommodation really had a humble beginning.
The Meals
Good thing is that they provide free breakfast for the guests with some options that you can pick accordingly. The building itself looks newly furnished, and it's probably one of the good things about the cottage.
It is clean, quiet, and the food isn't so bad either… The price range for the meals is around IDR 20,000 (around $1.4 USD) to IDR 40,000 (around $2.8 USD), and since we stayed there for 3 days and had most of our meals there… The food wasn't bad at all. I mean, it wasn't so special, but it was good enough. 🙂
They also provide some snacks and beer in the property, so I had some while working around their breakfast area. Although there's this naughty (but adorable!) stray dog who occasionally comes to the cottage, and he could be reallyyyyy needy. And honestly, it's almost not safe to keep the meals for yourself when he's around.
The Room: Deluxe Ocean View Double/Twin Bed
We booked a room with a twin bed, and we got the room on the ground floor so our room is facing the swimming pool and the ocean pool directly. Honestly, almost everything about this accommodation is excellent. The room is super comfortable, and they even provide some veranda with two chairs and a table. It was super cozy!
Also, it's important to note that they have a moderately high-speed wifi connection around the veranda area. Well, the wifi connection still worked in our room, but not as fast as when we used it outside. That's why I preferred to work from the breakfast area. It was also helpful that the scenery from there was quite impressive.
Although if there's one thing I should stress about my stay at Penida LaCasa Cottage, it is probably about the reality isn't as beautiful as in the property images I found on Traveloka. The mini infinity pool wasn't facing directly through the ocean as I thought it would be, but other than that… Everything in Penida LaCasa was excellent! 🙂
Review: Penida LaCasa Cottage, Nusa Penida
See, since we only traveled around Nusa Penida for half of the day on the second day, we spent most of our time just chilling around the cottage. And we definitely had a good time there!
Despite the location that is quite far from the center, Penida LaCasa Cottage would be a great option for those of you who want to have some quiet and great rest around the island. And more importantly, their night rate is super affordable!
For 3D2N at the cottage, we spent IDR 665,000 (around $47 USD) and it was including the extra bed charge since there were the three of us. It was such a great deal, given the idea of how good the accommodation is for the rate!
The Room and Amenities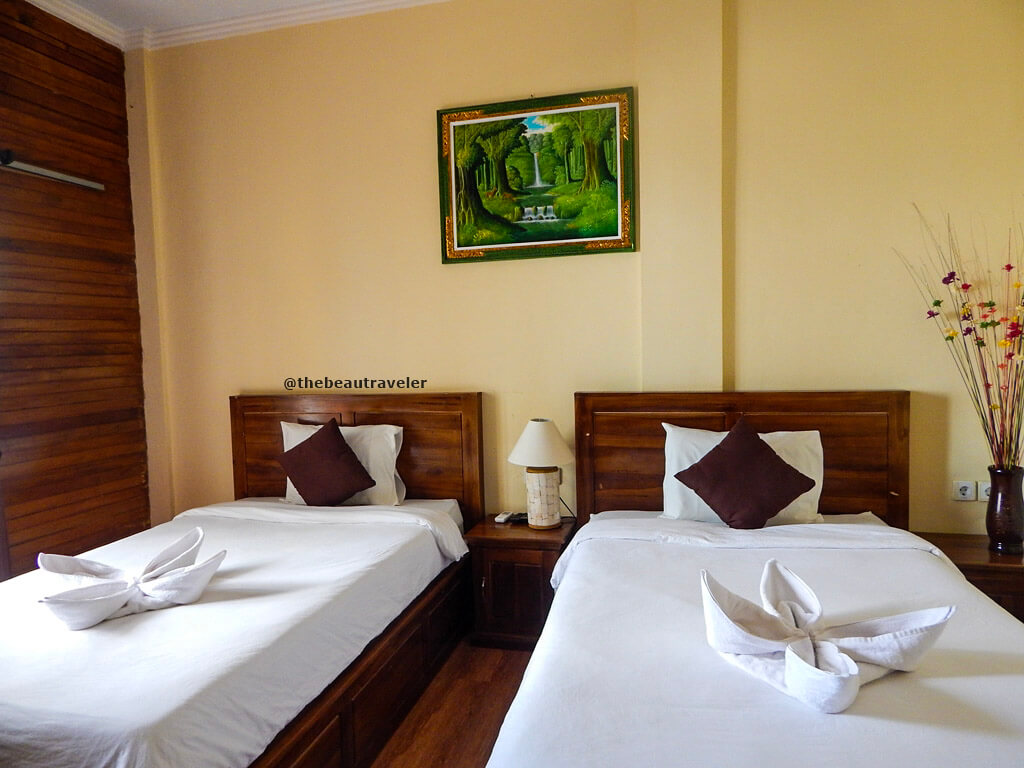 The first time I entered the room, I was impressed by how spacious it was! Not to mention that the twin bed was quite big as well. It was really comfortable, even though I had to share the bed with my mom during our stay there. If anything, I think the accommodation is suitable if you travel in a group of three as we did!
They also provide a small cabinet and mirror big enough for you to do makeup. There's also a small TV in the room, although now that I think about it, I don't think we turned on the TV at all.
For that, I couldn't speak for myself whether the TV has cable or just some local TV channels.
Apart from everything, I knew this was a brand new accommodation by the time I entered the room. Everything was sparkling clean, from the furniture to the bedsheets and towels. Plus, I love that they provide the hanger outside the room in the veranda. That way, I could hang my bikini there after swimming to dry it off.
The Shower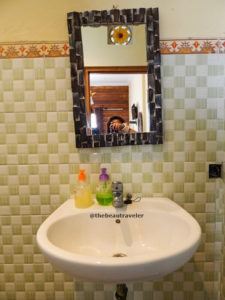 To be honest with you, I was quite surprised when I entered their shower for the first time.
First of all, the shower was super spacious. Like, the distance between the toilet seat to their sink is so far. Not sure if it's kinda failed in terms of design, but other than that…. Everything was fine, I guess.
They provide us with shower gel and shampoo that we left unused. The water pressure is quite alright, and the water heater worked well too. If there's one thing I should take note about the shower here is that their toilet flush wasn't that strong.
I mean, it still works… It's just that you probably have to wait until you could flush it for 2-3 times when you have to take a dump. LOL.
I know it's disgusting to talk about in the review, but hey… Aren't you supposed to know this kind of thing too for you to consider whether this property is a yes or a no for you? 😛
Oh, also the mirror on the sink is really not for short people. I couldn't even see myself in the mirror when I washed my face there. So I really had to use my intuition so I could wash it properly. HAHA.
The Swimming Pool
Remember when I said that the swimming pool at The Alea Hotel Seminyak was quite deep? Well, I don't know whether it was Bali thing to make a deep swimming pool, but the pool at Penida LaCasa Cottage was even deeper. I don't think it's some kind of short people problem, because really this pool isn't for a beginner at all. Note that even though I'm short, I could still swim. LOL
Also, I find the pool isn't so ideal to swim. Unlike the pool at The Alea Hotel that made me do exercise during our stay there, the water in the pool actually had some taste. I don't know how to explain this, but it has this kind of after taste after I took a few minutes to swim there.
Yep, I gave myself a chance to swim there only a couple of minutes but stopped after I realized that swimming there wasn't fun at all. It's almost like it was only there for decoration. 😐
Final Verdict: Penida LaCasa Cottage
I would definitely recommend Penida LaCasa Cottage if you happen to come to Nusa Penida and plan to rent a scooter to get around. It is affordable, and they have a decent view of the ocean and Mount Agung in the front. And since the area is quiet, it's also a perfect spot for you to have an evening stroll.
However, I gotta say that when it's getting dark, the quiet area could become slightly spooky.
(+)
It's affordable! The night rate is less than IDR 300,000 (around $21 USD), and the room is really good and spacious. So, according to the staff as we had a chat for a bit… All the rooms at Penida LaCasa Cottage are the same, the only difference is the bed since they also have a couple of rooms with the queen bed.
A decent view of the ocean and Mount Agung in front of you.
They have a couple of options for your breakfast menu. You can pick any of them, according to your mood… They even provide American breakfast that tastes great!
Their staff!!! Seriously, they're so friendly and helpful. So polite and accommodating.
A good wifi connection outside. Honestly, I had a good time finishing some work in the breakfast area with Mount Agung in front of me. It's almost like the digital nomad lifestyle that a lot of people brag a lot hit me so much at that point. 😛
I'm the kind of person who would have a better mood with furbabies in front of me. So the stray dog's existence was such a relief for me… Except when I ate. Haha.
(-)
If you only want to book this accommodation for the mini infinity pool picture you see on their page, you'll probably be disappointed. But other than that, it's still a good place to stay shortly in Nusa Penida.
Well, since the location is almost out of nowhere, chances are you will only eat the meals they sell there and nothing else. Especially if you rely on the car. Nusa Penida is quite in a remote area of Bali, so there's no such thing as delivery.
So, that's how it was staying at Penida LaCasa Cottage… Have you been to Nusa Penida? Do you have any other accommodation to recommend staying on the island? Feel free to drop me a comment below, and cheerio! 🙂
---
Disclaimer:
This post may contain affiliate links. I receive a small commission at no cost to you when you make a purchase using my link.
---
Like my post?
---