It's almost impossible to skip Angkor Wat in your Cambodian itinerary. So after exploring Phnom Penh for a few days and stopping by Oudong, I took the bus to Siem Reap and finally got a chance to explore the famous temple before heading to Laos from Cambodia.
In this post, I'm going to share my experience of traveling in Siem Reap for one day. I got a chance to connect with a tuk-tuk driver who provides service for a tour in Angkor Wat, so while you can also take a tour around the temple, arranging a private trip around Siem Reap is also possible.
So, what do you need to know about traveling in Siem Reap? What are the must-visit places apart from Angkor Wat? Read more to find out!
Siem Reap, Cambodia
Apart from the Cambodian genocide, I think one of the most well-known things in the country is Angkor Wat. It is one of the must-visit spots whenever someone suggests you to travel around Southeast Asia, and for a good reason.
Siem Reap, the city where the majestic temple of Angkor Wat, has become a popular tourist destination in Cambodia. It is so popular that I swear I see more tourists than locals around the city.
How to Travel Around Siem Reap
Unlike in Kampot where you can only rely on PassApp to hail a tuk-tuk nearby, Grab is already available in both Siem Reap and Phnom Penh. It's easier to travel around, as it's only one click away without having to bargain price and all that.
Lucky for me, I got connected to Kim through Couchsurfing. I posted a public trip to Siem Reap, and he reached out offering his tour service, which includes a free pick-up from the bus station to the hotel along with Angkor Wat tour.
I'll share Kim's contact details later in this post, but you can still rely on Grab app for both hailing or renting tuk-tuk around the city.
What to Do Around Siem Reap
Obviously, with the popularity of Angkor Wat, the ancient temple is not to miss when you stop by Siem Reap.
Temple-hopping is definitely on the list to do if you decide to go to the city.
Apart from Angkor Wat as the city's icon (as well as Cambodia's!), there are a few smaller temples around Siem Reap that are worth visiting. That includes Ta Prohm, the temple that has gained its popularity after the release of Angelina Jolie's Tomb Raider in the early 2000s.
If you're also into the news on anything showbiz, you probably know already that within this period, Jolie decided to adopt the then-Cambodian baby Maddox.
Did you know?
Angkor Archaeological Park is the magnificent ruins of the Khmer Empire's capital, from the 9th to the 15th century. The current UNESCO World Heritage Site is also considered one of the seven wonders of the world.
Back to Siem Reap, there's plenty of activities that we can do around the city apart from Angkor Wat. To name a few, there's a VIP helicopter tour available to see the majestic ancient temple from above, and there's also the Landmine Museum that you can visit while in Siem Reap.
If anything I could get from visiting Siem Reap, it's almost like the city that never sleeps. In the afternoon, you can spend the whole day temple or museum-hopping, and if you think you're the life of the party, I suppose you'll find heaven around Pub Street in the center of Siem Reap. This is also one of the best spots in Siem Reap to enjoy Cambodian street food.
Not to mention The Old Market where they sell anything from accessories to summer dresses for the cheap.
In case you didn't know, I matched with someone on Bumble in Phnom Penh with whom I spent my time every night when I was in Siem Reap and there were so many things to do around there too. From the famous fish spa to $1 massage, I tell you what, I had a great time there!
One Day Trip in Siem Reap: Angkor Wat and Beyond!
Kim offered me a full-day tour in Siem Reap, starting from as early as 5 AM to catch the sunrise around Angkor Wat.
However, due to my delayed bus trip from Phnom Penh and I worked late on my first night in Siem Reap, I asked him to start a little later at 8 in the morning. He was such a polite and friendly guy, and he speaks English quite well too. Totally recommended!
Kim charged $16 USD for the whole tour, and I think it's a fair price given the idea all the must-visit places around Angkor Wat were covered in the tour.
Angkor Pass: One Day Tour Around Angkor Wat and Beyond in Siem Reap
After picking me up at 8 AM, Kim took me to the ticket center to purchase the Angkor Pass. There's a couple of options that we could opt accordingly based on how many days you're planning to explore the city.
I bought Angkor Pass that is eligible for one day only, and it cost me $37 USD. There's also another option for a 3-day Angkor Pass, which costs $50 USD. I know this because my date in Cambodia got himself the latter. LOL.
Upon purchasing the Angkor Pass, they would ask for your passport and then take a picture of you in the ticket box. Mind you, your pic will show in the ticket so that the staff in Angkor Wat will be able to to recognize the legit holder of the pass.
Places to Visit Around Siem Reap: Angkor Wat and Surroundings
Angkor Wat was our first stop after I purchased the Angkor Pass. It is the only site around the Angkor area that has been opened as early as 5 AM. Most people seem to be experiencing the magical sunrise around Angkor Wat, so sue me for not pressuring myself into waking up early for that! 😛
Once you arrive at the entry gate, you will be offered a private tour with several languages available.
1. Angkor Wat
At the ASEAN Tourism Forum 2012, Angkor Wat and Borobudur through Indonesian and Cambodian government agreed to become sister sites in their attempt to promote cultural tourism in the Southeast Asia region.
Initially, I thought Angkor Wat was a Hindu temple since the architecture reminds me of the Prambanan temple in Yogyakarta.
As it turned out, Angkor Wat has a unique story where it was initially built as a Hindu temple. Dedicated to Vishnu, the preserver in the Hindu Trimurti, the temple's initial construction took place during the reign of Suryavarman II, the Khmer King, in the 12th century.
By the end of the same century, Angkor Wat gradually transformed into a Buddhist temple, which continues to the present day. It is a huge temple complex that may fascinate history and culture junkies.
I'm not sure whether it has something to do with me being Indonesian, after a while strolling around the complex, I got bored.
I mean yes, the architecture was stunning given the idea that it was built centuries ago without any sophisticated technology and whatnot. But it didn't stop me from thinking that it was actually quite dull to just stroll around the compound that practically looks the same. LOL. #somuchtobewoke
There are several temple spots around Angkor Wat, but unfortunately, some places were suffered from vandalism. Still, it's worth visiting at least once in your life.
2. Prasat Kravan
Prasat Kravan is a small temple built in the 10th century with its signature reddish brick tower. The bas-relief on the interior walls of the tower are representations of Vishnu.
After the crowded Angkor, the introvert in me was actually happy when I reached Prasat Kravan as no one was there. I was practically the only visitor at the time, and I had a good time.
The architecture is pretty unique too, with the red brick and distinctive relief.
3. Banteay Kdei
The third temple that I stopped after Angkor Wat is Banteay Kdei, the temple known with the other name: the Citadel of Chambers.
In the early 13th century, it was built during the reign of Jayavarman VII along with several other temples in the Angkor Archaeological Park area in Siem Reap.
Unlike Angkor Wat that is vast and crowded with tourists, the temple is quieter and I find the architecture much more attractive even though I found some ruins here and there due to lack of conservation.
Kim dropped me off on the east gate of the temple, but he told me to meet him on the other side near to the west gate.
If I gotta be honest, I enjoyed spending my time at Banteay Kdei than Angkor Wat. I found some good spots for taking photos too even though I barely take any pic with myself in it.
4. Ta Prohm
Ta Prohm was one of the temples constructed in the early 13th century under Jayavarman VII's reign. However, it is probably the second most famous temple after the main Angkor Wat in the archeological park area.
As mentioned previously, the temple was used as a location in the movie Tomb Raider, which makes it known as "Tomb Raider temple."
Ta Prohm also has one instagrammable spot that you've probably seen a million times when you scroll around Cambodian pics on Instagram: that big tree with its branch merged into some parts of the temple.
I think the spot is so popular whenever you searched things with "Angkor Wat" as the anchor text. So much so I thought the spot was actually located in the Angkor Wat complex. As it turned out, it's actually in Ta Prohm.
Mind you, the impostor syndrome really hit many people who happened to visit the spot, so there would be someone trying to pose in front of it already when you pass by. At least that's what happened when I did. 😛
5. Ta Keo
After Ta Prohm, Kim took me to Ta Keo where I also had lunch and got a break for an hour. The eateries in front of the temple offer various meals on the menu at a quite affordable price.
Ta Keo has a different design with the other temples. It was the state temple of Jayavarman V, who succeeded his father when he was only 10. Ta Keo was constructed just 7 years later, with a five-tier pyramid that is super high that I decided not to go up because it was too high.
I have no problem with height, it was just that not only the stairs were so steep but also I already got tired from strolling around the other temples. Even worse, because I went to the temple before I had my lunch, so I kinda got hungry too at the time.
I only made it to the second tier, and even then, I spent mostly sitting down under the shade. #adventurousmuch
If anything that slightly disturbed me when I stopped at Ta Keo, it was when a group of people approached me to collect some donations in the temple. Call me evil, but I'm kind of skeptical about anything that involves crowdfunding or donation these days.
6. Thommanon
Located just around 500 meters from Ta Keo, Thommanon, along with Chau Say Tevoda are the smallest temples that I visited on my Angkor journey.
It is believed that the construction of Thommanon was started under the reign of Suryavarman II when the work on Angkor Wat was just begun.
Frankly speaking, Thommanon is quite dull compared to the other temples. Not only because it's small, but the area was also pretty dusty when I came for a visit. In terms of architecture, I think even the naked eyes could tell that it has more ancient design compared to other temples as well.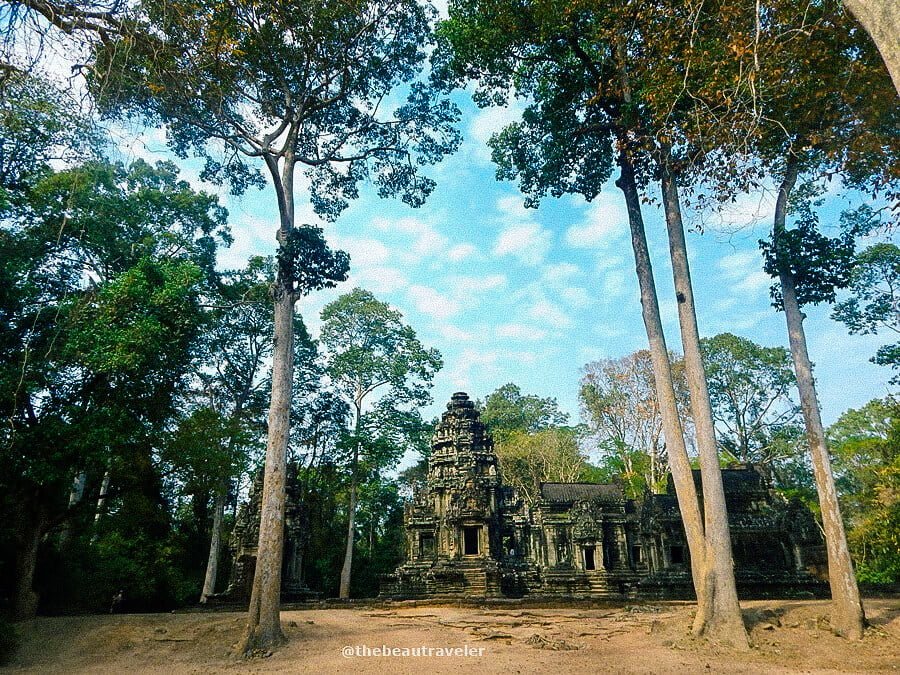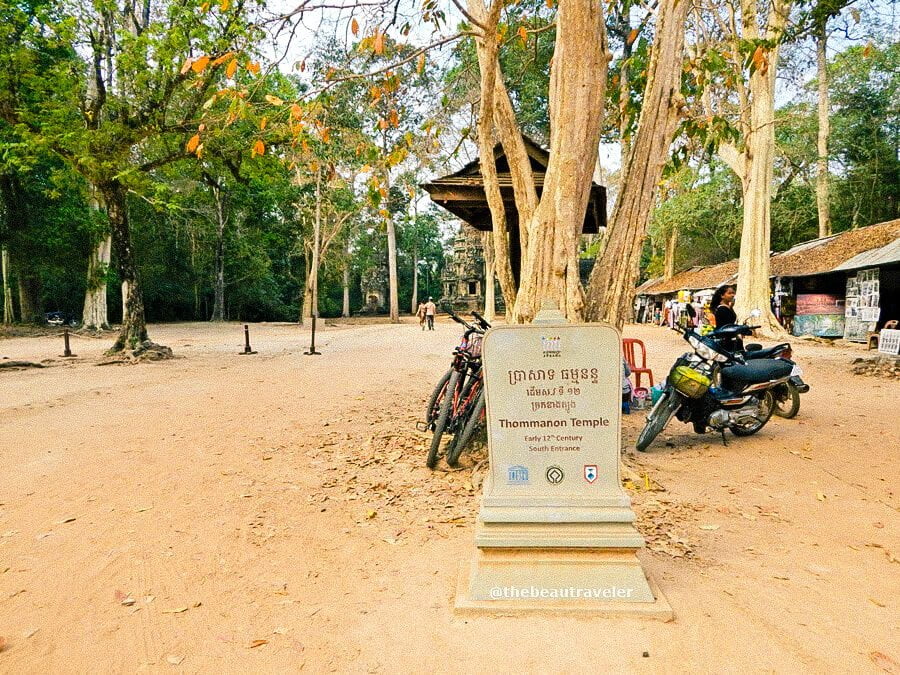 7. Chau Say Tevoda
Chau Say Tevoda is located just across Thommannon, and it was believed that the construction also started in the same period as the latter temple under Suryavarman II.
Initially built under Hindu kings, the representation of Buddha images is believed to be added later under the reign of Dharanindravarman.
It is also a small temple, but I personally like Chau Say Tevoda better than Thommanon in terms of architecture. There are also a few more temple towers located in Chau Say Tevoda.
8. The Terrace of Elephants
As the name suggests, I could tell that I reached the Terrace of the Elephants when I saw the carved picture of elephants in the ornamental wall.
Once a royal terrace attached to the palace of Phimeanakas, it was the center of the ancient Khmer capital of Angkor Thom. While most of the original structure has been rotten and collapsed, some parts of the terrace have been relatively intact, with some still quite clear carvings.
The area used to be the viewing location was used by Jayavarman VII to greet his returning army. Today, the area is pretty vast, surrounded by green grass.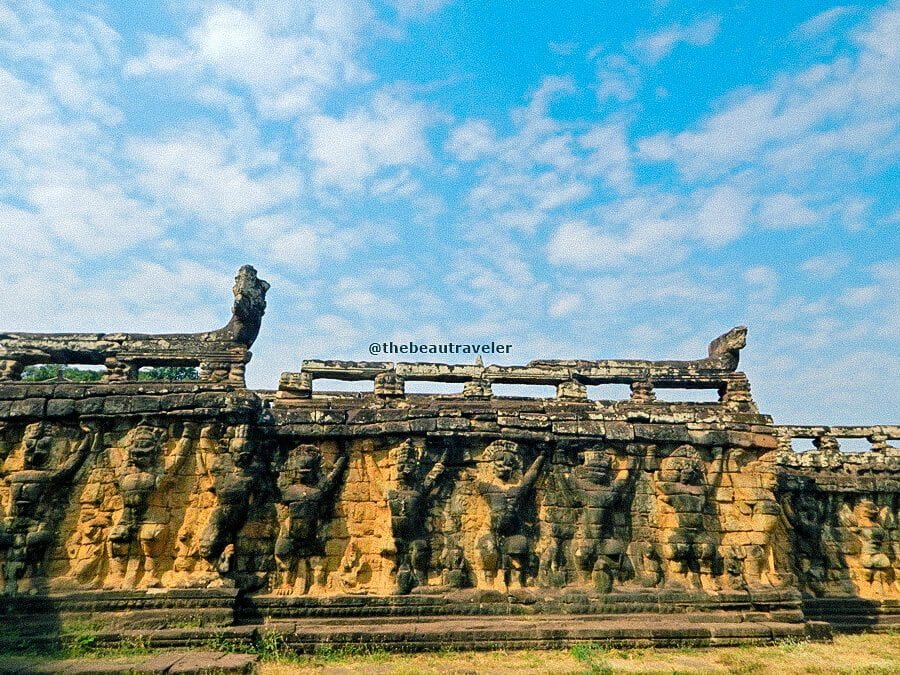 9. Bayon Temple
The smiling face carved on several parts of the site has become the signature feature of Bayon Temple. This unique architecture, along with a relatively vast area, make it the second most crowded temple that I visited in my last Angkor journey.
Bayon Temple was the last state temple built at Angkor. Being the only Angkorian state temple originally built as a Buddhist shrine dedicated to the Buddha, it was the centerpiece of Jayavarman VII's massive program, along with the construction of Angkor Thom (the walls and naga-bridges around Angkor), Preah Khan, Ta Prohm, and Banteay Kdei.
The temple is quite massive, and I visited it at around 3 PM when the weather was more bearable than the afternoon around Siem Reap.
Although mind you, since the temple is quite massive, it could be slightly confusing when you try to find the exit. It happened to me once that I ended up going around the same spot several times. LOL.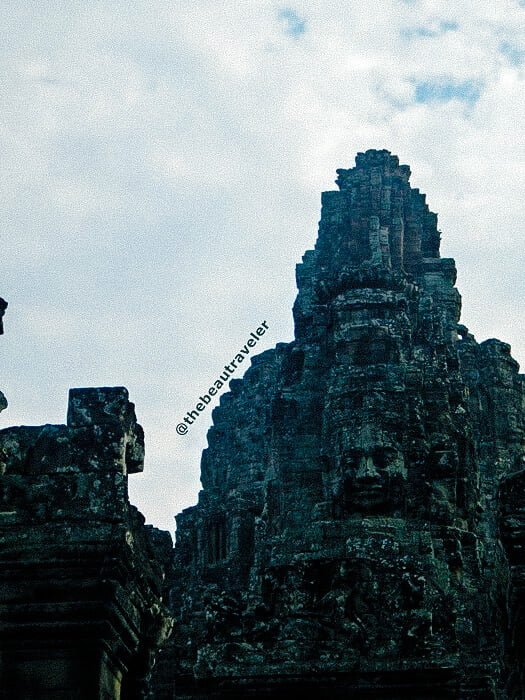 10. Phnom Bakheng
The last spot I visited in my last Angkor trip was at the top of a hill known as one of the most popular places to see the sunset around Siem Reap: Phnom Bakheng.
I reached Phnom Bakheng at around 04.30 PM, and despite an easy hike, it was actually a bit more distanced from the entry gate than I expected. I made a few stops during the hike, and it could be pretty scary if you hiked alone as I did. Lucky for me, I arrived by the time a group of other tourists got to the site.
Phnom Bakheng is believed to be the principal temple of the Angkor Region, as historians believe that it was constructed more than two centuries before Angkor Wat. Before I reached the site, I skim-read some pieces about Phnom Bakheng, and I gotta say it kind of gave me some sort of expectation.
Mind you, the site is also the location featured in Angelina Jolie's Tomb Raider in the scene of Lara Croft looking through the binoculars upon arriving in Cambodia.
The expectation that led to a disappointment when I reached the top of the hill. The temple was under construction, and it was pretty dull.
There is a temple where visitors could turn to enter, but even when I went there, I found nothing special about it. I got bored faster than expected, so I decided to end the tour a bit sooner as I missed the sunset.
My Final Verdict on One Day Trip in Siem Reap
If you're into Khmer history or archeology, I think it's worth purchasing the 3-day Angkor Pass. However, if you're a laidback traveler as I am, I found the day trip around Siem Reap was quite fulfilling.
I also had a great experience renting a tuk-tuk with Kim. He's polite and quite shy, but he was super accommodating. For example, he didn't mind when I asked him to stop by some eateries around Angkor as I didn't have breakfast yet due to waking up late. 😛
If you're interested in using his service for your next trip to Siem Reap, you can connect with him through Whatsapp here. Just tell him that you knew the number from Marya the Indonesian on Couchsurfing. 😉
So, is Angkor Wat on your bucket list? Or have you been to Angkor Wat and traveled around Siem Reap? Tell me your favorite spot around the ancient town of Angkor below, and cheerio! 🙂
---
Like my post?
---