Long before I made my way to visit Bali, I've heard a lot of good stuff about the three small islands around the province: Nusa Penida, Nusa Lembongan, and Nusa Ceningan. The popular term among tourists that I've heard about them is that some people refer to them as "Nusa islands".
The three islands have gained popularity in the past few years, and it's not without reason that they have. First, the local people really appreciate the effort of the current government to promote the tourism in the area. Plus, the islands are less touristy than the main Bali island. And that's also the reason why I included Nusa Penida when I created my itinerary in Bali.
There are so many day trip tours available to Nusa Penida from Bali, Indonesia. However, you can also travel to Nusa Penida without booking a tour pretty easily. In fact, I highly recommend staying in Nusa Penida for a day or two to maximize your experience around the island!
Nusa Penida and Why You May Want to Visit the Island
Thanks to Instagram, I guess it is actually one of the reasons why Nusa Penida has become one of the bucket list for those who are interested in going to Bali. There are some instagrammable spots that have gained their popularity since a lot of people did it for the 'gram.
The local people in Nusa Penida used to farm seaweed in the past, but these days since their tourism industry has been growing, most people are rerouting their source of income to it.
Other than that, Nusa Penida is also a great alternative for anyone coming to Bali and seeking for a place that is less crowded but still has a lot to offer. But mind you, as I mentioned before… Almost everything in Nusa Penida is more expensive than the Bali mainland.
Although it actually makes a lot of senses, given the idea that it is somewhat off-the-beaten-path around Bali. And the place has gained its recognition recently.
Nusa Penida Tour: Is It Possible to Get Around Without Booking a Tour?
If you check some options to visit Nusa Penida or the other islands through the internet, you will find a lot of tour packages that you can choose at various prices as well. As far as I'm concerned, the tour package usually starts from IDR 300,000 (around $21 USD) per pax.
While I know some of you may find it cheap, as an Indonesian myself I still find it quite expensive. Especially since I was traveling with my brother and my mom at the time. What I did was a little bit of luck and 100% gambling, but I'm glad that I decided not to book a tour in advance when I went to Nusa Penida.
A few days before I went to Nusa Penida, I actually considered booking a tour in Nusa Penida for around IDR 1,500,000 (around $106 USD) which includes the full package of tour getting around the island. But I was hesitant to do it, so then I decided to just book the boat ticket and get any tour package that I could find by the time I arrive on the island.
Is it possible? The answer is yes, it is.
What to Expect When You Go to Nusa Penida Without Booking a Tour
Mind you, if you haven't booked a tour in advance by the time you got to the island then you might have to face some annoying stuff… A lot of people would approach you to offer their tour packages, and even if you're interested in one of them, you might still have to haggle about the price. That being side, this method is not for everyone, but it is for me. 😛
Once I got off the board from the boat, a lot of people approached me to offer their services so I just randomly told them that I needed a car since I was traveling with my family. To be fair, I'm a local Indonesian so I suppose it was easier for me to haggle and all that.
Long story short, I got Bli Made from Penida Oke Tour as our driver and tour guide during our stay in Nusa Penida. He offered me 3 (three) tour options.
The first is West Nusa Penida which includes Angel Billabong, Broken Beach, the famous Klingking Beach and Crystal Bay. Or else, we could also opt for East Nusa Penida tour in which the destinations include Atuh Beach, Diamond Beach, the treehouse or what we Indonesians call "rumah pohon" and Teletubbies Hills. In addition to that, we could also choose the complete tour package to explore both sides of the island.
I gotta admit, when I decided to go to Nusa Penida, there's only one place in mind that is somewhat very basic: Klingking Beach. The spot, especially that dinosaur-shaped hill around the beach, is so popular among travelers. Especially on Instagram. So when I got offered the package option, I picked the West Nusa Penida tour since our budget wasn't enough to do the complete one.
We got the West Nusa Penida tour package for IDR 700,000 (around $50 USD), the price that Bli Made said special for the local visitors. Apart from the tour, we also hired him for the transport to and from our accommodation for IDR 100,000 (around $7 USD). I got it for the price, but please be mindful that the price is subject to change. 😉
West Nusa Penida Tour: The Places You'll Visit on the Western Part of the Island
The other reason why I chose West Nusa Penida tour without hesitation was that only a day before our arrival to the island, I read the news about the death of a Malaysian traveler around Diamond Beach. To be honest, it made me a bit nervous about visiting the island, and it somewhat affected my mood to swim on the island too.
The next day when we did our tour, I was wearing bikini inside my shirt and shorts but I ended up not swimming at all. Not because of the news per se, but I'll elaborate later in this post.
So, where did we go for West Nusa Penida Tour? How was it? Was it worth it? Let's find out!
1. Angel Billabong
According to Bli Made, our guide on the island, apart from the efforts of the local government to promote their tourism, the popularity of Nusa Penida has been recognized since there were some groups of the student from the public university in Bali, Universitas Udayana, went there for praktek kerja lapangan.
Literally means fieldwork practice in Indonesian, praktek kerja lapangan is basically a social activity that is mandatory for most of the university students in Indonesia. I said most of the university students in Indonesia, because I was one of them but it wasn't compulsory for me since I went to a private university. I never did it myself, so yeah… #richkidproblemslol
It was also the students that recognize some of the tourist spots we came to know now, and they were also the ones that have given the name for each tourism spot in Nusa Penida.
For example, Angel Billabong was the first spot that we visited when we did the West Nusa Penida Tour. They named it Angel Billabong as the locals believe that the small pond in the area is where all the angels landed to take a bath and relax for a while.
Believe it or not, it is now forbidden for visitors to swim or get inside the swim due to some accidents that happened in the past whenever someone made an attempt to do so. Due to numerous accidents that took place around the pond, the locals even built a small temple around the pond in order to protect both the locals and visitors that come to the area.
2. Broken Beach
This was named Broken Beach due to the shape of the rock around the sea that looks broken with a hole. Despite being named Broken Beach, this is not exactly the kind of beach where you can go swimming. You can hardly go down to the beach itself.
Besides, it is highly recommended for you to go to this area in the morning since the water would raise upfront in the afternoon where it could be dangerous for you to stroll around.
Angel Billabong and Broken Beach are actually in the same area, where you could just go hiking for a bit from Angel Billabong to get to Broken Beach.
And even though you can't swim around here, the place is so full of instagrammable spots. Just be mindful and careful when it comes to the spot you choose to take pics. It's basically around cliffs, so always make sure that you take a pic good enough to brag on Instagram and safe enough for you to stay alive! 😛
Still though, I love this Broken Beach. I mean, I was really wowing when I saw the sea from the area for the first time. The water is turquoise and pretty much like me, it looks both beautiful and dangerous at the same time. 😛 #agirlcanbrag
Bonus point as our guide, Bli Made, knows the best spots to take photos so yeah… We have a lot of good pics to upload for the 'gram in the area!
3. Klingking Beach and Paluang Cliff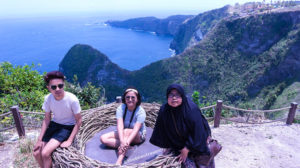 And this, this is the spot that is probably most seen by all Instagram user when they searched for Nusa Penida: Klingking Beach. It takes around 30-minute drive to Klingking from Angel Billabong/Broken Beach.
Klingking in Indonesian actually means little or pinkie finger, so I'm not sure whether they were named so because that dinosuar-shaped hill looks slightly like pinkie finger. Still, I think it looks more like a dinosaur.
But anyway, the different between Broken Beach and Klingking Beach is that on Klingking Beach, you can actually go down to swim or just sunbath as the beach is idyllic and looking so pretty down there.
However, I couldn't speak for myself for the experience as the beach is located all down there that I was tired just by looking at the stairs. LOL.
Bli Made convinced us that it took around an hour to go down, but with my capability to do some cardio, I think it would take me at least half a day to get there. So really, I skipped the opportunity all at once because the heart knows what it wants and it was only to take a pic as proof that I've been there. 😛
Instead, we continued our way to Paluang Cliff that is located around 5-minute drive from Klingking. Here, we could take a pic of Klingking view from another area. Well, it is basically the less crowded instagrammable spot if you want to have a pic with Klingking view. Because you know that pic of influencer around the dinosaur-shaped thingy view? You actually gotta queue to take a pic or two!
4. Crystal Bay
It took around 30 minutes from Klingking Beach to get to Crystal Bay. According to Bli Made, Crystal Bay is also one of the most popular starting points for travelers who are interested to do snorkeling with Manta Rays around Nusa Penida.
I was planning to at least get into the water by the time I got there, but when I arrived… Totally canceled! 😛
It was super crowded, that my introvert side just had to scream and get away from it to hide. HAHA. So, instead of swimming or doing anything related to the water at Crystal Bay, I just stopped by some kiosks around the beach to sit down and relax. We also enjoyed some roasted corn while chatting about some random stuff.
And this one over here, it made me realize how much more expensive Nusa Penida is compared to Bali the mainland. For example, while waiting for my boat to Nusa Penida from Sanur, I also enjoyed some roasted corn near the port. I only paid for IDR 5,000 (around $.35 cents) for one corn… Guess how much I paid for one in Nusa Penida? IDR 30,000 (around $2.1 USD)!
It sounds like a scam, but alright…
Nusa Penida Tips: Things You Need to Know Before Strolling Around the Island
There are plenty of options for a day trip from Bali to Nusa Penida. And while it is possible to do it, I would recommend you to stay for a night or two on the island. I stayed for 3 days and 2 nights, and only spent a day exploring the island with the rest of my time, I just stayed at the accommodation. I also went for some evening stroll around my accommodation, accompanied by a stray dog around the area.
So, what tips do I have for you, now that you're probably interested in visiting Nusa Penida?
1. Instead of doing a day trip, stay overnight around the island.
If you're into a lowkey trip that could allow you to relax and get in a quiet place, a couple of days in Nusa Penida are really recommended. In fact, if you asked me about the highlight of my Bali trip, I suppose I'd answer Nusa Penida. This was the place that I genuinely enjoyed, despite the fact of how expensive things were around the island.
3 days 2 nights will be enough if you're planning to do the whole package of Nusa Penida tour, both east and west side. But since we only did it for the west part, I think we could have done 2 days and 1 night with no problem. Not that I regret my decision though, since the time spent on the island allowed me to chill for a bit.
It was also helpful that my accommodation was super cozy, that I could even finish some work with no distraction. Imagine working on some projects with the view of Mount Agung in front of you! Well, that was exactly what happened during my stay in Nusa Penida. 😉
2. Start early to avoid traffic jams.
See, when I said Nusa Penida is quieter and less touristy compared to mainland Bali, it didn't mean it was immune to traffic jams. It's like, you gain some and you lose some… In that context, Nusa Penida is more like an off-the-beaten-path compared to Bali the mainland.
However, the infrastructure in Nusa Penida isn't as advanced as in Bali. There are some roads that barely fit for 2 cars, and those roads are basically the main route that you should take if you want to go to the main destinations like Angel Billabong and Broken Beach.
There are some new infrastructures in progress, but it won't be done until at least next year. So if you're planning to go there earlier in 2020, the mantra is to always start early and it's highly recommended to do the tour following the sequence mentioned above: Angel Billabong, Broken Beach, Klingking Beach, and Crystal Bay.
We started as early as at 8AM from our accommodation, and we spent around 2 hours alone on the way back from Angel Billabong/Broken Beach spot. It may be easier if you're planning to rent a scooter to get around. But even that, please be careful since the track around Nusa Penida can be quite tricky.
3. Bring your own snacks.
I mean, obviously since I'm a snack eater myself. Just gotta put this as one of the tips, because unlike mainland Bali where you can easily find the nearest mini-market, Nusa Penida isn't like that. Or maybe it really depends on where you stay.
My accommodation (I'll do the review later) is a bit far from the main road on the island and we basically had no other option other than the snacks sold at our accommodation. Even for meals, we mostly ordered it from our accommodation. Nusa Penida, unlike the mainland Bali where you could easily order food through delivery, hasn't got that kind of privilege. That, unless you rent a scooter that allows you to explore the island on your own.
Also, even though the island is less crowded with travelers, you could still find some bars to hang out. Some of the popular ones, as Bli Made recommended, are Kul de Sak and Penida Colada Beach Bar.
4. Be ready for cash.
If it's possible, please withdraw enough cash from mainland Bali since there's not plenty of ATMs in Nusa Penida. As you probably know already, I'm Indonesian and of course, I use some Indonesian banks. However, I couldn't find my bank ATMs in Nusa Penida. As far as I could find, there are only two banks with ATMs available on the island: Bali local bank and Bank Mandiri.
Good thing that my brother has his Mandiri account, so we didn't have to deal with an extra fee to withdraw from a different bank.
5. There's a remuneration fee for international tourists who enter Nusa Penida that would costs you IDR 25,000.
Well, yes… As an Indonesian, I couldn't relate as I could enter Nusa Penida for free. For now.
But if you're an international tourist planning to visit Nusa Penida, please expect a remuneration fee for IDR 25,000 (around $2 USD) per person. Started from July this year, this regulation has been applied for international tourists only.
I gotta admit that the staff and the regulation might seem a bit scattered, but it is apparently a legit regulation that has been legalized by the local government.
The Verdict: Nusa Penida Trip Without Booking a Tour in Advance
To be honest, I couldn't be more thrilled!
Compared to the options I've found on the internet, the trip I had with Penida Oke Tour and Bli Made was the best deal that I could ever come up around Nusa Penida.
If I booked a tour in advance for Nusa Penida trip, I might have spent around IDR 1,000,000 (around $70 USD) that only covers the West Nusa Penida tour. But for this, I only spent IDR 700,000 for the three of us and my mom even got to order some cashews to bring back home from Bli Made. FYI, yes… Cashew is one of the popular products on the island too.
So, have you been to Nusa Penida before? Or are you planning your trip to the island? Let me know your idea in the comment below, and cheerio! 🙂
---
Like my post?
---