One thing that you need to consider if you travel to Bali for the first time, it is that the island itself is so big that you may want to consider which part of Bali you'd like to stay in during your holiday.
Believe it or not, each area in Bali seems to have its own visitor stereotypes. Ubud for the "woke" travelers who do eat, pray, love through yoga retreats, Canggu with the most significant numbers of digital nomads, Seminyak for the laidback travelers, or Nusa Dua for the posh ones.
Kuta used to be one of the most popular areas to stay for travelers in Bali, because it's close to the city center in Denpasar. It's also close to Ngurah Rai International Airport, making it convenient for those who come to Bali by plane. I got a chance to stay at one of the accommodations around Kuta area: Grand Kuta Hotel & Residence.
Are you planning your family trip to Bali last minute?
Book our top picks for the best family-friendly tours in Bali to save your time!  ☟
Grand Kuta Hotel & Residence
The first consideration that led me to book the accommodation at Grand Kuta Hotel & Residences was that the idea that the location isn't so far from the airport. We were going to fly from Bali to Kertajati airport early in the morning, so I figure that maybe it's best to find accommodation that is close to Ngurah Rai airport.
To my surprise, Grand Kuta became the best accommodation where we stayed for our family trip to Bali. It was super affordable, with the best view and swimming pool (where I, unfortunately, didn't get a chance to swim!) and yes, the location is quite close to the airport that it only took around 15-minute-drive early in the morning when we departed. At this point, I think I could say that Grand Kuta Hois one of the best family hotels in Bali.
So, how was my overall stay at Grand Kuta Hotel & Residence?
My First Impression at Grand Kuta Hotel & Residence
I booked a Grand Deluxe Room at Grand Kuta Hotel & Residence for 2 (two) nights with the night rate as low as IDR 588,000 (around $42 USD). When I thought it would be just another hotel room with extra bed included in the rate, as it turned out the room was more like an apartment. It is definitely a perfect place when you plan to have a family vacation in Bali. Especially in Kuta area.
The night rate didn't even reach $50 USD, and breakfast was also included. It was such a bargain!
Check-in Process
It was an easy check-in. It took only around 5 minutes for the receptionist to proceed when I checked in, and we were eligible for some welcome drink in the restaurant as well as a voucher for a discount in their restaurant as well. We didn't use the voucher for the meals at the restaurant, but we Asian family for sure enjoyed the welcome drink as soon as we finished checking in. 😛
We got a glass of pineapple juice for each, which was perfect for Bali weather in September that was quite hot. It wasn't so special, but it was really appreciated especially after we spent quite an afternoon on the boat from Nusa Penida.
Grand Deluxe Room and the Room Facilities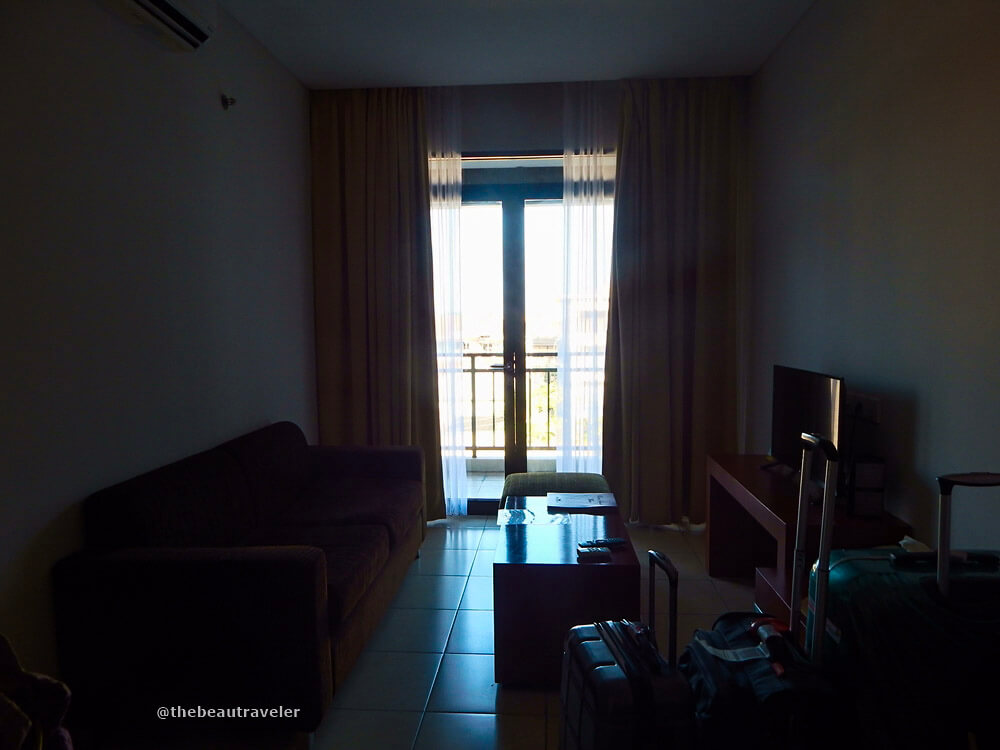 We were actually impressed by the room, the first time we entered the room. It was super spacious with all the amenities we needed.
It was super comfortable for a family stay, as it is a spacious apartment with 4 sections in each room that include a big room, a smaller room, a living room with the dining table in the corner as well as the kitchen set in the other corner, with of course a shower room.
With the night rate lower than $50 USD, Grand Deluxe Room at Grand Kuta Hotel & Residence is definitely something that I'd recommend to any family planning a vacation to Bali.
They give us 2 (two) bottles of complimentary mineral water, and they also provide 2 bigger bottles of mineral water that are purchasable. Slippers and all amenities are also provided if it matters to you.
There's also a balcony in the room, although unfortunately the door to get to the balcony is locked as the guests are forbidden to get to the balcony. Not sure why, probably it's because they try to maintain the whole room as non-smoking area?
But it wasn't really a big deal, because overall we like the room so much, that I genuinely consider Grand Kuta Hotel & Residence to be my accommodation next time I'm in Bali. 🙂
Review: Grand Kuta Hotel & Residence
Now you probably could get the hints of the idea of how much I like Grand Kuta Hotel & Residence as my accommodation. But, why?
See, I went to Bali with my brother and my mom. As we spent a couple of weeks having to share the same bed for the three of us, it was such a relief to know that Grand Kuta Hotel & Residence has 2 (two) separated rooms for us.
The Room & Amenities
The main room has a king-size bed that is quite spacious for me and my mom. I imagine, if you travel with kids, the bedroom is big enough for some extra toddler travel bed if you pack one.
The smaller room also has everything that is enough for my brother. If anything, not only is Grand Kuta Hotel & Residence ideal for a family vacation, it is also a great option if you plan to stay in Bali in the long-term.
I mean, even the main room has a big cabinet that is enough for your clothes if you plan to stay there for a year or so. Basically, the room is more like a residential apartment than a hotel… So it will definitely be suitable for a family.
They provide all the standard amenities like slippers and towels during your stay. And their wifi works perfectly fine!
I mean, I had some trouble working in the previous hotels where I stayed in Bali mainland, so when I finally arrived at Grand Kuta with the wifi connection that worked perfectly… It was almost like a bliss!
To be fair, the room is so comfortable that it definitely feels like a home away from home for sure. With the big kitchen set that you low key wish you could have a cooker or something. I mean, I figure it might be the case if you like to cook…
That's what happens to my mom. I can't cook, so I'm happy enough with the idea of Grand Kuta Hotel & Residence being close to McDonald's. 😛
The property is definitely a cozy place to stay with your family. I mean, seriously… It's not just an ideal place to stay for a few days in Bali, but even for months. Super recommended!
The Shower
Honestly, I think almost everything in our unit was so spacious… And it includes the shower!
The shower is quite big, with the water heater working perfectly fine.
It might not have some fancy amenities in the shower as they have this 2-in-1 shampoo and shower cream around the shower, but it is definitely something that you can't complain about accommodation!
Although if anything, be careful as the floor might get slippery though. Like the space was so big that my clumsy ass almost got slipped a few times in the shower. 😛
You know, better be careful than getting hurt, right?
The Breakfast
Grand Kuta Hotel & Residence is a 4-star hotel in Bali that is located around Kuta area. They serve buffet as the breakfast menu, and they have various kinds of breakfast from American to the continental breakfast menu. And even though they have plenty of options, I personally didn't find anything special with their breakfast.
To put it in the right word, I suppose they play their breakfast menu in a way that it is quantity over quality. Like you have plenty of options when it comes to the menu for breakfast, but none of that taste fantastically amazing.
Some fruit juice served is not fresh, and the tea and coffee aren't in the right level of hot. They weren't even warm during our breakfast time.
Say, if I could compare it with Savoy Homann in Bandung for example, they do have some delicious cake option that I really like. Grand Kuta Hotel & Residence didn't have any specific menu whose taste is memorable for my liking.
But hey… With such an affordable night rate, I guess it wasn't so bad at all. It could come handy, especially if you try to save the budget to spend on something else in Bali. With the buffet breakfast, at least you could assure yourself to have breakfast like a king to start the day. 😉
Final Verdict: How I Find Grand Kuta Hotel & Residence
We definitely had a great stay at Grand Kuta Hotel & Residence, and for a good reason!
Apart from giving us some discount to be used at their restaurant, it is also located close to some fast-food restaurants like McDonald's and Hoka Hoka Bento. There are also some restaurants located in the area, that I could guarantee that this might be a good place for Balinese interested in a staycation as well.
(+)
The night rate is surprisingly affordable, given the idea that they give an entire unit for us!
Good location, as not only is it close to some eateries, it's also next to some souvenir center if you're interested in shopping for some souvenirs from Bali.
Great wifi connection. The wifi works in the entire unit with no problem. My favorite spot to work was in the living room in front of the TV though.
Friendly staff. Although we got to wait for a few minutes when we were about to check-out since we couldn't find the receptionist. Apparently, the receptionist was out for the smoke break, so I'd suggest you notify the hotel staff if you're planning to check out early in the morning.
They've got a couple of swimming pools that look so great to swim. Unfortunately, I got tired from traveling already that I didn't get a chance to swim there even though I gotta admit that it was quite tempting.
(-)
It's a non-smoking room, so if you're a smoker and in the mood for a smoke break, you need to go downstairs to have a cigarette or two.
The breakfast menu wasn't so special. But it was good enough to start the day.
So, have you stayed at Grand Kuta Hotel & Residence? Or do you have any recommended place to stay around Kuta area in Bali? Give me a shout in the comment, and cheerio! 😀
---
Disclaimer:
This post may contain affiliate links. I receive a small commission at no cost to you when you make a purchase using my link.
---
Like my post?
---