It was only the last few days in Izmir that I realized time was running out, so I decided to go on a day trip from Izmir and get on the train to Selcuk to visit Ephesus and Sirince Koyu. It wasn't my first time visiting Ephesus, but I had never been to Sirince, a village not so far from Ephesus that is known for its wine.
The last time I was in Izmir, I really thought I had enough time to reminisce the good ol' days and visit all the places I went to 12 years ago for the sake of nostalgia. But with work and other responsibilities, I couldn't get it all. As a result, I didn't have the opportunity to go to Cesme from Izmir as planned on my last trip. Maybe next time, though.
But well, I managed to come back to Selcuk and visit the ancient Greek city Ephesus, the cave of the Seven Sleepers, and the House of Virgin Mary on my last trip to Izmir, I decided to share my experience on that. This article will include some tips to go to Ephesus from Izmir by public transportation and some other information you may need to know before going there.
So, how do you go to Ephesus from Izmir city center? There we go!
Best Way to Travel from Izmir to Ephesus
While there are a few options to go to Ephesus from Izmir, taking the IZBAN train from Alsancak Gar to Selcuk is probably the easiest and the cheapest way to travel to Ephesus from the city center.
IZBAN is a commuter rail system that connects Izmir and its metropolitan area. If you're familiar with the public transportation in Istanbul, IZBAN is something similar to Marmaray or Aksaray in Ankara. For context, Ephesus is located in the Selcuk district, which is around 70 kilometers from Izmir. As I mentioned the other day, one of the perks of living in Izmir as a digital nomad is its integrated public transportation, and IZBAN is no exception.
With Izmirim Kart, you can use it for the payment to get on the IZBAN train and travel to Selcuk to visit Ephesus and other historical spots in its surroundings. For one way trip from Izmir to Selcuk, it costs around 10 TL (around $0.7 USD) so make sure to have at least 30 TL on your card if you're planning to head back to Izmir after Ephesus.
One of the good things about taking IZBAN train to Selcuk is not only its affordability but also its convenience. Depending on the time you get on the train, but when I did, there were a lot of empty seats so even though the journey took around an hour, I wasn't worried that I had to stand up for the whole trip.
From Alsancak Gar, you need to take IZBAN and stop at Tepekoy before you take another train to Selcuk. It takes around an hour to get to Tepekoy from Izmir, and the IZBAN trains from Tepekoy to Selcuk start operating from 6.30 AM to 11.50 PM. At first, I wasn't so sure whether I should go to Ephesus since I just left the apartment at 11 AM, but I'm glad that I did.
I had to wait around an hour to transfer to the next train from Tepekoy to Selcuk, and while I was lucky that I at least got a seat when it happened, I just wish I had brought some snacks to eat while waiting. On top of that, by the time I reached Selcuk, they put everything on the tourist prices so you might as well want to grab some food from Migros when you got a chance. LOL.
From Tepekoy to Selcuk, the journey took approximately 30 minutes. And when I arrived, I was amazed by how different Selcuk railway station was compared to 12 years ago!
Nowadays, the exit from the railway station is through the tunnel built around the station, something that didn't exist when I went to Efes the first time.
One Day Trip in Ephesus and Sirince
To be fair, I'm not sure whether taking a taxi is the most budget-friendly option to go to Ephesus from Selcuk railway station. But it's certainly the easiest. By the time I got to the exit of the station, there were some taxis in line, and some taxi drivers started approaching people to offer their service.
At first, I was a bit nervous about whether the taxi driver would scam me to take me around Selcuk. But since I arrived later than expected, I didn't have too much time to explore Selcuk either, so I agreed when a taxi driver told me that he could accompany me to visit a few places before stopping at Ephesus.
I was being transparent (too naive even!) as I told him that I planned to visit the cave of Seven Sleepers, as I didn't get a chance to go there when I came to Selcuk 12 years ago. I even told him that I've been to Ephesus and the House of the Virgin Mary, so while it wasn't exactly my priority, I was there for more like being nostalgic.
Before giving him a go, I asked him how much it would cost because I only had 400 TL in cash when I went to Ephesus. Of course, I wasn't that stupid telling him that, but I insisted on finding out the ballpark since I wanted to avoid getting scammed.
The driver mentioned that he would use the taximeter to calculate the cost, so honestly when I said yes, I didn't know what I signed up for and I was just hoping for the best. LOL.
But fortunately, the taxi driver who accompanied me seems like a nice old man, although I totally forgot the name of this guy and I lost the business card he gave me as I got pickpocketed in Serbia. 🙁
As I said yes, he told me that we could go to the cave of Seven Sleepers first, and then continue to the House of the Virgin Mary, and then he would drop me off at the entrance of Ephesus because that would be the end of our journey. I think we spent around 1.5 hours from Selcuk railway station to Ephesus, and I paid around 165 TL (around $12 USD) in total.
What I noticed is that the starting price on the taximeter in Selcuk is slightly higher than in Izmir. When I went there in December, the standard starting price for the taxi in Izmir was 6 TL (around $0.4 USD). Meanwhile, when I got on taxi in Selcuk, the starting price was 8 TL (around $0.5 USD). Not so bad, as long as I didn't get scammed.
If anything, I got a chance to practice more Turkish with this taxi driver. I swear, if I still had the business card, I'd totally recommend him in this blog post. But I put it in the purse that got stolen, so it's long gone! 🙁
1. The Cave of Seven Sleepers
Okay, so for those of you who are infidels (LOL), Seven Sleepers is one of the biblical stories about these seven dudes and a dog who fell asleep as they got persecuted for being accused of following Christianity during the Roman era.
These dudes were believed to refuse to bow to the Roman idols, and instead, they went to a mountain cave and prayed before they fell asleep. When they woke up and came back to the downtown, it was only then they realized that they had slept for more than 300 years.
Well, while several sites in the world are claimed to be the cave of the Seven Sleepers according to the bible story, the one located on the slopes of Mount Pion near Ephesus is one that most people believe to be the one in the original story. In Turkish, this site is known as yedi uyuyanlar, the literal translation of Seven Sleepers.
Since this was the only place around Ephesus that I had never visited before, I expected a little too much about the site. When I arrived, the taxi driver told me that he would wait and I could just enter the site through an entrance not so far from the parking lot.
There was no entrance fee or whatever, but when I got there I was like… No wonder there was no entrance fee there because it was basically some ancient ruins of the cave. Obviously, you won't be able to enter the cave itself because the ruin is probably too delicate for people to come and go around the area.
And the area of the cave isn't too big either. I literally only spent 5 minutes there, but when I came back to the taxi, the driver told me that there was another cave above. He then came with me, but when he showed me, I wasn't too impressed either.
I suppose for the cave of Seven Sleepers, I experienced the same thing like I visited Agora 12 years ago. Except that the cave was smaller and definitely could be an easy miss to see around Ephesus. 😛
2. The House of the Virgin Mary
Meryemana Evi, or the House of the Virgin Mary, is believed to be the place where the Virgin Mary lived after Jesus got crucified. Believe it or not, it's the Catholic Church itself that takes responsibility for the house area through donations and funding. And by July 2015, it is also registered as one of the World Heritage.
And if you get a chance to stop by the site, you will pay the donation in the form of the entrance fee, which was 60 TL (around $4 USD) by the time I visited it in December. I think I also saw somewhere around the site that states the entrance is free, but the payment done will be sent as a donation to the foundation of the Virgin Mary. Like I'm not exactly an infidel, but it sounds like a religious buzzword to me. LOL.
Anyway, so I got a chance to visit the House of the Virgin Mary 12 years ago before it got listed as one of the World Heritage. But you know what they said about you'll most likely regret about the things that you didn't do instead of the ones you did? This was my case with the House of the Virgin Mary.
12 years ago, I wasn't exactly the most devout Muslim but I still had this idealism about fasting in Ramadhan. Well, I went to the House of the Virgin Mary during Ramadhan when I was fasting, so I didn't get a chance to drink the spring water from the well at the site. I never regret anything in my life, but I did regret the fact that I didn't break the fast to drink it when I was there.
So, I came back to the House of the Virgin Mary, I knew that my priority was to drink from the tap there. I couldn't believe I had to wait for 12 years until I finally got a chance to drink the spring water there.
Well, since I went there in the late Fall when it was almost winter, the tap water was super freaking cold that it kinda numb my finger. But it was worth it! 🙂
12 years was a long time, I couldn't remember clearly how the House of the Virgin Mary looked like in 2010, but there were some differences that I found at the site. The obvious one is the wishing wall.
Even when I checked the Wikipedia page of the House of the Virgin Mary, there is still one section about the wishing wall, so I thought I would still be able to find it when I came back. But after drinking the spring water, I went down and wandered around to find that the wishing wall no longer exists at the House of the Virgin Mary. Long story short, my plan to update my wishes got canceled. LOL.
The House of the Virgin Mary: when the wishing wall existed and now.
I couldn't really remember what I wrote on my wishlist in 2010, but I know some of them happened and some didn't. For instance, I think I wrote my wish to get married to Matteo Brighi then. Well, I'm still single. I'm not sure about Matteo Brighi, so maybe there's hope.
But I remember I wrote my wish to get a job overseas, which I practically did. I still get the job from overseas, so I guess the Virgin Mary listened to me on this one. I also had "getting a scholarship for my master's degree" on the list, you know how it ended. It never happened, but maybe one day I will be interested in continuing my study again, and perhaps applying for another scholarship and succeeding this time?
So yeah, I didn't get a chance to update my wishlist at the House of the Virgin Mary this time, but at least at this point, I understand that we can't get everything we want.
The bronze statue of the Virgin Mary in 2010 and 2021.
And the other highlight of the trip was also stopping by the bronze statue of the Virgin Mary that we passed through from the House of the Virgin Mary to the next stop at Ephesus. I remember my friend and I also stopped by the bronze statue 12 years ago, so I asked the taxi driver to stop by to take a photo of me there.
The first thing that I noticed was that now the bronze statue is obviously rusty compared to the photo I got taken in 2010.
I could see some hallow on the statue that wasn't there when I took a picture of my friends and me on the same spot. However, what remains the same is the beautiful scenery in its surrounding that make your journey around Ephesus more enjoyable.
3. Ephesus
As we agreed, the taxi driver dropped me off at the entrance of Ephesus. But before then, he also suggested going to Sirince as well now that I'm here. According to him, it's a recommended place to go, and I will most likely still have time to explore the village and catch the train back to Izmir.
The truth is that I almost forgot what I saw at Ephesus generally, except for maybe the Celsus Library, which is practically the most popular spot in the ancient Greek city ruins. But I remember that the entrance ticket is expected to be a bit pricey compared to the other touristic places in Izmir and its surroundings.
The ticket cost 120 TL (around $8 USD), as I was being honest that I didn't have Turkish residency, nor am I a student. I suppose the price could be lower if you have kimlik or a student card. You can also get it at a more affordable price if you buy the museum card in Turkey.
You can also rent an audio guide for 70 TL (around $4.7 USD). I didn't rent it because not only did I consider it as "pricey", but also because the last time I went to Ephesus, I got accompanied by Indonesian students who worked part-time as a tour guide so I got quite legit resources about Ephesus then although I totally forgot about all of that, except for the location of the ancient toilets. LOL.
It was my lucky day, because when I wandered around Ephesus alone, I happened to be there at the same time as a Malaysian family that was there with their English-speaking tour guide. And it was quiet, so I could listen to what the guide told them about the site without spending any penny.
One of the most important pieces of information that I overheard from them was about the statue of Nike, the goddess who personified victory in Greek mythology, which was also the reason why the famous sports brand used the same name. After I heard that, I took the picture of the statue only to find out that the same statue was also on Goddess Nike's Wikipedia page.
But after than, I just wandered around Ephesus alone, trying to reminisce the sites and compare them to when I visited it the last time. Honestly, I can't remember most of them. Sometimes I got distracted by how many cats were around there too.
But when it was closer to the center, when the Celsus Library was nearer, I got familiar with the place and realized that I took a different entrance when I came there the first time. So technically, the entrance gate where I entered in 2010, was the exit gate I used when I visited the last time.
A new different stuff that I noticed was this particular spot that looks like a stage, which didn't exist when I was in Ephesus the first time. As if it's there to strengthen my memory of Ephesus, the location was close to where the ancient hammam and toilets are.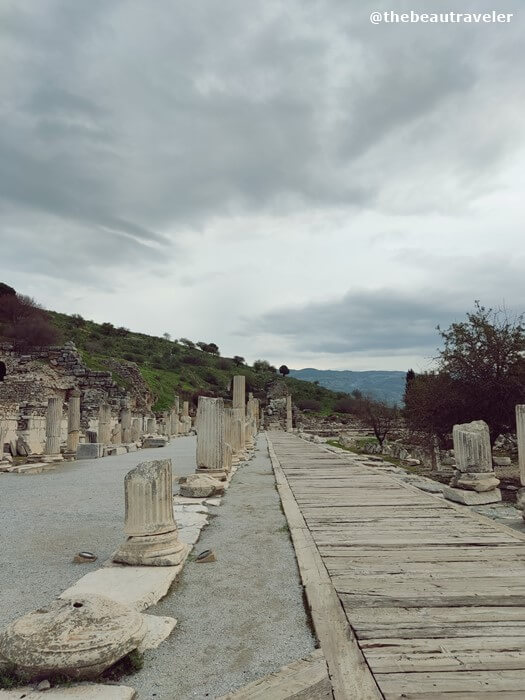 If I had to pick two main spots in Ephesus, I would say it would be the Celsus Library and the Grand Theatre of Ephesus. Mind you, I visited Ephesus in the summer the last time, and I know it was almost impossible to get a decent picture of yourself in both spots without having someone else posing behind you.
And the perks of traveling to a place like Ephesus or Cappadocia during the low-peak season is that it's so quiet, you can easily find a perfect spot to take an excellent picture of yourself.
The downside is that given the idea that you're surrounded by ancient ruins, the energy could be quite scary especially if you travel on your own. But the good thing about Ephesus is the stray cats around the area. So if you pack some kibbles for street feeding, you'll definitely be loved by them!
Since Ephesus is quite huge, I think it's fair to say you can spare around 2-3 hours to explore the site. On my second time there, I only spent around 1.5 hours because not only I've been there before, but also because the weather wasn't the best, and I didn't want to stay there for too long when it got dark.
4. Sirince
I heard about Sirince when I met my friend Vika in Cappadocia. She said that there's this wine village not so far from Efes (how Turks pronounce Ephesus in the native language). When I went to Ephesus, I wasn't planning to go to Sirince as I was afraid that it would be too late.
However, the taxi driver (that I would totally recommend if it wasn't because I lost his business card in my purse!) convinced me that I would most likely have enough time to go there from Ephesus. He even guided me on taking public transportation to Sirince from Ephesus. And I'm just glad that I did!
Sirince is a quaint yet cute village located around 12 kms from Ephesus. The only way to go there using public transportation (unless you want to take a taxi, maybe!) is by dolmus, and my top tip if you want to visit Sirince is to come early. I arrived in Sirince at around 4 PM, and I felt like it wasn't enough even though the village itself is not very big.
Sirince is known as Kirkitntzes in Greek, and the village has a rich history dating back to the Hellenistic period. Today, the village is known for its prosperity through agriculture, including olive oil and wine, while it's also a popular spot for visitors coming from Ephesus.
As I said, I didn't have enough time to explore the whole village. And since I visited the village on its low-peak season, many cafes and restaurants are also closed. I gotta say, it was a bit tough to find a place to eat there during that time of the year, especially when it's past lunch time when I arrived. I ended up only having some toast, which wasn't exactly enough for my belly. LOL.
The good thing is that I met another traveler who came from Istanbul when I had my toast. His name is Ersan, and we ended up exploring Sirince together since it was our first time in the village, and we both arrived quite late to explore the best out of place.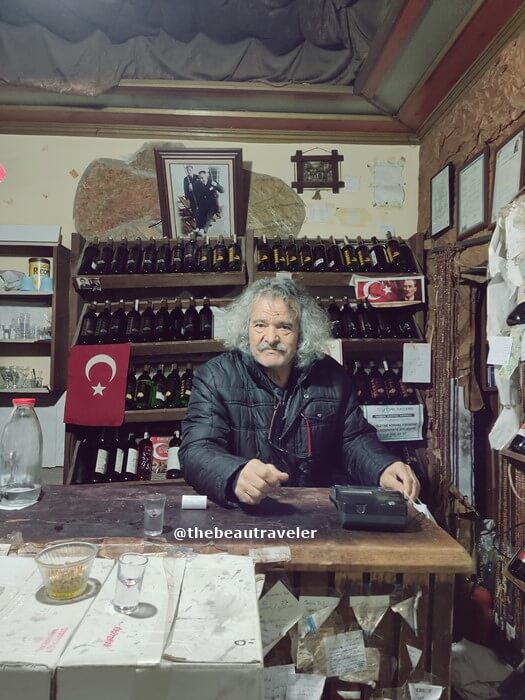 The good thing is that since Ersan is a Turk, he got more resources when it comes to the must-visit place in Sirince. And one of them is the well-known winery at Kivircik Sarap Evi. I had no idea about it if it wasn't because of Ersan, but then we managed to do some wine tasting there for a while.
I'm not a wine drinker, but the wine there was top-notch! Ersan ended up buying a bottle of wine for him to take back to Istanbul, and it was quite affordable too. A bottle of wine there only cost 65 TL (around $4.5 USD). I know there are many souvenirs from Turkey, but you can definitely add a bottle of wine from Sirince on your bucket list!
And even though I couldn't write my wishlist at the House of the Virgin Mary since the wishing wall there no longer exists, there was one at Kivircik Sarap Evi! Also, the wine owner (again, I forgot his name!) was super friendly… We ended up having a nice chat the whole time when we did wine tasting. And the next thing I know, he and Ersan have some mutual friends through Ersan's parents or sister. Like dude, is it Turkey or the world itself small?
Anyway, I definitely had a good time despite getting a chance to explore Sirince in a very short time. I imagine, the place would be more alive during summer! 🙂
Final Verdict: Traveling Around Ephesus and Its Surroundings with Public Transportation
I honestly have the taxi driver to thank since the information he shared about Selcuk in general was super helpful! He told me that there was a ferry terminal where I could take the boat to one of the islands in Greece for around 45 minutes from Selcuk.
He also guided me through the map of the Ephesus to show me the way, as he mentioned that there would be a bus stop not so far from the exit gate of Ephesus. From there, I could take a bus that would take me to Selcuk otogar and find a dolmus to take me to Sirince.
According to him, there's also a bus where I can take from Selcuk otogar to Izmir. I was planning to take the bus on my way back, but since I ended up traveling with Ersan in Sirince, we decided to go back to Izmir together via IZBAN again so we could grab dinner together since we both stayed around Alsancak at the time.
But if you're planning to follow the same route I took when I was in Ephesus, you can definitely rely on the taxi to travel around Ephesus, including the cave of Seven Sleepers and the House of the Virgin Mary. Just make sure that you use the taximeter to get around, the starting rate should be around 8 TL (although with Turkish lira weakening all the time, there's a chance that it has increased since I was there the last time!).
You could probably ask the taxi driver to drop you off so you'll be able to exit through the one near the bus stop. The bus to Selcuk otogar could take a while, but there was a sticker with a Whatsapp number that you could contact in case you weren't sure if there would be another bus coming at the bus stop. Although for the latter, I'm not sure if the service will be available in English.
It took around 30 minutes from Ephesus to Selcuk otogar by a mini bus, it cost 6 TL (around $0.45) per pax. And then from otogar you should be able to find a dolmus with "SIRINCE" sign. It cost 10 TL (around $0.7) one way, but you should keep in mind that the last dolmus to go back to Selcuk otogar will be at 6.45 PM.
There is no taxi or anything around Sirince, so if you get past the time, chances are you'll have to stay the night in the village.
You can ask the driver to stop at the IZBAN railway stop for you to catch the train back to Izmir. According to the train schedule that the taxi driver showed me when I was in Ephesus, the last train from Selcuk will be at 11 PM. But then again, I'm not sure why you would stay that late in Selcuk unless you stay the night there or something.
Have you ever been to Ephesus and Sirince from Izmir? Did you have any other alternative to travel for a day trip from Izmir? Share in the comment below, and cheerio!
---
Marya The BeauTraveler
I am the founder and main editor at The BeauTraveler. I spent 4 years working in the aviation industry but ironically got to travel more right after quitting the industry in 2015. Born and raised in Indonesia, I started working remotely in 2017, and while I stay at home most of the time, I also regularly spend 2-3 months living a semi-digital nomad life elsewhere every year.
---
Like my post?
---