If there's anything that I've learned from visiting Edirne, it is the fact that Agoda doesn't have too many accommodation options in the city. As an avid Agoda user, I decided to just book the first accommodation option that I got on the app, and it was Cavit Duvan Prestige Hotel.
When I checked their rating, it was 9 out of 10 so I guest Cavit Duvan Prestige is one of the recommended hotels to stay in Edirne. The room photos that I saw on Agoda also helped me decide to stay there for the three nights I was there.
In this post, I'm going to highlight the pros and cons of staying at Cavit Duvan Prestige Hotel in Edirne and share my experience of having dinner at Ponsetya Restaurant, the restaurant on their rooftop that is named to be the best rooftop restaurant in town.
So, how was it? Check this out! 🙂
First Impression: Cavit Duvan Prestige Hotel & Ponsetya Restaurant
Given the idea that Edirne is a border city between three countries, including Turkey, Greece, and Bulgaria, I really thought the city would be quite popular for transit and I could find a lot of hotel options in town.
Not sure about other booking platforms, but since I only use Agoda and occasionally Traveloka to book accommodation apart from Airbnb, I was quite surprised that there are no more than 30 accommodation options in Edirne when I tried to book one.
I ended up booking Cavit Duvan Prestige Hotel because that's the first hotel that came up when I searched for hotels in Edirne. On top of that, the photos displayed on their profile were quite decent and the night rate wasn't too expensive either.
I stayed at Cavit Duvan Prestige Hotel in Edirne for 4 days and 3 nights, which cost me IDR 928,272 (around $64 USD) through my booking on Agoda. The payment was done online via Agoda, so when I checked out, I didn't have to pay anything else.
Based on my first impression when I arrived at the hotel, the hotel was actually quite nice. It was almost like the hotel felt fancier than their night rate, which was only around $21 USD per night.
Since I knew nothing about Edirne when I first came there, I couldn't judge how Cavit Duvan Prestige Hotel was in terms of the location but I understood that one of the advantages of staying there was that the hotel is close to Erasta Alisveris Merkezi Edirne, which is one of the few shopping malls in the city.
There's an elevator at the hotel, so you don't have to carry all your belongings and lose your breath on the stairs. LOL. And in the elevator, I noticed that Cavit Duvan Prestige Hotel also has one of the most well-known restaurants in Edirne, which is named Posentya Hotel.
Check-in Process
I arrived in the morning as I had taken the Metro bus from Izmir the previous night. At first, I doubted that I'd be able to check in early when I got to the hotel.
When I reached the hotel from otogar at around 9 o'clock in the morning, I went straight to the receptionist and asked if I could check in now since the check-in time should be at 2 PM according to my booking on Agoda. Lucky for me, the receptionist said that my room was ready so I could check in immediately.
Unlike the terrible experience I had when I stayed at Liva Suite Hotel in Istanbul, the customer service at Cavit Duvan Prestige Hotel was top-notch! If anything, their customer service really is prestigious and I just can't believe that both hotels are claimed to be 3-star hotels when one acts like one and the other didn't even deserve 1-star in that area!
All the staff speak English, whether the receptionists or the waiters at the restaurant, so it's highly recommended if you're looking for a hotel in Edirne that can serve you in English.
Cavit Duvan Prestige Hotel & Ponsetya Restaurant in Edirne
I booked a Double Room at Cavit Duvan Prestige Hotel for around $21 USD per night, and the room is more spacious than I thought it would be!
If anything, I was quite impressed by the room turned out since it comes with a queen-sized room, a spacious workspace, and a big cabinet with a deposit box. The wifi connection worked well too, that I managed to have a catch-up call with a client when I was there with no problem.
Double Bedroom at Cavit Duvan Prestige Hotel
If I gotta be really honest, the Double Room at Cavit Duvan Prestige Hotel was really comfortable to the point that I didn't even regret that I felt that 4 days and 3 nights in Edirne were too long compared to what I could see around the city. The room was definitely a comfort after I walked for around 10 kilometers from Selimiye Mosque to Sultan Bayezid II Health Museum.
I may not find Edirne the best destination that I've visited in Turkey on my last trip, but Cavit Duvan Prestige Hotel is the best accommodation that I've ever stayed in Turkey so far.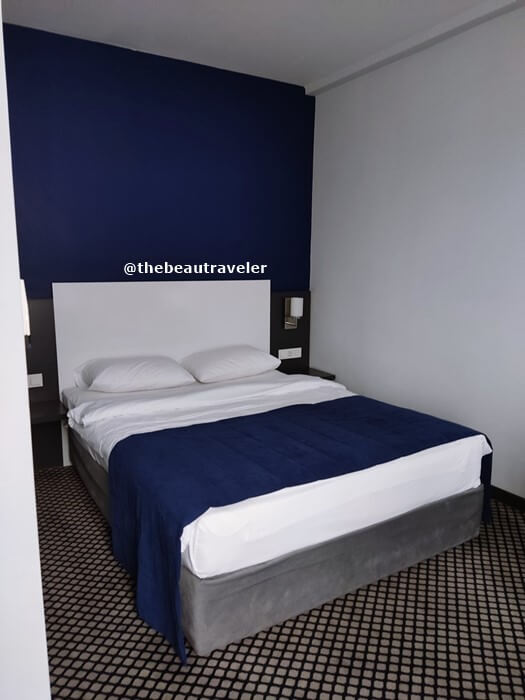 Apart from the wifi connection that works quite decent, Double Room at Cavit Duvan Prestige Hotel also has a spacious workspace that is ideal for remote workers like me. Apart from the complimentary bottled water, they also put a couple of complimentary teabags with a functional kettle pot.
There's also a 20-inch TV and a small fridge around the workspace. And although I didn't get a chance to turn on the TV since I'm not really into watching TV anyway, the only flaw that I found in the room was that the small fridge didn't work properly. The other one was also when I stayed there, the light was out in the hall and they didn't replace it until I checked out.
But other than that, everything was awesome!
From the comfortable mattress, the spacious cabinet and workspace, and the clean bathroom with the nice hairdryers that could dry your hair fast… In terms of facilities, I thought Cavit Duvan Prestige Hotel had everything I needed in an accommodation.
The hot water in the shower also works quite well, and since I visited Edirne in the Fall and the weather was quite chill, the room has a good heater that I got warm immediately as soon as I reached there. In fact, it was so warm to the point I felt some sort of humidity when I was in the room when it was pretty cold and dry outside.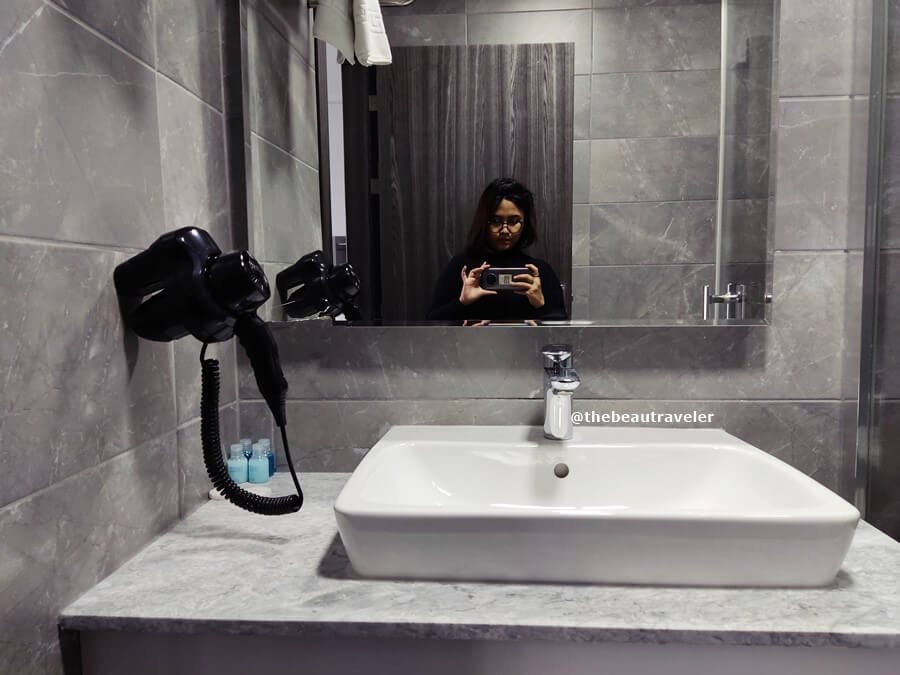 Breakfast & Dinner at Ponsetya Restaurant
Although I booked the room without complimentary breakfast at Cavit Duvan Prestige Hotel, I could also pay separately for 40 TL (around $2.69 USD) per pax to enjoy the breakfast on the rooftop at Ponsetya Restaurant.
I didn't want to have breakfast at the hotel all the time there during my stay in Edirne, so I decided to give the hotel breakfast a try once. It's a one-set mini version of Turkish breakfast with an egg, assorted cheese, meat, and olives with various options of jams. In addition to that, there's also another plate of Turkish sweets for dessert.
The waiter would also ask whether you wanted to have tea or coffee for breakfast, which I had tea for this.
Well, I wasn't really impressed and I thought the breakfast that I had at The Dorm Cave by Travellers in Cappadocia was much nicer, but I think the price was quite fair and square for breakfast at a nice restaurant where the staff really accommodates you in everything you need.
I also went to the rooftop restaurant for dinner once, and I gotta say the vibes changed drastically during the night. And while I've been to a few other rooftop restaurants before and Ponsetya Restaurant wasn't the fanciest compared to them, but I have to confirm that Ponsetya Restaurant is a pretty nice place to have dinner in Edirne.
I'm not sure if the restaurant is super hype among the locals, but when I went there, the restaurant was really quiet that I was suspicious that the price for dinner there might be pricey. #brokequeen LOL
But when I checked out the menu, I thought the price was quite fair. I had chicken chop for only 75 TL (around $5 USD), and since I only had water for dinner, I barely even spent 100 TL for dinner at Ponsetya Restaurant that day.
I have to say that the restaurant looks so much nicer at night, and the food was super delicious and quite affordable even though you still felt kinda fancy to have dinner there. I mean, the waiter really served you wholeheartedly so I really think that Ponsetya Restaurant can be a good option to have a romantic and fancy dinner in Edirne!
Final Verdict: Staying at Cavit Duvan Prestige Hotel in Edirne
In terms of facilities, I wouldn't argue if someone said that Cavit Duvan Prestige Hotel is one of the most prestigious accommodations in Edirne because it definitely feels like it!
However, now that I got a chance to explore Edirne, I thought Cavit Duvan Prestige Hotel might not be the best option for first-time tourists who want to stroll around the historical sites in the city. Cavit Duvan Prestige Hotel is located around 4 kilometers from the historical center of Edirne.
I mean, I enjoyed walking and seeing around the city, but the distance was kind of an awkward stance as it felt like too close to grab a cab, but a bit too far when you've already walked too much that day.
Although if you're looking for accommodation in Edirne that is close to the shopping mall where you can have the typical Starbucks coffee or grab a Mado ice cream, then by all means… Cavit Duvan Prestige Hotel is perfect for that due to its location, that is only walking distance from Erasta!
(+)
For the night rate under $30 USD per night, you can get a spacious room with a decent workspace and other facilities that work properly at the hotel.
All the staff at the hotel speak English, so there is no need to worry that you'll be lost in translation should you have any concerns or complaints about the hotel.
Cavit Duvan Prestige Hotel has a rooftop restaurant that is claimed to be the best in Edirne, Ponsetya Restaurant. The restaurant is suitable if you're in the mood for a fancy and romantic dinner.
You'll be served like a 5-star guest. Their customer service is top-notch!
The hotel is only walking distance from Erasta, the biggest shopping mall in Edirne.
(-)
The fridge in my hotel room didn't work properly when I was there.
The light was out around the hall on my floor, and it kept like that until I checked out.
The location of the hotel was quite far from all the must-visit touristic spots in Edirne, making it less ideal accommodation to stay for tourists traveling to Edirne for the first time.
So, those are my final verdicts on having a say in staying at Cavit Duvan Prestige Hotel in Edirne, Turkey. Have you been to Edirne and had a recommended place to stay around the city? Or would you like to share your experience to stay at a place that we all should avoid in the city? Share in the comment below, and cheerio! 😀
---
Marya The BeauTraveler
I am the founder and main editor at The BeauTraveler. I spent 4 years working in the aviation industry but ironically got to travel more right after quitting the industry in 2015. Born and raised in Indonesia, I started working remotely in 2017, and while I stay at home most of the time, I also regularly spend 2-3 months living a semi-digital nomad life elsewhere every year.
---
Disclaimer:
This post may contain affiliate links. I receive a small commission at no cost to you when you make a purchase using my link.
---
Like my post?
---